Obama backs greater UN role for India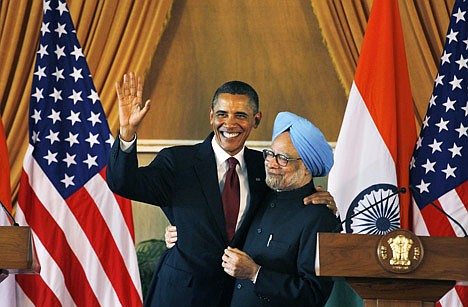 <p>U.S. President Barack Obama, left, and Indian Prime Minister Manmohan Singh, embrace following a joint statement and press conference at Hyderabad House in New Delhi, India, Monday, Nov. 8, 2010.</p>
|
November 9, 2010 8:00 PM
NEW DELHI (AP) - Deepening America's stake in Asian power politics, President Barack Obama on Monday endorsed India's bid to become a permanent member of the U.N. Security Council, hoping to elevate the nation of a billion people to "its rightful place in the world" alongside an assertive China.
Obama's declaration, delivered to the pounding applause of India's parliament members, spoke to a mission broader than the makeup of one global institution. By spending three packed days in India, announcing trade deals, dismissing job-outsourcing gripes and admonishing India's rival Pakistan, Obama went all in for an ally whose support he hopes to bank on for years.
"I want every Indian citizen to know: The United States of America will not simply be cheering you on from the sidelines," Obama said inside the soaring legislative chamber of the capital city. "We will be right there with you, shoulder to shoulder, because we believe in the promise of India."
To Obama, that promise entails shaking up the world order by giving more voice to developing countries that offer lucrative markets for U.S. products and potential help to counter terrorism and a warming planet. India fits Obama's agenda perfectly because it is the world's largest democracy and sits in the heart of a pivotal, vexing region.
The diplomacy in India also gave Obama a chance to reassert himself on the global stage, far from Washington in the aftermath after humbling congressional elections.
His final day in India began with a lavish welcome ceremony at the majestic palace residence of India's president and ended there as Obama and his wife, Michelle, were toasted to a state dinner.
The capstone of Obama's outreach here came when he announced support for India's long push to achieve a permanent place on the Security Council, the elite body responsible for maintaining international peace.
Recent Headlines
---