Comfort Keepers nominated SBA small business of the year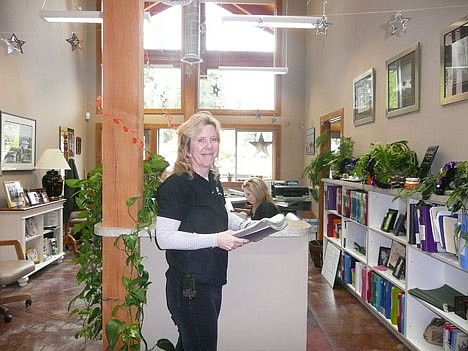 <p>Kat Vercruyssen stands in the office at Comfort Keepers, at 820 E. Best Ave., in Coeur d'Alene. Comfort Keepers was nominated as North Idaho's small business of the year.</p>
|
November 9, 2010 8:00 PM
Lynn "Mach" Machamer didn't like the idea of having a stranger in his home doing things for him.
He had lived in Post Falls for many of his 91 years in a home he adored, which was actually a bunk house that had been moved from Farragut Navel Base at Bayview.
When his daughter told him he had to have help or go to a nursing home, Comfort Keepers was called, a Coeur d'Alene business which helps seniors live in their homes, providing non-medical in-home care.
Mach was worried that he would lose his independence, but that quickly changed. He began to enjoy the daily companionship and help doing his chores.
His caregiver made arrangements with doctors and transportation and at times went to doctor appointments with him.
Comfort Keepers began in May 2000, because of struggles that owners, Kat and Tom Oswald, had in their own family with caring for aging grandparents.
The Oswalds also knew that seniors really want to stay in their own home and keep their independence, but struggle with cleaning their home, driving and getting in and out of the shower safely.
Tom was the financial side of the business and Kat the marketing side.
That changed in November 2004, when Tom died of a heart attack.
Kat knew she needed help to learn the financial part of the business so she began taking Idaho Small Business Development Center classes at North Idaho College.
She needed to understand profit and loss statements and simple questions like, "How much of a raise can I pay my 85 full and part-time employees this year?"
She received mentoring from her business coach, Bill Jhung. The information helped her to realize just what Comfort Keepers needed to be successful.
"There are many ways to be successful in business as long as you are open to new ideas," she said. "Also be sure you pay yourself."
Kat married Jim Vercruyssen, a senior product manager in 2008, and he became a partner of Comfort Keepers in June of 2010.
Comfort Keepers serves all five northern counties of the Idaho Panhandle and has grown their private pay business to become less dependent on government programs.
In recognition of its healthy growth and for the owners' contribution to the community, Comfort Keepers was nominated as North Idaho's small business of the year.
The winner of the Small Business Association's small business of the year for Idaho will be announced in early 2011.
Comfort Keepers is at 820 E. Best Ave. Information: (208) 765-9511. Idaho Small Business Development Center classes at the North Idaho College information: (208) 665-5085, or visit www.IdahoSBDC.org.
Recent Headlines
---