Hamlin takes Cup lead with 2 races to go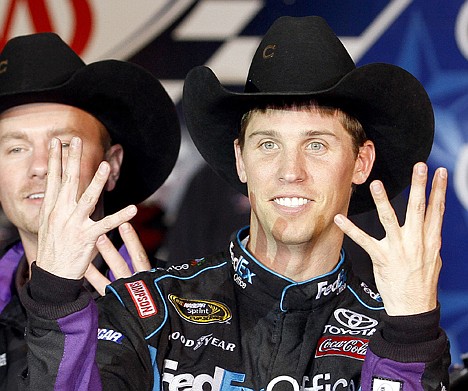 <p>Denny Hamlin holds up eight fingers after his eighth win of the season in the NASCAR Sprint Cup series, Sunday at Texas Motor Speedway in Fort Worth, Texas.</p>
by
Stephen Hawkins
|
November 8, 2010 8:00 PM
FORT WORTH, Texas - More Texas trouble for Jimmie Johnson, and a new leader in the closest three-way Chase for the Sprint Cup with only two races left.
Denny Hamlin completed a Texas two-step Sunday, winning at the track for the second time this year and taking over the points lead from four-time defending season champion Johnson.
Johnson's drive for five suddenly got real bumpy. Fourteen points ahead at the start of the race, he finished ninth to fall 33 points behind Hamlin.
"We're on the cusp of trying to get our first championship, and as long as we keep doing what we've been doing, we should be OK," Hamlin said. "I'm going to race like we need to win from here on out. I've been saying with three (races) to go I was going to be a little bit more aggressive."
Hamlin took the lead with 29 laps to go and then overcame a push from Matt Kenseth on the final restart with three laps left, holding on for his series-best eighth victory this season.
Kevin Harvick finished sixth and remained third in points, 59 behind Hamlin.
Johnson had troublesome pit stops that led to an unusual midrace crew change when Hendrick teammate Jeff Gordon's crew was conveniently available. Gordon got wrecked out of the race and then shoved Jeff Burton on the track when they got out of their mangled cars.
"It was just a long day," Johnson said. "I had speed in the car. We worked our way forward and had issues on pit road. ... We gave away so much track position from the beginning. It's tough to get back where we needed to."
While Hamlin and Johnson rarely were side-by-side on the track, their pit stalls were. Hamlin's crew picked the one right in front of the defending champion, a bit of gamesmanship that might have impacted the outcome.
"When it was time to choose pits, that one was an option. I felt like that was our best option. You take the Chase hat off and you say, what's going to be best for our race team, and I felt like we could outrun those guys all day," Hamlin crew chief Mike Ford said. "We went beside them, and those guys faltered, and it made them panic and push to the point where they made changes. I think it worked out very well for us."
On two stops early in the race, Johnson lost ground because of problems changing the front right tire. He had climbed to as high as second before those stops, and restarted after the second troubled stop - during a caution - in 13th place while Hamlin and Harvick both ran in the top six.
When Gordon was knocked out of the race, his crew went to work on the No. 48 car while Johnson's crew went and packed up the No. 24 car's stall.
"We needed to do something ... It's sad we had to do that," said Chad Knaus, Johnson's crew chief.
"With everything on the line you've got to perform. We have to do our job," Johnson said. "With the 24 out of the race it was a good opportunity for us to try it. It might be different to our sport in some ways. But man, you watch pro sports and if people aren't getting the job done you've got to pull them out and put somebody else in."
Greg Biffle led 11 times for 224 of the 334 laps, but finished fifth. The 20th Cup race at the 1?-mile, high-banked Texas track included a record 33 lead changes.
Hamlin won at Texas in April less than three weeks after surgery to repair a torn ACL in his left knee. His first race after the surgery was a 30th-place finish at Phoenix, where the Chase goes next weekend.
"I'm going to race Phoenix as if I'm 33 behind," Hamlin said. "There's no comfortable margin going into Homestead because anything can happen. ... I'm not going to be conservative having the lead. I'm going to want to stretch that out before we get to Homestead. So that's pretty much my mindset."
Last fall, Johnson crashed on the third lap in the fall race at Texas and sat in the garage for more than 100 laps while repairs were made. But he had a huge lead then and it wasn't enough to derail his championship run.
This time, he's chasing.
"I've lost plenty of championships in the past. This is racing. It doesn't come easy," Johnson said. "You're not going to get what you want every single year and every single weekend."
Hamlin and Harvick both also had issues on pit road, though not as significant as Johnson.
After starting 30th, the lowest of the top three Chase drivers, Hamlin climbed to 19th in the first 43 laps before coming in during a caution. He got blocked in by someone in front of him and had to back up to leave his box, falling to 26th for that restart.
But Hamlin was in the top 10 within 30 laps after that, and stayed there the rest of the day.
"I know Jimmie is a clean racer. I know we race clean," Ford said. "I talked to Denny before, we don't need to worry about them. That's our space, and we need to race our race and not play any games. And we did that. ... We weren't trying anything other than that's our space, and we're going to make the most of it. "
Harvick was running 11th about 60 laps into the race when another caution came out 15 laps after another one. While most everybody else took two tires, Harvick's crew opted for four and that cost six spots.
An angry Gordon hit Burton with a hard two-handed push after Burton sent Gordon's car crashing during a caution when Martin Truex Jr. hit the wall on lap 192. After getting out of his No. 24 car, Gordon walked from the top to the bottom of the track to confront Burton.
Burton took full responsibility for the accident - "100 percent, it was my fault," he said.
"I don't blame him for being mad. I would have been mad too," Burton said. "I don't have a bit of a problem with what he did."
Recent Headlines
---