Weiser piles up 384 rushing yards in state 3A playoff opener
by
Joel Donofrio
|
November 7, 2010 8:00 PM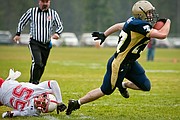 SPIRIT LAKE - After some humbling early-season losses, Timberlake's run through the Intermountain League showed how much the Tigers have improved.
Saturday's state playoff game, however, showed they still have a lot of work ahead to reach the championship level.
Weiser stuffed the Tigers' running game, controlled the line of scrimmage and ran over host Timberlake in a 37-7 3A quarterfinal victory at Van Tuinstra Memorial Field.
The third-ranked Wolverines, led by fullback Spencer Chandler's 199 yards rushing and four TDs, piled up 384 yards on the ground and 23 first downs to advance to a semifinal matchup with top-ranked Fruitland - a team that's topped both Weiser and Timberlake this season.
"We played tough teams this year so our kids can see what it takes to win a championship," Tigers coach Roy Albertson said. "And we saw another tough team today.
"They won the battle up front all day ... and they have some great seniors, including their top two running backs," Albertson said of the Wolverines.
"When they have the ball, they hold it for a long time, and they're really tough when they get a lead."
Timberlake (4-6) had its running game stuffed by an active Weiser linebacker corps all afternoon, but the Tigers were able to move the ball through the air.
Junior quarterback Brian Cronnelly threw for 158 yards, and had the Tigers in scoring position on the game's opening drive. Three straight incompletions ended the early threat, and it was all Wolverines (7-3) the rest of the first half.
"Our defense has really improved the last three weeks," Weiser coach John Srholec Jr. said. "We came out and played physical, and once we stopped them, we executed on offense."
Behind Chandler's inside power and sweeps from halfback Tyrell Braun (108 yards rushing), Weiser had 235 yards and 24 points at intermission.
The Wolverines drove inside Timberlake's 20 to start the third quarter, but a key stop by defender Chad Aga gave the Tigers momentum.
An option keeper by Cronnelly and a 32-yard toss to Ty Shaffer gave Timberlake a chance to get back into the game. Instead, Braun burst through the line to snuff a reverse by Timberlake's Josh Zanoni, and a 37-yard field goal attempt fell short.
"We played as hard as we could in the second half. We just didn't cash in when we got down here (by the goal line)," Albertson said.
"I thought Cronnelly threw the ball very well today ... but we're a running team, and for the last 5 or 6 weeks, we were churning up yards on the ground," he added. "Give them credit - they played very well against us on defense."
Christian Heth, who topped 1,000 yards rushing on the season, put Timberlake on the board with an 8-yard TD run late in the fourth quarter.
With plenty of sophomores and juniors on the field Saturday, both Albertson and Weiser's Srholec believe Timberlake will be improved next fall.
"Their kids played hard. They're young and they'll keep improving," Srholec said of the Tigers. "I have a feeling our paths may cross again."
"Our kids have a lot of work to do ... if they're willing to put the work in and improve, we're going to be a very good football team," Albertson added.
Weiser 10 14 0 13 - 37
Timberlake 0 0 0 7 - 7
W - Austin Winegar 32 FG
W - Spencer Chandler 28 run (Winegar kick)
W - Chandler 6 run (Winegar kick)
W - Mitchell Svedin 1 run (Winegar kick)
W - Chandler 16 run (Winegar kick)
W - Chandler 8 run (kick failed)
TL - Christian Heth 8 run (JD Page kick)
INDIVIDUAL STATISTICS
RUSHING - Wei, Chandler 28-199, Tyrell Braun 17-105, Svedin 3-40, Brock Bumgarner 8-30, Luis Negrete 1-4, John Barron 1-3. TL, Heth 9-12, Brian Cronnelly 2-12, Devin Smith 5-8, Chad Aga 1-2, Chris Williams 3-1, Ty Shaffer 2-(-3), Josh Zanoni 1-(-8).
PASSING - Wei, Bumgarner 3-5-28-0, Winegar 1-3-19-0. TL, Cronnelly 9-23-158-1.
RECEIVING - Wei, Braun 2-32, Winegar 1-11, Lane Galloway 1-(-2). TL, Zanoni 3-42, Shaffer 2-53, Smith 2-32, Williams 2-31.
Recent Headlines
---