Vandals gashed for 844 yards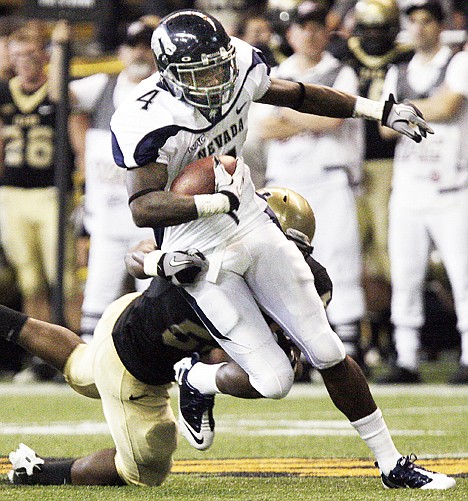 <p>Nevada receiver Brandon Wimberly (4) breaks free of a tackle attempt by Idaho linebacker Tre'Shawn Robinson during the first quarter.</p>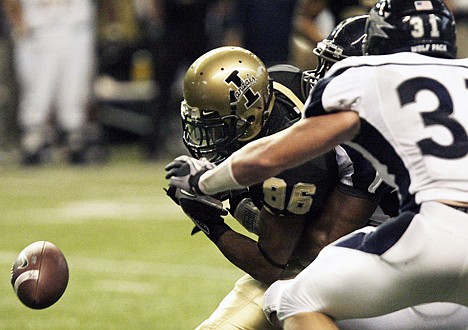 <p>Idaho receiver John Roberson (86) fumbles when hit by a Nevada defender as Nevada linebacker Kevin Grimes (31) watches during the third quarter Saturday in Moscow.</p>
Previous
Next
by
From wire and news services
|
November 7, 2010 8:00 PM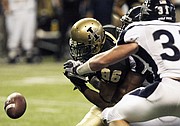 MOSCOW - Idaho knew Nevada's offense packed a wallop.
Saturday afternoon, the Wolf Pack brought it in rolling to a 63-17 Western Athletic Conference victory behind a team-record 844-yard offensive outburst before 11,247 in the Kibbie Dome.
Turnovers again haunted the Vandals but as much as anything it was an inability to contain Nevada's high-powered running attack. While versatile quarterback Colin Kaepernick was held well below his average of almost 100 yards rushing per game with 22, his teammates picked up the slack with three eclipsing the 100-yard mark in a ground attack that totaled 453 for Nevada (8-1, 3-1 Western Athletic Conference).
"We weren't executing," senior safety Shiloh Keo said. "The problem is, we're making the same mistakes. It's time to shake that off. It's time to start doing what our assignment is."
Kaepernick threw a caree-high five touchdown passes.
"Everything was just clicking for us tonight," said Kaepernick, who completed 20 of 30 passes for 320 yards and was not intercepted or sacked. He had thrown 12 touchdown passes in the previous eight games, and his career best in one game was four.
Nevada marched in and to score on its first possession when Kaepernick found Shane Anderson with a 28-yard strike with 10:321 left in the first. The first of four fumbles came on the ensuing kickoff when Justin Veltung lost the ball at the Idaho 33. Nevada failed to convert when a 31-yard field goal sailed wide.
The Vandals had given up just 21 total points in winning their first three games in the Kibbie Dome, but gave up more than that in the first half.
Because of a fumble on a kickoff return, Idaho did not run a play from scrimmage until just 6:45 was left in the first quarter, and they had just six offensive plays for 2 yards in the quarter. Nevada, meanwhile, had 225 yards.
Idaho (4-5, 1-3) went three-and-out on its first two offensive series and managed to pick up one first down before sending Bobby Cowan in to punt for the third time on the next. In between, the Wolf Pack tacked on two more scores to go up 21-0 before Idaho finally lit the scoreboard on Trey Farquhar's 31-yard field goal with 5:31 left in the half.
As the half waned, Idaho again was forced to punt but Nevada took over at its own 4. Kaepernick went to the air and completed six of seven passes to add one more TD as time expired for a 28-3 Wolf Pack halftime lead.
"We have to take care of the football on offense," Idaho coach Robb Akey said. "We had drops - those were things that could have kept drives alive, early in the ball game.
"We're capable but we've got to do it more often. We've got to do it early so we don't get ourselves into a hole. ... The molehill becomes a mountain."
Saturday it was too much of a mountain to overcome as Nevada added two more TDs in the third and three more in the fourth.
Lampford Mark gained 116 yards on just six carries for Nevada, Vai Taua had 113 yards and Mike Ball had 101 yards in a mop-up role. Taua went over the 1,000-yard mark for the season and 4,000 for his career.
"I thought it was a story of things happening at the wrong time," Idaho quarterback Nathan Enderle said. "We had a couple turnovers at big moments. We had a couple stops and a couple drives. The other times, we'd shoot ourselves in the foot.
"We didn't execute. You can't do that against a good team and they're a good team."
Idaho must win three of its final four games to be eligible for a bowl for the second straight year.
"I'm not going to wad up the season," Akey said. "We could still have a bowl championship season."
Recent Headlines
---