Swift sells more than 1M copies of new CD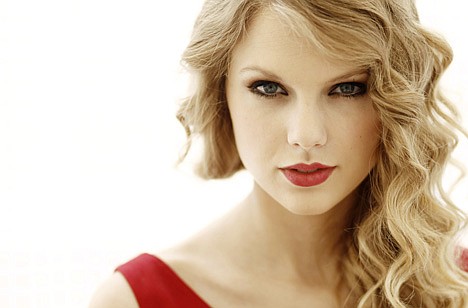 <p>In this Sept. 22 photo, musician Taylor Swift poses for a portrait in West Hollywood, Calif. Swift's new album "Speak Now" was released on Oct. 25.</p>
by
Nekesa Mumbi Moody
|
November 7, 2010 8:00 PM
NEW YORK - Taylor Swift fans have spoken - more than a million times.
The country-pop superstar sold more than 1 million copies of her new album "Speak Now" to debut at the top of the Billboard album chart this week. Billboard.com said Wednesday that it's the biggest debut since 50 Cent's "The Massacre" five years ago.
"I... Can't... Believe... This... You guys have absolutely lit up my world. Thank you," Swift tweeted Wednesday morning.
According to Nielsen SoundScan figures, "Speak Now" sold 1,047,000 copies since it was released last week. That's slightly higher than the 1,006,000 posted by Lil Wayne's "Tha Carter III" in 2008.
Craig Marks, the editor of Billboard, said that Swift's feat solidified her status as one of pop's most important and influential music superstars.
"What she did now, maybe it's the equivalent of selling 2 million records, or even more, a half a dozen years ago," he said. "It's an incredulous accomplishment."
"Speak Now" is only the 20-year-old's third album. Scott Borchetta, CEO of Swift's record label Big Machine, said her most recent success has been "almost surreal."
"Everybody has worked so hard on this full release, and it's truly been magical the last couple of weeks," he said in an interview Tuesday.
But Swift has been on a magical ride for quite some time. Her self-titled debut went multiplatinum, and her sophomore album, 2008's "Fearless," was an even bigger multiplatinum, multi-genre success. It netted her a multitude of awards, with the crowning achievement being her four Grammys at the beginning of the year, including best album.
Swift could have taken time off after that high, but she was already at work on "Speak Now."
"It's about the fan base," Borchetta said. "It's been two years; they wanted another album."
Borchetta credited the quality of the album, which has been praised by the likes of Rolling Stone and The New York Times, for much of its success, but also pointed to partnerships with retailers including iTunes and Target, as well as the album's presence in places like Costco.
"Target has the only deluxe of 'Speak Now.' ... That was a game-changer," he said. He noted that 2 million song downloads were sold on iTunes before "Speak Now's" release last week, and that this time around, the album was also sold in Starbucks.
"We had a lot of nontraditional accounts carrying this," he noted.
Swift's team had confidence she could make such a high debut, and shipped 2 million units of the album to stores, even as naysayers warned it might be a pipe dream at such a dour time for the music industry.
"We've never been afraid to dream big together, and this was the biggest dream that we had a year ago when we started talking about this launch," he said, "so it's truly an amazing and magical moment."
Swift's blockbuster sales come at a crucial time for the industry, which has continued its sales downslide this year with dismal numbers. The industry has entered its fourth quarter, when it usually hopes to bring in top sales. Albums are still expected from top names like Susan Boyle, Josh Groban and Swift nemesis Kanye West.
Marks said that while Swift's numbers are a boon to the industry, she is unlikely to bring any other artists bigger sales.
"She's a unique artist," he said. "I don't think her sales have coattails for any other particular artist who is releasing records in the fourth quarter."
As for Swift's moment, Borchetta said she's savoring it. They had a small celebration dinner this week and he anticipated that she'd do a bigger fete with one of her favorite activities, dancing, with her friends, family, and her band.
While some may wonder how Swift will top herself, that's not what's on the mind of her team.
"You can't worry about how to top yourself; what you focus on is what is the best next move we're going to make," Borchetta said. "I would encourage everybody not to worry about what the next move is going to be. Enjoy this. She's loving every minute of it."
Recent Headlines
---