No. 2 Boise State throttles Hawaii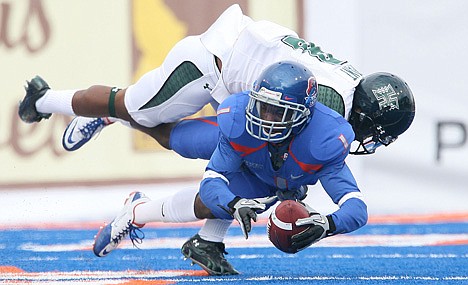 <p>Boise State wide receiver Titus Young (1) is tackled by Hawaii quarterback Corey Nielsen (8) in the first quarter during Saturday's game at Bronco Stadium in Boise.</p>
by
Todd Dvorak
|
November 7, 2010 8:00 PM
BOISE - Kellen Moore was standing all alone in the backfield, watching a wide-open Titus Young snatch in stride a perfectly thrown deep pass just beyond midfield and race all the way to the end zone.
The 83-yard touchdown pass was Moore's third of the game, the longest of his career, and it gave No. 2 Boise State (8-0, 4-0 Western Athletic Conference) a 35-point lead in the third quarter.
Moore's reaction was hardly worthy of the highlight reel. Just a slight, understated fist pump and a shrug.
But his performance in the Broncos' 42-7 dismantling of Hawaii was one for the record book. Moore shredded the Warriors' secondary for a career-best 507 yards passing, led a no-huddle offense that rolled up a school-record 737 total yards and during one stretch in the first half he completed 19 straight passes. His three TDs gave him 85 for his career, breaking another school mark.
For the unflappable lefty, it was just another ho-hum day at Bronco Stadium.
"It's a pretty cool deal," said Moore, who was 30 of 37 passing. "The records are something I might realize a little bit more later."
Moore's spectacular performance was matched by a defense that notched a season-high seven sacks and bottled up the nation's top passing team to extend Boise State's winning streak to 22, the nation's longest active among major college football.
Hawaii quarterback Bryant Moniz came in riding a six-game winning streak, averaging 360 yards per game through the air and leading an offense averaging 39 points per game. But Moniz was pestered all day by the Broncos' rush and frustrated by a secondary that smothered his top targets.
He was 17 of 28 for 127 yards, sacked twice in the first half, then five more times early in the second as Boise State made sure Hawaii's run-and-shoot offense never got on track. Greg Salas, the WAC leader in receptions, was held to a pair of catches and Kealoha Pilares, second in the conference in receptions, sat out with a sore hamstring.
The Warriors (7-3, 5-1) mustered only 196 total yards, their lowest offensive output in 12 years. They had just 11 first downs, never advanced into the red zone and were held to 78 yards rushing. Their only points came late in the fourth quarter when Alex Green rumbled up the middle 54 yards for a touchdown.
About the only thing that went right? Hawaii safety Mana Silva picked off two of Moore's passes, giving him 15 for his career, a school record.
"Shoot, they could have had a lot more points," Hawaii coach Greg McMackin said, referring to Silva's interceptions, both coming deep in Boise State territory.
"We're going to have to look at the film and see what our execution was like. It wasn't very good. But I'm not so sure that Boise State didn't have something to do with that," he added.
The Broncos did just about everything right. Their 737 total yards eclipsed the previous school mark of 732 set on Oct. 4, 2003, against Louisiana Tech.
Moore fired touchdown passes of 12 yards to Tyler Shoemaker and 43 yards to Austin Pettis, and his 83-yarder to Young early in the third quarter put Boise State up 35-0.
"It was a complete team effort," Boise State coach Chris Petersen said. "All three phases were good. We have tremendous respect for Hawaii. We just happened to be hitting on all cylinders today and I'm glad, because we need to do that to do what we want to do."
What Boise State needs to do is keep winning and hold its place in the polls and BCS rankings in hopes of playing for a national championship. The Broncos got a little help when LSU handed Alabama its second loss, and TCU demolished a Utah team that was surging in the polls.
Utah State 27, New Mexico State 22: Utah State (3-6, 1-4 Western Athletic Conference) scored 17 second-half points behind 114 rushing yards from running back Derrvin Speight and topped New Mexico State (2-7, 1-4) in Logan, Utah.
Utah State took its first lead of the game with 9:07 to play in the game when quarterback Diondre Borel pitched to Eric Moats on an option run for a 12-yard score, giving USU a 24-20 edge. On its next possession, USU opted for a 24-yard field goal by Peter Caldwell rather then attempt a fourth-down play on the 2-yard line, to make the score 27-20.
New Mexico State tried to tie the game on a fourth-down play with 57 seconds to play, but USU's Quinton Byrd knocked down the pass attempt.
Fresno State 40, Louisiana Tech 34: Robbie Rouse scored on a 51-yard run late and Fresno State (6-2, 4-1 Western Athletic Conference) held off Louisiana Tech (3-6, 2-3) in Ruston, La.
Rouse carried 43 times for 286 yards.
Recent Headlines
---