Honoring Dorothy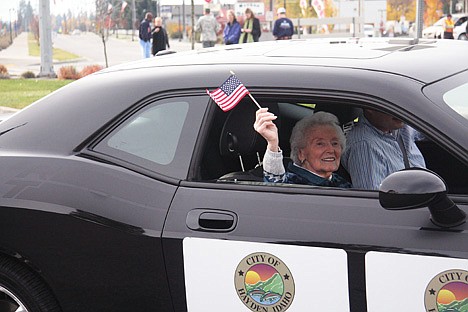 <p>Dorothy Tarleton, 89, was the 2010 Distinguished Veteran and Grand Marshal of the Hayden Veterans Day Parade on Saturday. She rode shorgun in a sports car and waved to the crowd.</p>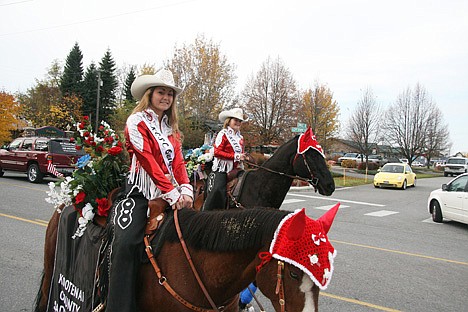 <p>Amber Heuett, 18, and Hailey Millsap, 10, represented the Kootenai County Saddle Club at the Veterans Day Parade in Hayden on Saturday. Amber is queen of the club, and Hailey is the junior princess.</p>
Previous
Next
by
Nick Rotunno
|
November 7, 2010 8:00 PM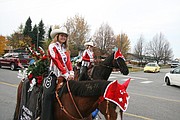 HAYDEN - She didn't think it was such a big deal.
After all, Dorothy Tarleton figured, that's what everyone did in those days: helped out any way they could.
So when Tarleton was named the 2010 Distinguished Veteran at the Hayden City Hall on Saturday, the 89-year-old Coeur d'Alene resident - a former Army nurse who served in the Pacific Theater, volunteered at numerous institutions, worked with blind children and provided Hospice care - received her award with great humility.
"I was trying to explain that all the things I did, I liked doing them, in the service and out of the service," Tarleton said. "I never thought that I had done so much, because I enjoyed what I was doing."
The award ceremony followed Hayden's fourth annual Veterans Day Parade, a cacophonous procession that rolled down Government Way on Saturday morning. Amid bagpipe music, horn blasts and whirling sirens, Tarleton, also the parade's Grand Marshal, rode in a black sports car and waved a small American flag.
"There were a lot of people there," she recalled.
In July 1945, with World War II still raging, Tarleton arrived in a combat zone. A second lieutenant in the Army Nurse Corps, she served on the dangerous island of Tinian, not far from Saipan, giving aid to beleaguered U.S. troops. After the Japanese surrender, Tarleton transferred to Fukuoka, Japan, where she nursed combat casualties who arrived by aircraft.
For her service in World War II, she received the Asia Pacific Theater Ribbon, the American Theater Ribbon, the Victory Ribbon and an Overseas Service Bar.
Upon her release from the Army, she lived in Chicago and got married. She eventually made her way to Hayden Lake, where she lived for 30 years, always helping the community - volunteering at the Hayden Lake Library, Kootenai Hospital, Hospice and the Museum of North Idaho, then learning Braille and teaching blind students at Hayden Lake and Coeur d'Alene schools.
At the Distinguished Veteran ceremony, the city of Hayden and its Veteran Affairs Committee gave Tarleton a commemorative plaque, recognizing her many years of military and non-military service.
"I was keeping busy," Tarleton said. "I just didn't realize that I had done so much that was important. But I felt very honored, of course."
With Tarleton at its center, the Veterans Day Parade featured a number of attractions. Local police and fire vehicles wailed, musicians played, festive floats rolled, and a number of veterans represented the U.S. military.
"We loved the parade," said Jenny DePew of Hayden, who was there to support the submarine veterans of Farragut Naval Training Station, the World War II training facility once located in Athol (now the site of Farragut State Park).
"It was well done," added Vickie McGill of Spokane Valley, also supporting the submariners. "I think it was well-planned out and put together. And I hope they keep it up."
Riding large, powerful horses, 18-year-old Amber Heuett and 10-year-old Hailey Millsap, both of Post Falls, clopped along the parade route. Queen of the Kootenai County Saddle Club, Amber rode a brown horse named Bluewanna.
"I've been in saddle club for four years," said Amber, an experienced rider. "I've been in parades since I was 13, 14 years old."
In plaid kilts and black sweaters, four bagpipers from the Couer d'Alene-based Hot Punch Pipers supplied a melodious soundtrack. They're always happy to come to Hayden, they said.
"We're a new group here. This is our first year parading," said James Noriega of Coeur d'Alene. "We've got about eight people in the wings, just starting."
Kristin Stafford, a piper from Rathdrum, said she enjoyed the Hayden event.
"There's just lots of variety," she said. "And they're super nice here."
Recent Headlines
---