Hiring spurt in October helps economy a bit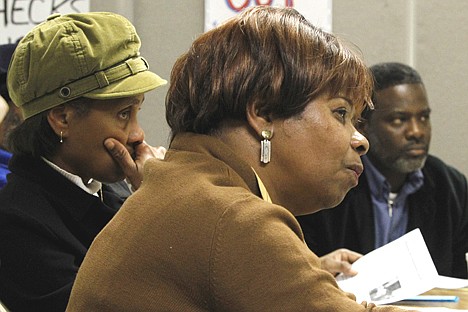 <p>Loretta Singleton-Henderson, left, who has been unemployed for two years, Carolyn Trueheart, center, who has been unemployed for one year, and Dennis Spain, right, who has been unemployed for two months, listen to others during a meeting at the Philadelphia Unemployment Project in Philadelphia on Thursday.</p>
by
Christopher S. Rugaber & Jeannine Aversa
|
November 7, 2010 8:00 PM
WASHINGTON - The jobs crisis eased a bit in October as companies stepped up hiring, suggesting further gains ahead.
Still, hiring remains far too weak to drive down unemployment, now stuck at 9.6 percent. And the newly elected Congress will come under pressure to take action to accelerate job growth.
The burst of hiring - 159,000 net jobs added by private employers - nevertheless raised hopes that companies are finally emerging from the hiring stall seen during much of the summer.
The previous big spurt of job growth - a healthy 241,000 - came in April. Private companies have now added jobs for 10 straight months. That shows that recession-battered companies have regained some appetite to hire after slashing jobs for nearly two straight years in a row.
While saying he was pleased with the improvement, President Barack Obama conceded the economy still isn't creating enough jobs for the nearly 15 million people out of work.
Reaching out to the new Congress, which convenes in January, the president said he is "open to any idea, any proposal, any way we can get the economy growing faster so that people who need work can find it faster."
Earlier this week, voters angry over the jobs shortage handed control of the House of Representatives to Republicans. The Senate stayed in Democrats' hands. The split will make it harder for Obama to enact any major economic initiatives. There's little appetite among Republicans to provide a fresh dose of government spending to stimulate the economy. They warn against further swelling the nation's $1.3 trillion House Speaker-to-be John Boehner of Ohio said the top of his to-do list is extending tax cuts passed during President George W. Bush's first term, which expire at the end of the year, and cutting government spending.
"Our economy will ultimately recover, but it will do so because of hard work and entrepreneurship, not more of the same Washington spending sprees and job-killing policies the American people have repudiated so loudly and clearly," Boehner said after the latest employment figures were released.
When government job cuts - which totaled 8,000 last month - are factored in, the economy added 151,000 jobs in October, the Labor Department's report showed Friday. It marked the first increase in total payrolls in five months. All the momentum came from private companies.
"Companies are starting to deploy their cash stash and increase hiring, as consumers are opening their wallets a little wider," said Sal Guatieri, economist at BMO Capital Markets Inc.
That all bodes well for helping energize the fragile economy. The Federal Reserve's announcement that it will buy $600 billion in bonds, to lower interest rates and try to get Americans to spend more, might also lift the economy.
"The employment market may have gone through an inflection point," said economist Sung Won Sohn of California State University.
"The overall job picture in October was much better than anticipated. Services sectors led the parade. Retailers have begun to hire for the holiday shopping season. With consumers in a better mood, it is hoped that they will splurge during the season."
Among the newly hired is Kelly Paolino, who said she landed a job last week after looking for more than a year. Paolino, 30, took a 10 percent pay cut to become an entertainment assistant in New York City. Yet after 12 months of job hunting, she said, just about any position seemed attractive.
"I would get up in the morning and sit down in front of the computer for hours looking for job postings," Paolino said. "I did it for 10 or 11 hours a day. It became my full-time job."
Despite the hiring gains, unemployment isn't expected to budge much this year. Economists think it could take until near the end of this decade to drop the jobless rate to a more normal 6 percent.
"Even though the economy is no longer in recession, the unemployment rate is coming down very slowly," Fed Chairman Ben Bernanke said Friday.
There were 14.8 million people unemployed in October. Adding those people to others who are working part time but would prefer full-time jobs and those who have given up looking for work, nearly 27 million are "underemployed."
That's 17 percent of the labor force. It's down a bit from September's 17.1 percent.
Recent Headlines
---