Dale Stamper: Without limits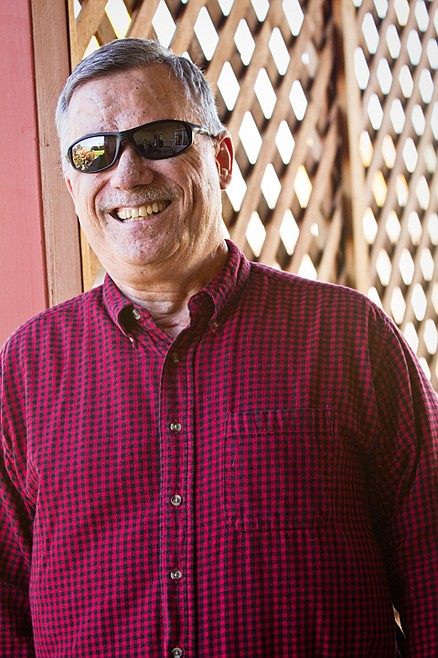 <p>Dale Stamper has served on the national board of directors for the Blinded Veterans Association since 2007. He is the chaplain for the Disabled American Veterans Fort Sherman Post in Kootenai County.</p>
by
BILL BULEY
Staff Writer
|
November 7, 2010 8:00 PM
HAYDEN - Dale Stamper has run Bloomsday.
He likes to cross country ski.
He loves to read.
He was in ministry 40 years and is today an advocate for veterans.
Dale Stamper is blind.
He has been ever since a land mine exploded Jan. 6, 1968, when he was 19 years old and with the 15th Engineers Battalion in the U.S. Army in Vietnam.
He refused to let it stop him from pursuing his dreams.
Stamper, who today lives in Hayden with his wife, Cora, served in the ministry 40 years, pastoring at churches in Idaho, California, Hawaii and Montana.
"About eight years ago, I began feeling a change in direction and like I needed to get more involved in veterans issues, veterans needs. Since that time, I've been working with several of the veterans groups," he said. "Since '07 I've been serving on the national board of directors for the Blinded Veterans Association. With the DAV, I'm currently serving as the chaplain for our local Fort Sherman Post here in Kootenai County."
Stamper spoke Saturday at the men's breakfast at Real Life Ministries on leading courageously, urging men to take leadership posts, and addressing issues facing veterans.
In many ways, he says with a smile and laugh, he's blessed to be alive.
"I'm very happy I lived 62 years. On at least four different occasions I didn't know if I was going to make it or not."
Good thing he did.
"I've been able to have a very full life," he said.
Were you drafted into the Vietnam War?
I actually enlisted right out of Atwater High School in Atwater, Calif.
Probably it's not so much what led me to enlist. I was kind of really searching around for some direction, I guess. I thought three years in the Army, maybe that will help to get me settled and some direction. I was only 18 years old, right out of high school.
Did you know you would be sent to Vietnam?
I knew the Vietnam War was going on, but I don't think I really comprehended what it meant. Within six months after I enlisted in the Army, I was in Vietnam.
How were you hurt?
Ironically, I was 19 and one half years old to the very day when I got injured in Vietnam on Jan. 6, 1968. As a result of injuries from a land mine, I lost my sight. I'm just very thankful I was able to find my way into the ministry knowing that was where my life was supposed to head.
How did your injuries affect your life?
Part of my character, my nature, the way I was raised, in life when you have to face something, you deal with it. What am I going to do? I have to go on. I have to move on. This isn't the end of my life. I have to face it. Whatever challenge is going to be there, that's the direction of my life. You play the hand you're dealt.
So what did you do after returning from Vietnam?
First it was a matter of going through a VA blind rehab center in Palo Alto, Calif., learning some skills and how to cope with the sight loss. About a year after that, in 1969, I went to college and started some training for going into ministry, tried to keep up with studies over the years. I've gone back to school at different times, mainly focusing my studies on the area of psychology and counseling. It was an important tool to have to be able to minister and help others.
How difficult was the transition from having your sight one moment to losing it?
I was injured in January. By April, I was at the rehab center and I think that helped a lot. It didn't give me a whole lot of time to get into a bad attitude, feeling sorry for myself. And getting to the rehab center and learning the skills, getting training and mobility, leaning how to read Braille, learning how to do things. One big part of the programs was what they called a manual skills area. It wasn't so much to teach manual skills as it was to get you used to doing things by feel instead of by sight. I think that was a critical point. It didn't give me a chance to feel sorry for myself. A lot of people on staff were also blind, were also veterans from other eras, World War II, Korean. It encouraged me to know if they could face the challenge, I could.
That doesn't mean there are times, of course, you feel bad.
Does your faith help you?
Yes, underlying all of that is faith. I believe God has a plan for our lives and I think that encouraged me. I felt the ministry was a direction I would go in as a young boy. After I lost my sight, I realized I would still do that, I would still follow the direction that God had for my life and know God is there to support us and keep us going.
Can you see at all?
No. I have no vision at all. No light perception of anything of that nature.
How difficult was it for you to learn to read Braille?
For me, it was easy. My instructor told me there are two things you need to learn Braille. A good sense of touch, and a good memory. I've been blessed with both. Many people, when they have a hard time reading Braille, it's because their sense of touch is so bad.
Do people often ask you what it's like being blind?
People are always curious. Most of the time I don't take it as an offense when people ask me. I understand that people are curious.
Why is it so important for you to help veterans?
Veterans have paid a price and we need to do what we can to help them face whatever it is they're facing. PTSD issues, injuries, physical, wounded, we need to do what we can to let them know we're there to support them and appreciate what they've done. That's my whole purpose.
Date of birth: July 6, 1948
Education: San Jose State, finished up at Fresno State.
Family: Wife Cora. Two sons, Rob and Dan. One granddaughter.
Favorite book: Can't really say I have one.
Hobbies: I do a lot of reading. I've done some skiing. I enjoy cross-country skiing the most because I feel like I'm in a little bit more control of things.
Favorite movie: I'm a Clint Eastwood fan. I like that tough guy image he portrays.
Favorite type of music: I'm an oldies guy, '50s and '60s.
Best advice you ever received: My father said right after I went in the Army, 'You need to know what you were made for is to follow into the ministry.'
Person who most influenced your life: Dr. Ed Glass. When I was going through the blind rehab center, he was a staff psychologist at the center. He was a blind World War II veteran who went through Stanford University as a blind student and got his doctor's degree. And I felt like if he could do it, I could do - especially since he was a Marine. I like to get my jabs in at Marines when I can.
Quality you admire most in a person: Integrity
Any one thing you consider your greatest accomplishment: Going through college with a 4.0 GPA after I lost my sight.
Recent Headlines
---