Because it's there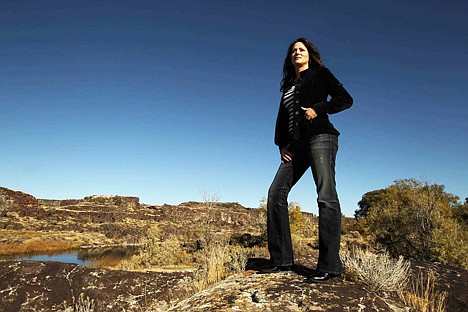 <p>Brenda Hughes, of Kimberly, Idaho, stands at Dierkes Lake in Twin Falls on Wednesday. Hughes is one of few women recorded on IdahoSummits.com to have climbed all of Idaho's nine peaks.</p>
by
Andrew Weeks
|
November 7, 2010 8:00 PM
KIMBERLY - The air is thinner at 12,000 feet, but the view is better.
Brenda Hughes would know.
Idaho has nine peaks over 12,000 feet tall and Hughes, of Kimberly, is one of few women recorded on IdahoSummits.com to have climbed them all, something she didn't plan on doing when she first set out to tackle Mount Borah in 2005. The goal came later, after reaching the top.
"I didn't decide until probably three years ago," she said. "I determined that I had climbed (several of the mountains) already and might as well finish them."
She started with 12,662-foot Borah and ended this year with 12,078-foot Lost River Peak on Aug. 14.
"It was a personal goal of mine," Hughes said about tackling Idaho's highest peaks. "I wouldn't recommend it for everyone."
Not everyone could climb mountains even if they wanted to. Good health and physical fitness are required, as is mental clarity.
Hughes tries to keep in good physical shape all year by regular exercise and maintaining a high-protein, low-carb diet. She said she doesn't do anything special to prepare for a climb, except about a month and a half before when she starts to jog and ride her bicycle more often.
"My rule of thumb is if you can run two miles without stopping, you're probably ready for Borah," said Dan Robbins, founder of IdahoSummits.com.
Robbins, a former Gooding resident who now lives in Boise, started climbing in the mid-1990s - "I don't know why," he said. "The mountain was there, so I climbed it" - and finished with Idaho's nine highest peaks in about 2005.
He cut his teeth with mountains close to home, then worked his way up to larger peaks, conditioning himself for the taxing climbs. He recommends the same training for others so they can experience how their bodies react to the stress of exertion, elevation gains, et al.
Sure, people have climbed tall mountains without first trying smaller peaks, "but I wouldn't recommend it," Robbins said. "You are going to be there for 10 hours exerting yourself. If you have bad knees, your knees will be hurting like hell. If you're scared of heights, that's going to bother you. It's time consuming, there's loose rock, it's steep. You just never know what it's going to take."
Tools sometimes are required, depending on the mountain and time of year of the climb. In winter, for instance, there'll be ice.
Hughes works at First Federal Savings Bank in Twin Falls and said she became interested in mountain climbing through co-worker Norman Wright, who's gone on the climbs with her. He, in fact, has conquered the 12ers more than once.
"We're very fortunate to live in a state where there's a lot of great mountains," Wright said.
Besides Idaho mountains, the friends tackled New Mexico's 13,161-foot Wheeler Peak and California's 14,505-foot Mount Whitney, the tallest peak in the contiguous U.S.
Wright said he was a bit surprised when Hughes approached him about climbing Borah in 2005, but he's proud of her accomplishments.
"There's a lot of stick-to-it-ness," he said, noting that once a person climbs a mountain they often find they can accomplish other things in life.
"Other things don't seem so big," he said.
Hughes said for her mountain climbing is a stress reliever, something to take her mind off the busyness of daily work at the bank.
"I know it sounds strange," she said with a laugh. "But for me, it is complete relaxation. It's physically challenging, but mentally you have to let everything else go ... It's just you and the mountain and you have to pay attention."
What's the toughest mountain Hughes has climbed?
"Without a doubt, Mount Church in the Lost River Range," she said. "The ridge line going to the summit is more technical, definitely more challenging. You have to mentally prepare yourself to go across that."
There are a lot of variables, but on average it takes anywhere from seven to 12 hours to climb one of Idaho's highest peaks, Hughes said. Coming down is much easier and quicker - taking about half the time it takes to get up.
"I always said once I was done (with the nine peaks), I was done," Hughes said.
She since has reconsidered. Hughes likely will climb Mount Borah again next summer with her sons Scott Holmes, who she's climbed with previously, and Casey Holmes. She's also thinking about climbing Arizona's highest mountain, 12,637-foot Humphreys Peak in Coconino County.
Mountain climbing is a rewarding adventure, she said. Besides accomplishing a personal goal, the view on top is spectacular.
"There's no better place to experience the majesty of God's beauty than atop a mountain peak," she said.
Recent Headlines
---