Sentencing sparks protest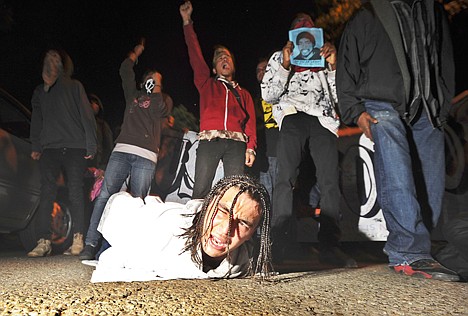 <p>A demonstrator lies on the ground during a demonstration after the sentencing in Oakland, Calif., Friday, Nov. 5, 2010 of former Bay Area Rapid Transit police officer Johannes Mehserle. Mehserle was convicted of involuntary manslaughter for the fatal shooting of Oscar Grant at a BART station on Jan. 1, 2009. Los Angeles Superior Court Judge Robert Perry sentenced Mehserle to two years in prison.</p>
|
November 6, 2010 9:00 PM
OAKLAND, Calif. (AP) - Hundreds of protesters took to the streets Friday, some breaking windows and knocking down fences, after a white former transit officer was given the minimum possible prison sentence of two years for fatally shooting an unarmed black man on a California train platform.
The case against defendant Johannes Mehserle has provoked racial unrest at every turn, and police in Oakland, the scene of the killing, were on alert for more problems following a sentence many thought was too light.
Police in riot gear arrested more than 100 people Friday night after a rally billed as a tribute to the victim, Oscar Grant, turned into a march through the downtown area, where demonstrators broke car and bus windows. Some carried a banner reading "Justice for Oscar Grant." Police helicopters hovered above, shining spotlights on the crowd.
Oakland Police Chief Anthony Batts said the protest was declared an illegal assembly after one officer had his gun taken from him in a fight and another officer was hit by a car and suffered non-life-threatening injuries.
Police spokesman Jeff Thomason said there were scattered arrests elsewhere.
Mehserle's sentence, handed down in Los Angeles, also angered the victim's family and friends, who demanded a much harsher punishment.
Wanda Johnson, Grant's mother, shouted, "Oh my!" when Superior Court Judge Robert Perry issued the two-year sentence. She burst out of the courtroom saying, "He got nothing! He got nothing!"
Grant's uncle, Bobby Cephus Johnson, said outside court: "I do believe it's a racist criminal justice system."
Still, he said the family was reacting calmly but added he could not comment for others.
"I have no power over what people feel their matter of expression should be," he said.
Some of the dozens of people who gathered outside Oakland City Hall for a tribute to victim Oscar Grant broke into tears when they learned of the judge's decision. Outside the Los Angeles courthouse, a small crowd that had earlier shouted "No justice, no peace" reacted relatively calmly to the sentence.
Mehserle, 28, had faced a possible 14-year maximum term after being convicted of involuntary manslaughter. At the time of the shooting, Mehserle was a Bay Area Rapid Transit officer responding to a report of a fight.
In making his decision during the highly charged, 3?-hour hearing, Perry threw out a gun enhancement that could have added as much as 10 years in prison and said there was overwhelming evidence that it was an accidental shooting.
Perry said race would not factor into his decision and although Mehserle had shown "tons of remorse" for killing Grant, he would have to account that a "young man needlessly died."
"I did the best I could with this case," Perry told the courtroom. "My decisions today will not be well-received by many people. I'm sorry for that."
Police said they were prepared in case there was a replay of the rioting in Oakland that followed the shooting on New Year's Day 2009.
Mayor Ron Dellums said he understood the pain and disappointment sparked by the sentence.
"It is still my hope that people will express their anger, will express their disappointment, their outrage, their pain in a manner that is nonviolent, in a manner that is not destructive to our community," he said at a news conference.
Recent Headlines
---