Rude awakening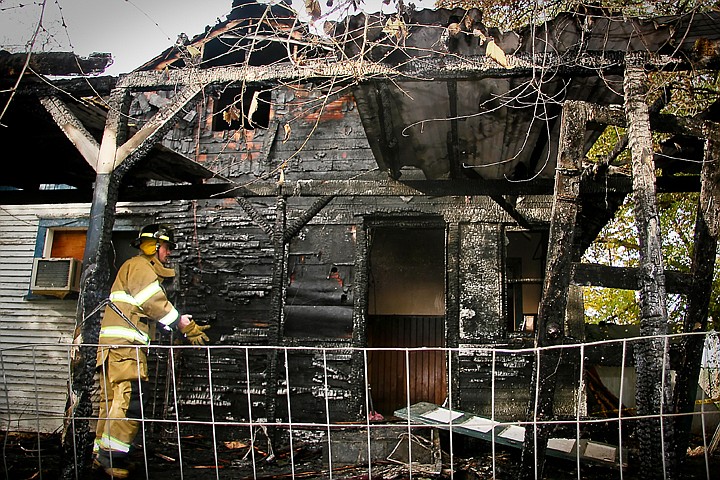 <p>A Kootenai County Fire & Rescue firefighter walks toward a doorway at a home on First Avenue in Post Falls that was heavily damaged by a fire Friday morning.</p>
by
Brian Walker
|
November 6, 2010 9:00 PM
POST FALLS - Carolyn Gades and her two kids awoke to an orange glow shining through their bedroom windows on Friday morning.
Just a few feet away, a fire had engulfed a carport and side of the home next door.
"Flames were rolling up the carport," said Carolyn Gades. "The fire cracked the windows and melted the frames. It scared me to be that close."
Gades and her two boys, ages 4 and 6, exited safely.
William Evans and Brittany Gray, renters of the home at 103 E. First Ave. where the fire occurred at 6:20 a.m., were also not injured.
"The occupants woke up hearing crackling sounds and the side of the house was all lit up," said Jim Lyon, Kootenai County Fire and Rescue spokesman.
A dog and cat at the home, owned by the Red Lion Corporation and across Spokane Street from the city water tower, were rescued from the home.
The fire destroyed the carport, spread to the attic and also caused damage to a side of the home and storage shed.
Lyon said cigarette butts and a lighter were found in the garbage in the carport and are the probable cause.
"It appears the fire started in the trash can," Lyon said.
Miscellaneous items were destroyed, but nothing with significant value, Lyon said.
"There was a couch and table on the carport and we heard there were some garage sale items," he said.
Most of the contents inside the home were salvaged.
Evans and Gray did not have renter's insurance. The American Red Cross is assisting them.
Firefighters cut a rotted tree next to the carport to fight the fire and prevent it from spreading next door.
An investigation continues.
Recent Headlines
---