Hauser Lake gets new boat launch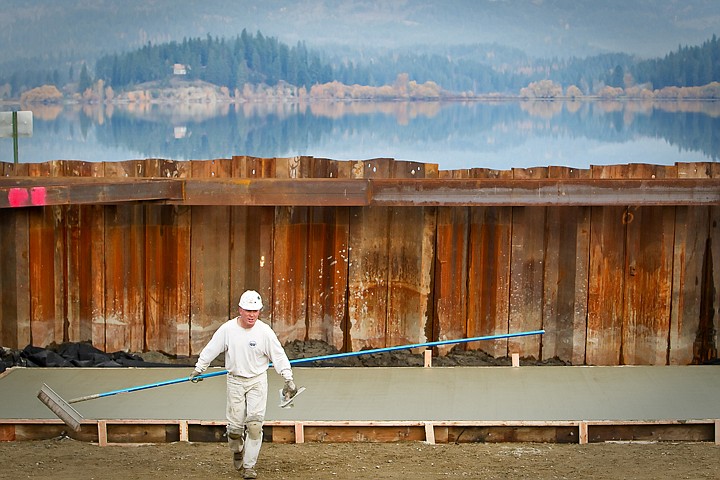 <p>Mitch Whetzel, with Mitch Whetzel Concrete, carries equipment up the grade of the Hauser Lake boat launch Friday after smoothing a freshly pour concrete slab.</p>
HAUSER - The boat launch at Hauser Lake, the busiest launch of the 20 Kootenai County manages, is expected to be finished by Thanksgiving.
The new $294,500 launch on the south end of the lake near the fire station is replacing the former one.
Nick Snyder, Kootenai County Parks and Waterways director, said he believes it's the county's first boat launch replacement in at least 20 years.
"We're confident this new cast-in-place concrete boat launch will last at least 50 years," Snyder said. "It's the most permanent and sound type of construction for boat launches.
"The old launch had broken concrete and holes and was very difficult to launch from."
Work on the project, being performed by Wesslen Construction of Spokane, started on Oct. 11. The old structure has been demolished and the pouring of the concrete on the new launch started on Friday.
It is mostly being paid for with a state waterways improvement grant, with $100,000 in matching funds from the county that was obtained through boat registration and launch user fees.
"No general fund tax dollars were used for this project," Snyder said.
It is estimated that between 200,000 and 250,000 visitors use the facilities at the park, including the launch, each year.
There will be two lanes at the launch whereas the previous launch had one.
"It allows for simultaneous launching and retrieving of the vessels," Snyder said. "That should cut wait times down significantly."
Snyder said vehicles becoming stuck or high-centered was commonplace with the previous launch.
The new ADA-accessible launch will resemble the one at Blackwell Island, Snyder said.
The launch is the latest improvement at the Hauser park. In the past four years, the county has secured grants to replace the restrooms, add walkways and improve the parking lot and landscaping.
"We hope to obtain funding for a picnic shelter in the next two or three years," Snyder said.
Recent Headlines
---