Almost time to flip the switch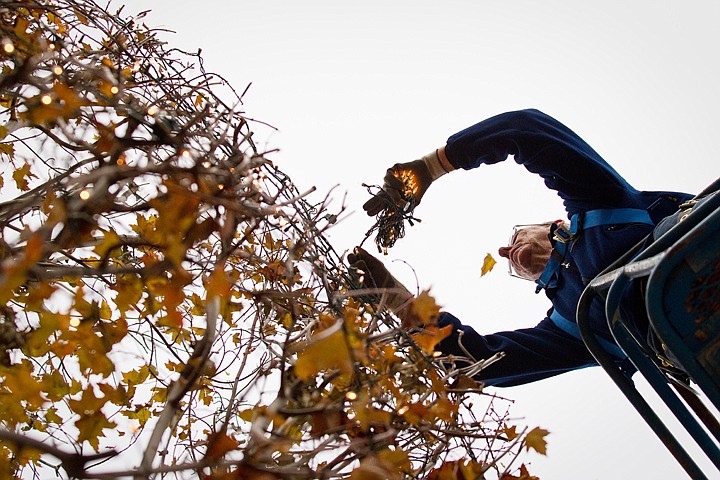 <p>Max Carson, captain of the Coeur d'Alene Resort lake cruise boat, the Mish-an-Nock, strings Christmas lights on the branches of a downtown tree Friday in preparation for the Holiday Light Show hosted by the Coeur d'Alene Resort.</p>
by
Tom Hasslinger
|
November 6, 2010 9:00 PM
COEUR d'ALENE - Creating a visual spectacle takes time.
And to create the largest on-water holiday light show in America requires about 8,000 man hours for anyone scoring at home.
"It's a marvelous, magical time to be in downtown Coeur d'Alene, that's for sure, said David Kilmer, Hagadone Group public relations director. "We encourage folks to come out and make an evening of it."
The Coeur d'Alene Resort Holiday Light Show, a growing tradition since The Resort opened in 1986, is back this year with 1.5 million lights that will color the sky following the downtown parade Friday, Nov. 26.
"Enjoy the parade and then come down and watch the fireworks over the lake with us," Kilmer said.
Joining the party is the Downtown Association, stringing up around 50,000 bulbs along Lakeside and Sherman avenues this week in preparation for the ceremony.
The evening kicks off with a 5 p.m. parade the day after Thanksgiving beginning at Eighth Street and Sherman Avenue, moving west to Government Way where participants and revelers follow the show to The Resort.
Around 30,000 people are expected to converge at the scene to sing some holiday cheer, light candles and watch the ensuing fireworks at 6 p.m. After 2,300 shells explode for more than six minutes, a countdown will begin for the man behind the electrical scene to flip the switch.
One push of the button, and more than 250 different lighting displays ranging from the whimsical to coordinated themes such as Northwest lifestyles and those geared for childhood memories. A 70-foot-tall Christmas tree, with 60,000 twinkle lights will also explode into the night, and a 3,000-pound wreath will grace The Resort.
For the parade, participants begin lining up at 4 p.m. Food vendors are on the street at Little Sherman Park, as well as Sherman and Sixth Street selling kettle corn, cookies, hot chocolate and coffee.
The lights will be displayed every night until Jan. 2.
"It started with just a few lights when The Resort opened," Kilmer said of the tradition that attracts visitors from across the country. "It's obviously expanded since then."
Recent Headlines
---