Ready to hit the slopes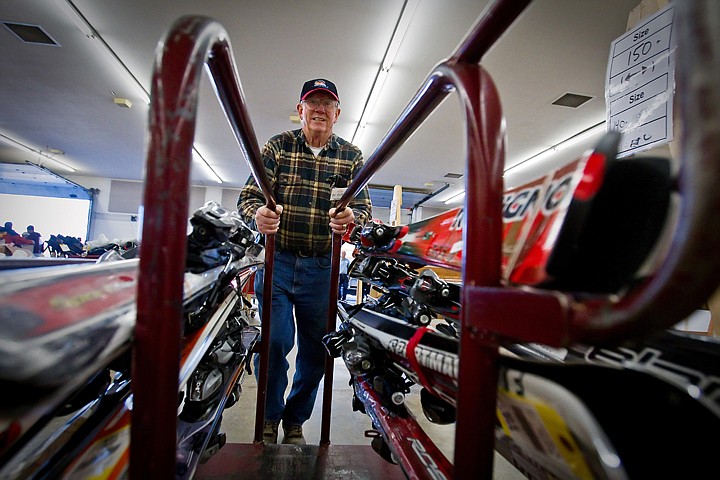 <p>Dave Freeman pushes a cart full of skis to the sales area Thursday for the 12th annual Winter Swap put on by Lookout Pass and Silver Mountain volunteer ski patrols. More than 20,000 items for skiing and snowboarding will be available during the event Saturday.</p>
by
Tom Hasslinger
|
November 5, 2010 9:00 PM
COEUR d'ALENE - It's an avalanche of skiers, only not down a mountain but rather through a door. More like five doors.
They line up hours early and thousands deep.
Yeah, it's once a year, but what's the real draw for snow junkies gearing up for another season on the slopes?
If you don't know by now, then you must be new to the powder.
"Exceptional values," said Denny Burt, Lookout Pass ski patrol volunteer and Winter Swap organizer. "They'll start lining up here at 6:30 a.m."
That's three hours before doors open.
The 12th annual swap brings 15 vendors from across the Northwest to the North Idaho Fairgrounds one Saturday morning in November, right in time for the season to open.
The name of the game is to give skiers - both cross country and downhill - and snowboarders an easy chance to cash in on top of the clothes, boards, skies, goggles and gear at big-time discounts. The 20,000 pieces of merchandise aren't hand-me downs either, and they fill five buildings at the North Idaho Fairgrounds.
The proceeds go to the volunteer ski patrols on Lookout Pass and Silver Mountain. Grand prize drawings for ski passes will also take place.
Recent Headlines
---