A Christmas tradition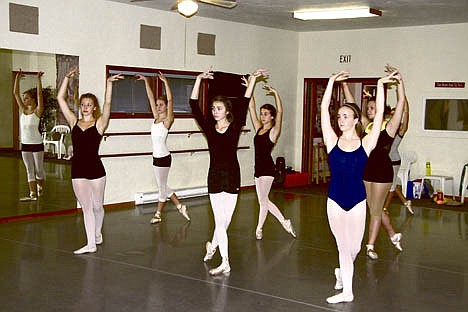 <p>Local dancers rehearse for "The Nutcracker" ballet on Saturday at Le Danse studio in Coeur d'Alene. The holiday performances will be on Dec. 4. From left: Sarah Olsen, Savannah Reynolds, Eden Hanson, Carli Cooper, Kathryn Liegert, Holly Montgomery and India Melton.</p>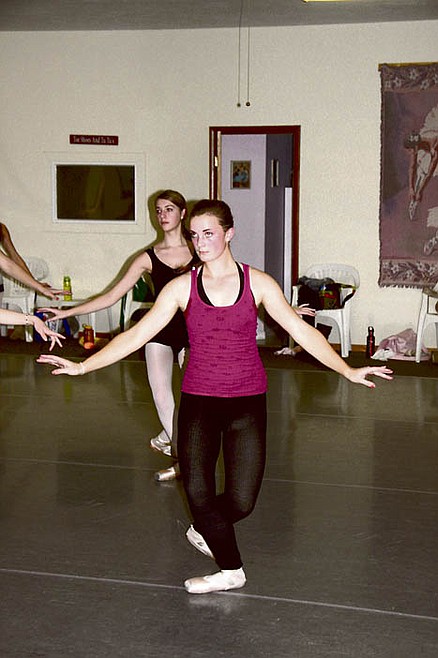 <p>Madeline Dodge, left, and Jessica Oedewaldt practice a ballet routine on Saturday at Le Danse studio in Coeur d'Alene. The dance students will perform "The Nutcracker" on Dec. 4.</p>
Previous
Next
by
Nick Rotunno
|
November 5, 2010 9:00 PM
Twirling across the floor at Le Danse studio on Fourth Street, the dancers were hard at work Saturday.
With only one month until opening day, they were rehearsing a scene from "The Nutcracker," the classic Tchaikovsky ballet that's become a Coeur d'Alene Christmas tradition.
Every year, Le Danse performers and other local dancers join with professionals from the Eugene Ballet Company for a special "Nutcracker" performance. Normally performed at the North Idaho College auditorium, this year the ballet has moved to the Ray and Joan Kroc Center on Golf Course Road - a smaller, more intimate venue.
"I'm excited," said Le Danse owner Debi Terracciano, an accomplished dancer and longtime instructor. "The good thing about having it at the Kroc Center is we get to do twoperformances."
Shows are scheduled for Saturday, Dec. 4, at 3 and 7 p.m.
Area dancers, ranging from 6 to 18 years old, will play a variety of "Nutcracker" roles. Young ballerinas will take the stage as baby mice, angels,ladybugs and party children. A few older, more experienced dancers will perform the Waltz of the Flowers, which was the focal point of Saturday's rehearsal.
Terracciano has been teaching dance for 29 years. She knows "The Nutcracker" inside and out; for two decades she has worked with the Eugene Ballet Company, putting on shows every Christmas.
"Everybody gets invited," she said. "This is my sixth year doing it here."
One of Terracciano's senior dancers is 17-year-old Sarah Olsen, a dual-enrollment student at NIC and resident of Coeur d'Alene. She loves ballet, especially the aesthetics of a dancer's movement - the spins, the steps, the fluid athleticism.
"It's just so beautiful, and elegant," Olsen said. "Really pretty, graceful. It just makes me feel so pretty."
She'll dance in her fourth "Nutcracker" this December, but 2010 will be her last year in the show. For a young dancer like Olsen, performing alongside professionals is a remarkable experience.
"It's just so amazing to be with them, because it's such an honor to be dancing with them," she said. "I just don't want to mess up. I usually get nervous right before the show."
Some of "The Nutcracker" dancers will also perform in "Alice in Wonderland," another cooperative effort between area youngsters and pros from Eugene. That show will take place in February.
Tickets for "The Nutcracker" are still available, Terracciano said. Prices are $25 for adults and $10 for children under 18. Tickets can be ordered through Le Danse by calling 667-3342. They will also be available at the door, but seats are filling fast.
The dancers are ready to show off their talents in front of a live audience.
"I have seen how excited (the kids) get," Terracciano said. "Once the music starts, I feel like a little kid. It's good family fun."
Recent Headlines
---