Indonesians flee volcanic blast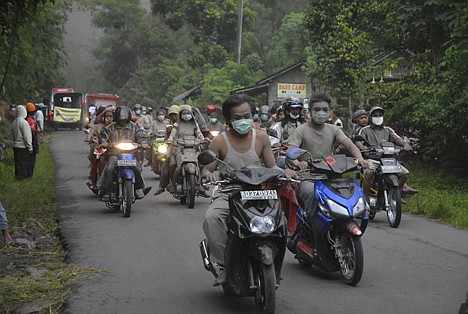 <p>Villagers with their faces covered with volcanic ash, flee their homes on motorcycles following the eruption of Mount Merapi in Klaten, Central Java, Indonesia, Wednesday, Nov. 3, 2010. Indonesia's deadly volcano erupted Wednesday with its biggest blast yet, shooting searing ash miles into the sky and forcing the hasty evacuations of panicked villagers and emergency shelters near the base.</p>
<p>An Indonesian soldier watches volcanic materials released by Mount Merapi as it erupts in Sidorejo, Central Java, Indonesia, Wednesday, Nov. 3, 2010. Indonesia's deadly volcano erupted Wednesday with its biggest blast yet, shooting searing ash miles into the sky and forcing the hasty evacuations of panicked villagers and emergency shelters near the base.</p>
Previous
Next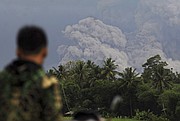 MOUNT MERAPI, Indonesia - Indonesia's deadly volcano sent a burst of searing gas high into the air Thursday, hours after its most explosive eruption in a deadly week triggered an exodus from villages and emergency shelters along its rumbling slopes.
After days of continual explosions, and warnings that pressure inside Mount Merapi may still be building, the province warned it was running out of money to help more than 70,000 people forced from their homes.
Soldiers loaded women and crying children into trucks while rocks and debris rained from the sky late Wednesday afternoon. Several abandoned mountainside homes were set ablaze and the carcasses of incinerated cattle littered the scorched flanks.
No new casualties were reported after the new fiery blasts.
"This is an extraordinary eruption," said Surono, a state volcanologist who had earlier said energy building up behind a magma dome in the crater appeared to be easing.
He said Wednesday's powerful blast, which dusted cars, trees and roads in towns up to 130 miles away in gray ash, had triple the force of the first eruption on Oct. 26.
The follow-up before dawn Thursday was strong as well, sending rocks cascading down the western slopes.
"We have no idea what's happening," Surono said, as he shook his head, watching the bobbing needle of a seismograph machine. "It looks like we may be entering an even worse stage now."
Mount Merapi, which means "Fire Mountain," has erupted many times in the last century, often with deadly results.
Forty people have died since it burst back to life just over a week ago, said Heru Nugroho, a spokesman at the main hospital dealing with the dead and injured. In 1994, 60 people were killed, while in 1930, more than a dozen villages were torched, leaving up to 1,300 dead.
Still, as with other volcanoes in this seismically charged country, tens of thousands call its fertile slopes home. Most now are packed in crowded government camps well away from the base.
Djarot Nugroho, the head of Central Java's disaster management agency, said money to buy instant noodles, clean water, medicine and other supplies would run out within five days unless the Indonesian government declares a national disaster, bringing in much-needed federal funds.
There have been more than a dozen strong eruptions at Merapi in the last week - including another one earlier Wednesday - and thousands of volcanic tremors and ash bursts.
The danger zone was widened from six miles to nine miles from the peak because of the heightened threat.
"I (didn't) think of anything else except to save my wife and son. We left my house and everything," said Tentrem Wahono, 50, who fled with his family on a motorbike from their village of Kaliurang, located about six miles from the crater.
"We were racing with the explosive sounds as the searing ash chased us from behind," he said.
Soldiers and police blocked all roads leading up the 9,700-foot mountain, chasing away curious onlookers and television crews and reporters.
Wednesday's eruption, which occurred during a downpour, raised Merapi to "crisis" status, said Andi Arief, a staffer in the presidential office dealing with the disaster.
Indonesia, a vast archipelago of 235 million people, is prone to earthquakes and volcanos because it sits along the Pacific "Ring of Fire," a horseshoe-shaped string of faults that lines the Pacific.
As a reminder of that, a 6.0-magnitude quake hit waters off the eastern province of Papua on Wednesday evening, rattling several villages but causing no known damage or casualties. At the time, U.S. Secretary of State Hillary Rodham Clinton was wrapping up a visit to Papua New Guinea - on the same island as Papua province. She was in the capital, about 1,000 miles (1,600 kilometers) east of the epicenter, and no shaking was felt there.
The volcano's initial Oct. 26 blast occurred less than 24 hours after a towering tsunami slammed into remote islands on the western end of the country, sweeping entire villages to sea and killing at least 428 people.
There, too, thousands of people were displaced, many living in government camps.
In both cases, relief operations are expected to take weeks, possibly months.
Helicopters and boats were delivering aid to tsunami survivors in the most distant Mentawai islands, more than 800 miles (1,300 kilometers) west of Merapi.
The islands, popular among surfers, lie almost directly over the fault that spawned the 2004 Indian Ocean monster quake and wave.
Recent Headlines
---