Scorsese foundation helps restore 'La Dolce Vita'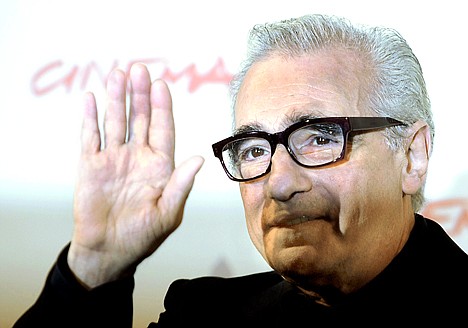 <p>Director Martin Scorsese waves during a photo call to present the restored version of Italian director Federico Fellini's movie "La Dolce Vita " during the Rome Film Festival at Rome's Auditorium, Saturday, Oct. 30, 2010.</p>
by
Alessandra Rizzo
|
November 3, 2010 9:00 PM
ROME - Martin Scorsese hailed "La Dolce Vita" as changing world cinema forever as he presented the restored version Saturday of Federico Fellini's back-and-white classic.
Scorsese, who was 18 when "La Dolce Vita" first came out in 1960, spoke of the impact the movie had on him and of the importance of preserving films for future generations. His institute for the preservation of film treasures, the Film Foundation, helped restore it.
"We have an obligation to the future, we have an obligation to our children to at least let them know this is here, this is what it was like," Scorsese told a press conference at the Rome Film Festival. "This is grand opera from Italy in the late 19th century."
Scorsese described "La Dolce Vita" as a landmark work both in world cinema and in Fellini's own production.
The movie broke narrative rules in that "there's no story, there's no plot, and the film is an epic length - three hours," Scorsese said. It said it had "a moral intensity, an intelligence and a maturity" that was unprecedented at that point in commercial movies.
"This leveled the playing field for commercial cinema all throughout the world," the American filmmaker said. "This changed everything."
The movie follows Marcello Mastroianni's character - a journalist - as he covers jet society, movie stars and Rome's nightlife in the late 1950s. Through Mastroianni's eyes and quest for happiness, Fellini depicts a self-indulgent, ultimately decaying society.
The Rome festival marked the 50th anniversary of the movie's release with a world premiere of its restored version, an exhibit and other side events. Also shown at the festival were some scenes that did not make the final cut, including one bit from the iconic scene where Anita Ekberg seductively splashes in the Trevi Fountain. The Swedish actress came to Rome for the screening.
Scorsese, a New Yorker of Italian origin, is a great admirer of Italian cinema. His 1999 documentary "My Voyage to Italy" pays tribute to the Italian films that have influenced him, including those by neo-realist masters such as Roberto Rossellini or Vittorio De Sica, or Michelangelo Antonioni.
Influence is an elusive idea, one that can't be defined, Scorsese said Saturday. Still, he said, Fellini inspired him to be creatively free, both with "La Dolce Vita" and with later films such as "8 1/2."
"He wiped away all his concerns as a filmmaker with story on this picture and changed the world that way," Scorsese said of Fellini. Since "La Dolce Vita," Fellini never told straight stories again and started constructing his movies like "giant murals."
"La Dolce Vita," Scorsese said, "gave us the freedom to go ahead and break open cinematic narratives" while at the same time creating "a spectacle of life, a spectacle of a society, a culture - and a satire."
Scorsese said his favorite "Dolce Vita" character is Mastroianni's, "because of the downward trajectory that he so charmingly makes" and because of the look "of acceptance" on Mastroianni's face at the end of the movie.
"This is something that is very beautiful," he said.
Recent Headlines
---