Giants move forward with homegrown pitching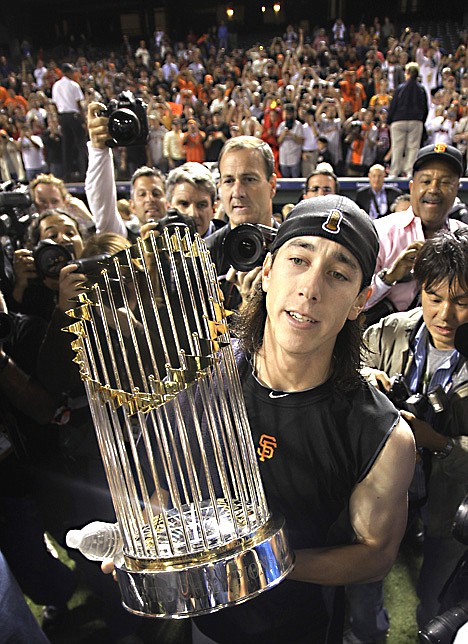 <p>San Francisco's Tim Lincecum carries the World Series trophy after winning the World Series against Texas on Monday in Arlington, Texas.</p>
by
Janie McCAULEY
|
November 3, 2010 9:00 PM
ARLINGTON, Texas - No arguing the World Series champion Giants have dominant pitching. General manager Brian Sabean isn't about to break up that talented, homegrown bunch.
He knows full well more hitting might be needed to make another deep October run. As is the case most winters for this club, San Francisco will go searching for a big bat that fits the budget. And it's not supposed to be a great free-agent market this offseason.
At least now Sabean and company know they can win without that marquee slugger.
The Giants are on top again, securing their first World Series crown since the franchise moved West in 1958 with a 3-1 victory over the Rangers in Game 5 on Monday night.
The first question that always comes up afterward: Can they do it again?
"We're going to celebrate for a while. We'll go to our organization meetings not this week but next and we'll sort it out as best we can," said Bill Neukom, the Giants' bowtie-wearing second-year managing partner. "As we did this year, we will burn the midnight oil. We will not go to bed any night without having figured out who we are, where we want to get, how we get there, who we need to get us there."
The Giants headed home late Monday on festive charter flight. The victory parade is today, pushed back because of Tuesday's elections.
Neukom himself let loose for a little while. Soaked with beer in the winning clubhouse, he bounced up and down with his arm around infielder Juan Uribe.
"Juan, Juan, Juan, U-ribe!" he hollered.
For all the near misses by generations of Giants greats - Willie Mays, Willie McCovey, Barry Bonds - anyone with a connection to the orange and black had reason to cheer this long-awaited title.
"A day does not go by until today that I don't think about the '02 Series," former owner Peter Magowan said, fighting tears. "Now I don't have to worry about that anymore. I know how much the people of San Francisco ached for this. There are a lot of happy families in San Francisco."
Sabean creatively turned the Giants into a contender - and then a champion. His roster of castoffs and misfits, including in-season acquisitions Pat Burrell and Cody Ross, and rookie Buster Posey after a late May callup, came through with surprises in every round.
The Giants got by Atlanta, then stunned the heavily favored two-time defending NL champion Phillies. They took care of the Rangers deep in the heart of Texas.
"Right now it's a little bit surreal," Sabean said.
The Giants got two victories from two-time reigning NL Cy Young Award winner Tim Lincecum against Rangers ace Cliff Lee - unbeaten in the postseason before this - and a loaded Rangers lineup. San Francisco received spectacular defense from second baseman Freddy Sanchez, who also delivered with four hits and three RBIs in the 11-7 World Series-opening win last Wednesday.
"There's just so much tradition and history," Sanchez said. "For us to be able to do this, that's why it was truly a team effort."
Series MVP Edgar Renteria produced two game-winning hits, including a three-run homer in the seventh inning Monday, all while playing with a torn biceps.
The Giants hit .237 in the postseason but had a 2.47 ERA. Their postseason batting average was the lowest for a World Series champion since the 1988 Los Angeles Dodgers batted .227, according to STATS LLC.
Their pitching carried them just as it had all year for a team that clinched the NL West on the season's final day - and in its third try. San Francisco won the close games with an unimpressive offense.
With Lincecum, Matt Cain, Jonathan Sanchez and rookie Madison Bumgarner, Sabean has quite a formidable rotation set for 2011. One of the first big tasks will be deciding whether to re-sign first baseman Aubrey Huff.
The Giants will be counting on more from $126 million pitcher Barry Zito, who was left off the roster for all three rounds in the playoffs but handled it with class all the way.
The 2002 AL Cy Young Award winner with the Oakland Athletics failed to reach 10 wins for the first time since his rookie season in 2000. His 4.15 ERA is the fourth-highest of his career. He went 1-8 with a 6.72 ERA over his last 11 outings and 10 starts and only had one victory in his last 15 appearances. The stretch included a career-worst nine-game losing streak from July 21 to Sept. 14.
Zito was right there rooting even when he wasn't pitching.
"That's the biggest deal for me, 53 seasons or 52 years - however you want to add it up - teams have been going out there every year trying to bring this thing home," Zito said. "And they haven't been able to do it. To be able to be a part of a team to bring something so special to the city of San Francisco, where my heart personally is because I've been in the Bay Area for 10 years as a professional."
Recent Headlines
---