Exit poll: Bad economy eclipses all else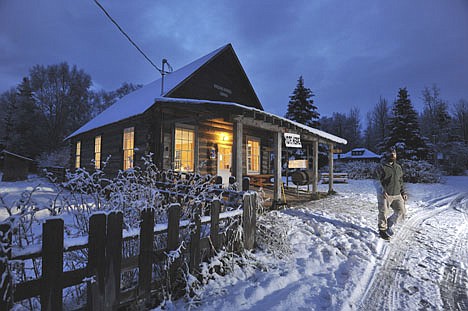 <p>Jamey Stehn leaves Hope Social Hall after casting his ballot in the early morning of election day Tuesday in Hope, Alaska. Stehn and the 200 some residents of Hope use the one-room log building built in 1902 as their polling place and activity hall.</p>
by
Connie Cass
|
November 3, 2010 9:00 PM
WASHINGTON - Voters worried about what's coming next for the economy and were frustrated by the way President Barack Obama and the Democratic-led Congress have been running things. The tide of dismay rolled through groups that can swing elections - women, independents, suburbanites - and turned more of their votes toward Republicans.
Those who went to polls Tuesday seemed annoyed with all things Washington, rating neither the Republicans nor the Democrats favorably. Overwhelmingly, they are dissatisfied with the way the federal government is working, and more than a fourth say they're angry about it, according to preliminary exit poll results. Three-fourths disapprove of Congress.
"I've never felt so much despair as I do right now," said John Powers, a Bayville, N.J., retiree who voted Republican out of animus toward Obama and House Speaker Nancy Pelosi.
Tapping into the grim national mood, the tea party made a splash. About 4 out of 10 voters endorsed the new movement, although most said it didn't influence how they voted in House races. Those who did use their ballots to send a message about tea partyers were slightly more likely to be signaling support for the movement than opposition.
In contrast, voters were more likely to cast ballots to express opposition to Obama than to support him. More than a third said their House votes were anti-Obama; about a quarter said the were pro-Obama.
Retiree Arthur Fisher of San Antonio, Texas, says he usually votes Democratic but this time split his ballot to send a message: "There's too much spending, the economy is not getting better. There's too many empty promises."
Almost half of voters said Obama's health care overhaul should be repealed. Only a third thought the stimulus package he championed helped the economy. Most felt government is trying to do too much.
Among independents, 6 out of 10 disapproved of the job Obama's doing. Independent voters, who favored Democrats in 2006 and 2008, moved decisively to the GOP this time.
The votes of women - who typically lean Democratic and are vital to the party's fortunes - were roughly split between the parties in this midterm year, exit polls show. Men favored Republican candidates even more decisively than in recent elections.
Suburban voters also threw support to Republican House candidates, after splitting their vote between the parties in the last two elections.
Across the electorate, the economy eclipsed all other issues.
Almost everyone surveyed - nearly 90 percent - was anxious about the direction the economy will take over the next year. Half were "very worried." Almost a third of voters said someone in their household lost a job sometime in the past two years.
Recent Headlines
---