Election day for mascot's name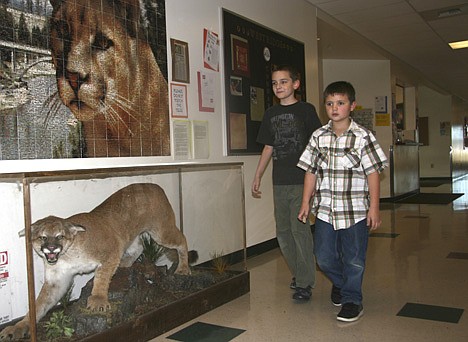 <p>West Ridge Elementary third-graders Taylor Lear, left, and Caeleb Rhoads walk in front of the Post Falls school's cougar mascot on Tuesday. Students used the election process with posters and persuasive speeches before shoosing Shadow as the name of the male cougar.</p>
by
Brian Walker
|
November 3, 2010 9:00 PM
POST FALLS - West Ridge
Elementary students exercised their right to name their school's cougar mascot on Election Day.
After hearing speeches and viewing campaign signs on the three candidates for the name of the school's male cougar mascot, students on Tuesday cast their votes and the landslide winner was Shadow.
"It's a good name that definitely represents the characteristics of a cougar," said fifth-grader Hailey Paine, the student board member who campaigned for the name. "Cougars shadow their prey and are sly. Our school is in the shadows of the mountains and cougars also live there."
The names of the other finalists were Rich and Shredder.
"This year we thought that it would be cool to focus on the election to name our cougar," said Principal Mandy Surratt.
All students brainstormed names and each class proposed five to the student board. From the names, the board narrowed the list to nine based on popularity and what they thought would be appropriate for the mascot.
The board then wrote speeches that were broadcast live to the student body. Campaign signs were also posted. From the nine in the "primary," the top three vote-getters advanced to Tuesday's general election.
Victor Gomez, the fifth-grade student board member who wrote the speech for the name Shredder, said it was a fun and fair way to name the school's mascot while also learning about the election process.
"I think it's be good because when we get older and want to be president, we'll know what to do," Gomez said. "We didn't know what to call (the cougar), and now we do."
Samantha Nearing, a fifth-grade student board member who campaigned for the name Rich, said she believes students benefitted from the project because they had to be creative coming up with clever names and backing those up with reasons to vote for them.
Paine said she learned that student voters wanted specific reasons to choose a particular name.
"You have to explain why you think things should be that way and not just say it," she said. "They want good reasons."
The cougar, a victim of a poacher, was donated to the school last year by parent Dave Overman of the Idaho Fish and Game. Overman spoke to students about hunting and the illegal practice of poaching.
Recent Headlines
---