'Royal treatment'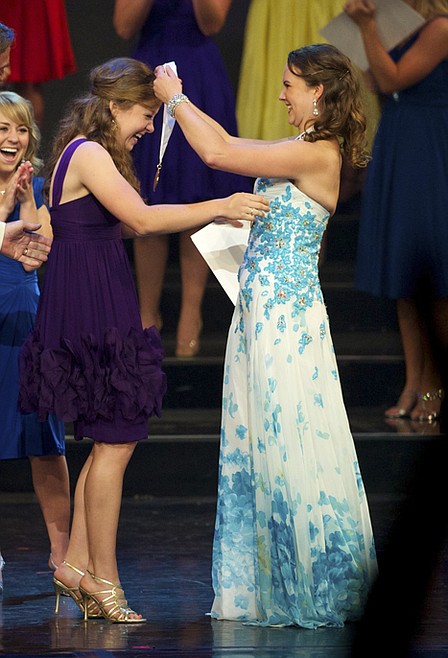 <p>Coeur d'Alene's Madison Leonard, left, is awarded the 2010 Distinguished Young Woman national award.</p>
by
Tom Hasslinger
|
June 30, 2010 9:00 PM
COEUR d'ALENE - Since winning the first Distinguished Young Woman scholarship competition in Mobile, Ala., Saturday night, life for Madison Leonard has been a whirlwind.
There are television shows to tape, interviews to grant, the national anthem to sing, and a meeting with the president to arrange.
"It was just royal treatment right off the bat," Madison said Tuesday. "I'm not used to that."
From Coeur d'Alene Junior Miss, to Idaho Junior Miss, to America's Junior Miss.
Tuesday, the Coeur d'Alene High School graduate and Hayden Lake teen appeared on the CBS "Early Show" with David Price, and on Thursday, she'll be on "Fox & Friends" with Gretchen Carlson.
But what's she up to now?
"Right now I'm on the roof of the Metropolitan Museum of Art staring at the beautiful New York City skyline," she said.
The 18-year-old is still trying to comprehend it all.
Madison won $41,000 in scholarships Saturday after she was chosen as the newly renamed Distinguished Young Women winner for 2010.
A shock, she said, because she was just happy she had made the final round of 10 by the end.
In fact, after arriving at the event June 13, she looked at the other 49 girls' biographies and told herself not to be intimidated. They included Harvard and Northwestern bound girls, more than half of whom had ACT scores above 30.
But Madison wowed the crowd during the talent portion of the competition Friday night while she played the piano and sang, "The Nearness of You" by Hoagy Carmichael. She had talked about how she plans to make sure she uses the educational and economic opportunities to better herself and everyone around her during the self-expression part.
Backstage, they told the girls how to react if they won. Smile, wave to your family, thank the judges.
But, Madison said, "nobody really thinks that's going to happen," so when her name was called, she had to remember what they had told her.
"I just put my hand over my mouth. I was so shocked and in awe really," she said.
"You always think your children are uniquely special," said Madison's father, Paul Leonard, at the ceremony. "But when somebody else tells you, it's frosting on the cake."
Madison also earned around $9,100 in scholarships at the local and state competitions. She plans to attend Pepperdine University in California in the fall, where she'll study music and journalism.
She enjoys tennis, water and snow skiing, English and history in school, but loves singing most of all.
"I felt nerves as a mother," said Madison's mom, Denise Leonard, as she watched Madison perform in front of 2,000 people during the final days of the competition. "I think I get more nervous than she does."
After the judges' decision, the whirlwind began, and they whisked Madison to New York for TV appearances and magazine interviews.
She'll be back in Mobile several times, twice to sing the national anthem before the GMAC and Senior college football bowls. She'll travel the country over the next year for speaking engagements. They're still trying to nail down a meeting with President Barack Obama.
"I'm just getting great treatment," Madison said, adding she'll be back from the Big Apple on Thursday, and an honored guest at the state competition in the Lake City this fall. "But I'll be glad to see all my friends and family and I'll be excited to be back in Idaho."
Recent Headlines
---