Fire funding sought KCFR to float $2M bond on Aug. 3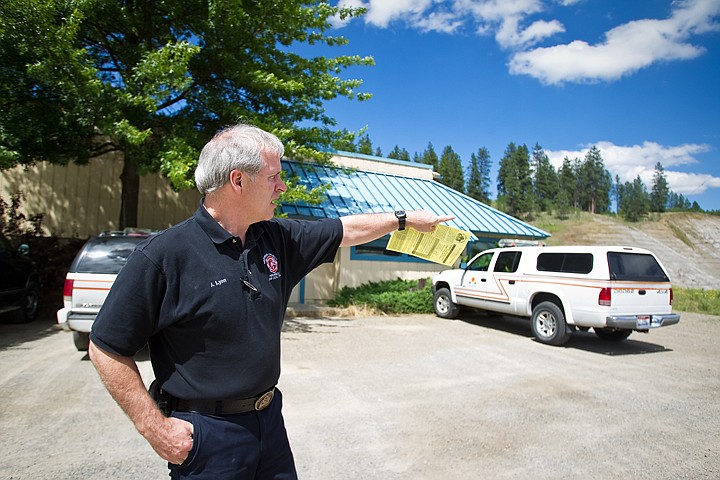 <p>Public Education Specialist, Jim Lyon, describes some of the improvements that Kootenai County Fire and Rescue hope to make to their Seltice Way location through a proposed bond of $2 million.</p>
by
Brian Walker
|
June 30, 2010 9:00 PM
POST FALLS - Kootenai County Fire and Rescue will float a $2 million bond to its patrons on Aug. 3 to pay for completing a training facility, remodeling the administration building and equipment and station upgrades.
The owner of a $250,000 home would pay about $18 per year for 10 years to pay off the bond.
However, if the proposal passes with two-thirds approval, residents of areas KCFR serves, including Post Falls, Stateline, Dalton Gardens, Fernan, Huetter and Wolf Lodge, would not see an increase to their existing taxes because an existing bond for the same amount to construct two stations will be paid off in September.
"This would allow us to increase training opportunities and not raise taxes," KCFR Chief Ron Sampert said. "We're asking voters if they want to continue developing a training ground to better serve them and we'd put some local folks to work in the process."
The cost to complete the training grounds next to the administration building on Seltice Way next to the National Guard armory is nearly $1.1 million. The facility will be used for training on extracation, vehicle burns, confined spaces, technical rescues and building collapses.
The grounds will also feature a five-story tower, 30,000-gallon drafting pit, a classroom, restrooms, backhoe for maintenance, security lighting, fencing and landscaping.
The tower is already budgeted for and is in the design process. Construction on the $1.2 million tower, not part of the bond, will start this year. It will go out to bid mid-summer.
KCFR trains at a facility in Coeur d'Alene, but getting crews together at one time to train poses challenges, Sampert said.
"We can't leave one area uncovered while we're training," he said. "If we had a training ground in our own district, we could train and still not jeopardize quick response to our constituents."
KCFR has used people's buildings to train in, but liability concerns arise from doing that, Sampert said. The agency will also continue to have practice burns on buildings when it's asked to do so, but those opportunities may be infrequent.
Research on the training ground started about three years ago.
Sampert said the exterior siding on the administration building is deteriorating and birds are living in the attic after gaining access through woodpecker holes. On the inside, some staff work in the hallways and cubby holes as well as doubling up in offices.
Plans for the $1 million remodel include a large classroom to allow for training and classes and additional office space.
Other projects include adding an exhaust filtration system to the station on Ramsey Road to improve health conditions, $33,000; upgrading breathing apparatus to meet standards, $600,000; moving the existing maintenance shop to a recently completed warehouse to allow for better working conditions, $150,000; and updating exhaust systems at the stations west of Pleasant View Road and on 16th Avenue, $97,000.
The total cost of the improvements is $2.975 million, but $975,000 would be funded with existing money saved for developing the training grounds and upgrading administration offices.
Sampert said now is a great time to make improvements because material and labor costs are less than in recent years, thereby giving taxpayers a good value.
KCFR, which serves 114 square miles and about 44,000 people, employs 58 full time and has 32 volunteers. It responded to a record 4,511 calls in 2009. Three of its stations are staffed with full-time personnel and three are manned with volunteers.
Voting will be from 8 a.m. to 8 p.m. on Aug. 3 at the station at 3820 E. 16th Ave. in Post Falls and the station at 6288 N. Fourth St. in Dalton Gardens.
For more information, visit www.kootenaifire.com, stop by the administration office at 5271 E. Seltice Way Monday through Friday from 8 a.m. to 5 p.m. or call 676-8739.
Recent Headlines
---