Peaks and valleys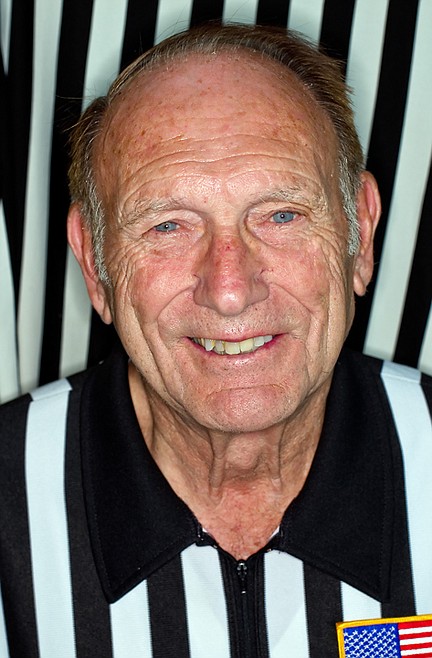 <p>Bud Ford was recently selected as the Idaho High School Activities Association's Official of the Year. Ford, who has been officiating football games for 60 years, will receive his award in August at the IHSAA 31st annual Hall of Fame banquet in Boise.</p>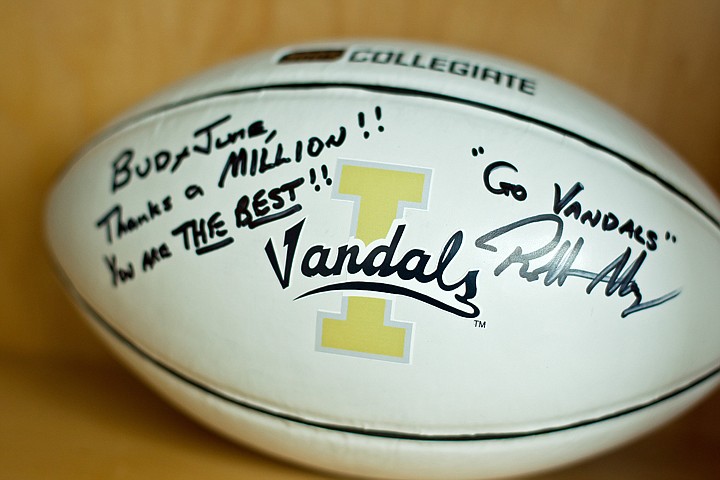 <p>Since Bud Ford began officiating football games in 1950, he has seen local players rise through the ranks from high school, to college and eventually the NFL.</p>
Previous
Next
by
JASON ELLIOTT
Sports Writer
|
June 29, 2010 9:00 PM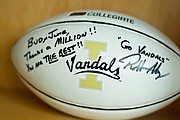 COEUR d'ALENE - For nearly 60 years, football coaches and fans throughout North Idaho have learned at least one lesson on Friday night.
Nothing runs like a Ford.
Coeur d'Alene resident Charles "Bud" Ford, a football official at various levels for the past 59 years, will be presented with the inaugural Official of the Year award during the 31st annual Idaho High School Activities Association Hall of Fame banquet on Aug. 4 at the DoubleTree Riverside Hotel in Boise.
"It's quite a feat to last in a profession that long," District I football commissioner Jim Kravik said. "It really shows his dedication. To get it in the first year, I feel it's appropriate for him to get that award."
Ford, who is still active at 80 years old, added officiating is something he enjoys to this day. He started off as an umpire, and has been a referee for the past 20 years.
"I enjoy the fellowships of the young kids," Ford said. "I've always enjoyed doing it. Without officials, there's no sports."
Ford, a 1948 graduate of Coeur d'Alene High, also officiated basketball games for some 35 years before giving that up in the 1970s.
"I've seen Jerry Kramer, Joe Dobson and Joe Chapman when they were in high school," Ford said. "It's been nice to see them mature from young men to adults."
Ford said he stepped away from basketball after a bad night driving home.
"It was raining and snowing," Ford said. "I got home, had some Kahlua and coffee and thought to myself, 'Is this really worth it anymore?'"
He still officiates between 10 to 20 football games each year.
"It's still fun for me," Ford said. "That's the key. When it doesn't become fun, you should quit. It wasn't fun anymore doing basketball."
Ford often officiated basketball games at North Idaho College and well as some high school games.
"NIC was playing the Washington State freshman team in Coeur d'Alene," Ford recalled. "Somebody had shot a cougar and brought the meat to the game and started eating it after NIC won. It was a pretty wild game."
District I covers from Bonners Ferry to Plummer, and as far east as Mullan.
"I go wherever the commissioner sends me," Ford said. "I've gotten around long enough to the different schools that I get to watch them develop from freshman to seniors."
Although he maintains a familiarity with most players, he doesn't let that get in the way of his business come gametime.
"I try to maintain knowing the players, but not being too friendly," Ford said. "I keep it strictly professional."
Ford adds that in his years as an official, he hasn't had too many problems with coaches either.
"The varsity coaches are normally really good," Ford said. "I've had a discussion or two with some JV and freshman coaches about some rules."
The only time Ford was unable to finish a game was at Sandpoint in the mid-1970s while Kravik was also on the crew.
"We were working together during a game - I was the head official and Bud was the umpire," Kravik said. "He got ran over and didn't make it out for the second half and had his wife take him home. I called the next day and found out he'd broken his knee and it had compacted down. He came in real danger and went into shock. It was a real setback, because he missed the rest of the year, but was also a wakeup call - anyone can get hit out there. After that, he could have done something else."
Ford has since had a couple of steel plates put into his legs as a result of that game.
"I got trapped in the backfield," Ford said. "The defensive lineman missed the ball carrier and tackled me instead."
Ford once wound up officiating a game in Germany, working a matchup between a German team and an American squad in the early 1980s.
"There was an official that got sick," Ford said. "I was over there visiting my son and they called me. Someone knew I was qualified and I ended up working the game."
The game is one of Ford's favorites in his long list of games officiated.
"The German team was like a semi-pro team," Ford said. "The American team was comprised of servicemen. Once the German team started yelling, you wondered if they were yelling at the other team or you."
After all these years, Ford still enjoys being on the field.
"It gives me a chance to see new faces each year," Ford said. "With all my experience, it's kind of fun to help younger officials develop."
Kravik added the award is a symbol to his dedication to the sport.
"His longevity should be rewarded," Kravik said. "There's been a lot of peaks and valleys. It gets very easy when officiating to not want to do it anymore and eventually give it up."
"I'll probably do it another year or two," Ford said. "I still enjoy the camaraderie with the fellow officials. But 81, 82 may be the limit on my body. All this exercise has kept me young."
Kravik said Ford's availability has also turned into an asset when scheduling games.
"With different officials, their availability varies," Kravik said. "He's been pretty available and doesn't have a job where he has to punch a clock. Bud's helped with some emergencies when they've came up and we've been tight on officials. It's good to have someone to depend on. This award is really a credit to him for staying in it for so long."
Recent Headlines
---