'I love what I'm doing'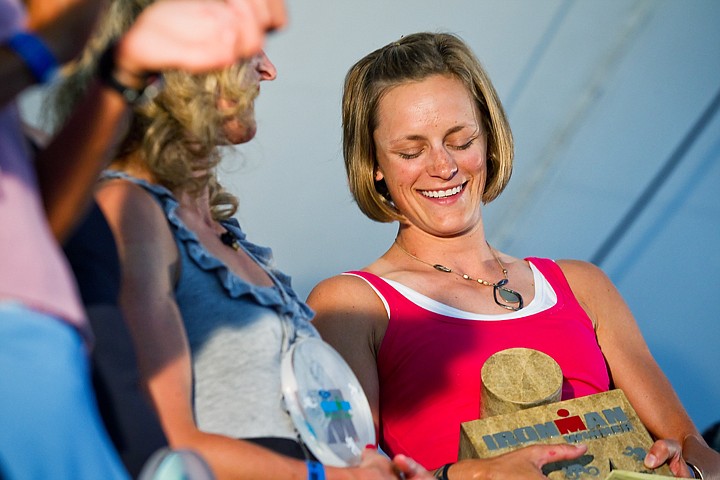 <p>Linsey Corbin admires the trophy she was awarded Monday during an award ceremony for the 2010 Ironman Coeur d'Alene top finishers.</p>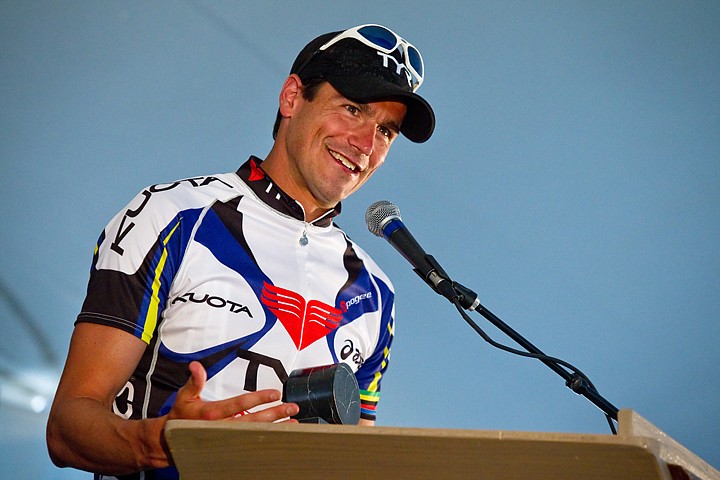 <p>Andy Potts talks about the support he received from volunteers and spectators along the Ironman course.</p>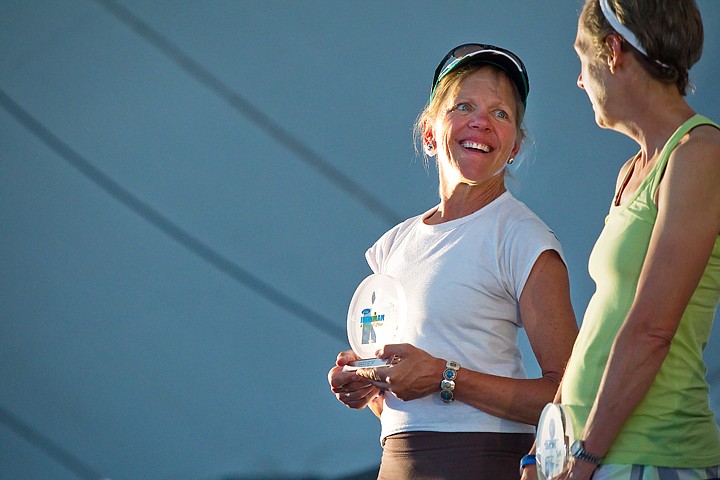 <p>Kathleen Salvadore, of Hayden Lake, chats with a fellow competitor after being awarded a fourth place trophy in the women's age 55-59 division during Monday's award banquet.</p>
Previous
Next
by
BILL BULEY
Staff Writer
|
June 29, 2010 9:00 PM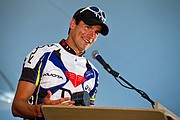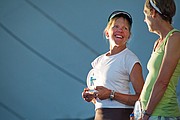 COEUR d'ALENE - "You're almost there!"
Andy Potts heard that a lot on Sunday as he led the Ironman Coeur d'Alene. He loved the encouragement, but a few folks shouted that phrase a little too early for his comfort.
"I think I heard that at mile 4 on the run," he said with a laugh during his speech at Monday's award banquet. "Twenty-two more miles, buddy."
The 33-year-old finished in 8 hours, 24 minutes and 40 seconds to claim first place and win $10,000.
He said he did a lot of positive self-talking that helped him hold on through the final miles of the run after already swimming 2.4 miles and biking 112.
"There are a few expletives involved at some moments," he said with a big grin. "I kept saying to myself, 'This is a fantastic sport, I love this sport, I love what I'm doing.'"
Mike Reilly is the voice of Ironman, but he wasn't talking too much Monday.
"My voice feels just as bad as your legs," he said with a laugh to a few thousand Ironman Coeur d'Alene athletes and their families gathered under the big tent.
Despite the sore, aching muscles, most wore proud smiles as they celebrated Sunday's grueling event and age-group awards were presented.
Local age group award winners included:
• Brian Hadley, Coeur d'Alene, first, 35-39, 9:24:21
• Suzanne Endsley, Coeur d'Alene, second, 45-49, 11:29:17
• Phillip Althen, Coeur d'Alene, second, 60-64, 11:46:03
• Derek Garcia, Post Falls, fourth, 25-29, 10:08:30
• Kathleen Salvadore, Hayden Lake, fourth, 55-59, 15:39:05
First-time Ironman race director Mac Cavasar said one of his goals was to provide a race that was safe and helped each athlete do their best.
He believed they did that.
"You made my day. You made me proud yesterday," he said.
Linsey Corbin of Missoula, who topped the women's field in 9 hours, 17 minutes and 54 seconds, also claimed a first-place prize of $10,000. The 29-year-old said she has been "working on believing this goal was going to happen.
"Yesterday, I was able to achieve that, so I'm very grateful," she said.
Potts said he heard a lot of encouraging words and phrases Sunday, such as "keep going" and "You can do it."
He assured everyone that's what he planned.
"I never had the intention of not moving forward but sometimes my body would say, 'Maybe you should ease off the gas a little bit," he said.
The Colorado Springs, Colo., man said he had his good moments, and his bad throughout the day.
"On those good moments I kind of let it come to me and let it flow and just roll with it. I had a few rough moments. It wasn't always sunshine and great to be out there. I had some tough times.
Mentally and physically, he said he worked hard to stay on task.
"I just kept fighting. When the moments got tough, I hope that each and every one of you said 'Now's the time to dig.' That's exactly what I said to myself."
Most got it done.
Out of 2,262 who started the race, 2,095 finished, a DNR rate of 8.5 percent, up from last year's 5.7 percent. Reilly urged them to keep trying.
"There will be another day for you," he said.
• Jim Yanoschik of Temecula, Calif., raised $1.1 million while competing in Ironman Coeur d'Alene through the Janus Charity Challenge for Rotaplast International, which provides free operations for children with cleft lips in Third World Countries.
Yanoschik has competed in seven Ironman Coeur d'Alenes. The secret to his fundraising success? "You just keep asking. Ask, ask, ask," he said.
• The oldest finisher was Courtney Warner, 70, of Georgetown, Ontario, in 16:14:05. Five 70 or older started the race and he was the only one to finish. "I'm just a great fan of survival," he said, laughing. The oldest female finish was Cullen Goodyear, 62, of British Columbia in 13:19:57.
• Major Andy Christian of Temecula, Calif., carried the American flag with him throughout the run and finished in 11:02:36
• Luke Shepherd of Gretna, Neb., was recognized for the slowest transition time, spending 38 minutes, 55 seconds in the swim to bike switch, then 11:15 in the transition from bike to run. All told, he spend 50 minutes and 10 seconds changing clothes.
Recent Headlines
---