Coming out of their shells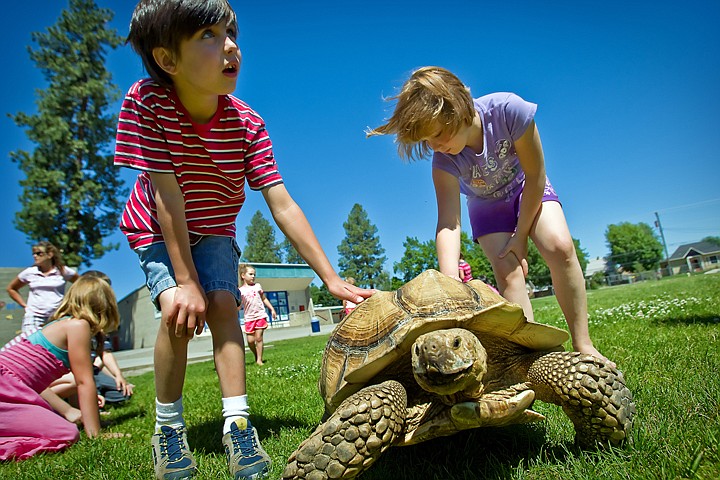 <p>Evan Brown and Jasmine Arveson inspect the shell of Big Louie, a 120-pound tortoise. The large reptile, and another smaller tortoise, was brought by Ron Petersen to the CDA4Kids class Monday at Bryan Elementary.</p>
by
MAUREEN DOLAN
Staff Writer
|
June 29, 2010 9:00 PM
COEUR d'ALENE - The tortoise glided across the grass Monday morning outside Bryan Elementary School.
Louie, a 120-pound sulcata tortoise, was moving slowly and steadily along, showing off the even-paced gait that helped one of its kind win that fabled race against the hare.
Suddenly, the reptile dropped its head, relaxed its legs and lay down in the sunshine.
"This is a little early for him. He likes to sleep in," said Ron Petersen, Louie's owner.
After a short rest, the hard-shelled creature started trekking across the field again with about two dozen children following.
Petersen, of Oldtown, brought Louie and Karoo, a smaller leopard tortoise, to visit the youngsters attending the CdA4Kids summer program.
Ryley Blair, 7, was enthralled with the larger creature, continually patting Louie's shell.
"I have a little one," Ryley said, holding his hands in a small circle to show its size. "My grandma is taking care of it. I like this one because it's big. They get big."
That they do, and it's one of the reasons Petersen has 36 of the reptiles living with him. Louie is the biggest. Most are much smaller.
Petersen has been rescuing homeless tortoises for about seven years, collecting them when their owners can no longer care for them.
People buy tortoises from pet stores, he said, and then within a year or so, the creatures grow too large to handle, or the pet owners just lose interest.
"I hear them say, 'They're cute, but they're not cuddly,'" Petersen said.
It's not easy to find a home for a growing tortoise with a life expectancy of up to 150 years.
Zoos won't take them, Petersen said, because there are too many out there.
When Petersen got his first tortoise from a pet shop, they gave him a box turtle although he had requested a Russian tortoise.
He ended up keeping both.
"It started from there," Petersen said.
Soon Louie came into his life. The tortoise needed a rescue from a tortoise rescue.
The woman caring for Louie had two large dogs that played together and never bothered the hard-shelled creatures she saved. When one of the dogs died, the other started playing with Louie, turning it over and damaging its shell.
"A couple of more layers and he would have died," Petersen said.
With Petersen, Louie and the others have a safe home that's warm in the winter, and they have plenty of greens to eat.
And the occasional strawberry or banana, which they love.
"But that's like candy for them, they can't have too much," Petersen said.
Recent Headlines
---