Joyous times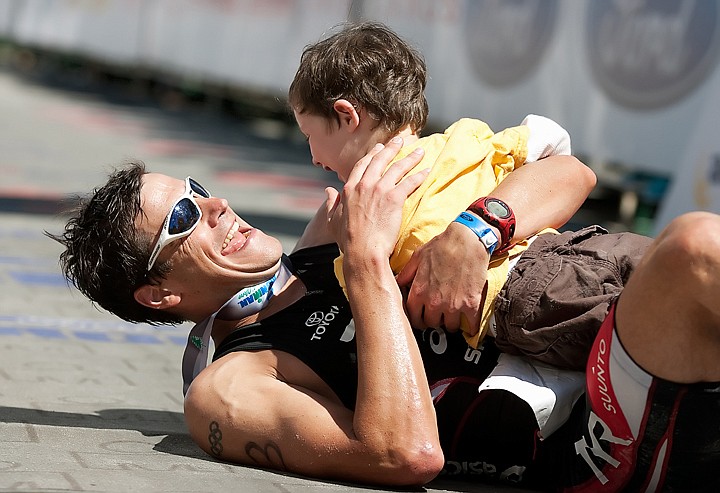 <p>Andy Potts, of Colorado Springs, rolls on the ground with his two-year-old son, Boston, after winning the 2010 Ford Ironman Coeur d'Alene Sunday with a time of 08:24:14.</p>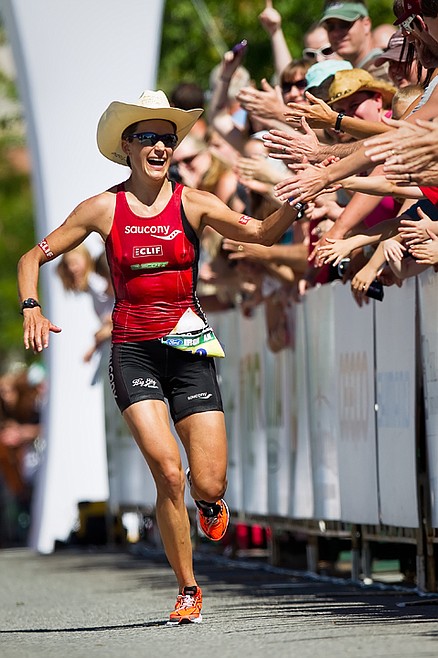 <p>Linsey Corbin receives a barrage of high-fives as she approaches the finish line of the 2010 Ford Ironman Coeur d'Alene on Sunday. Corbin was the top woman to finish with a time of 09:17:54.</p>
Previous
Next
by
David Cole
|
June 28, 2010 9:00 PM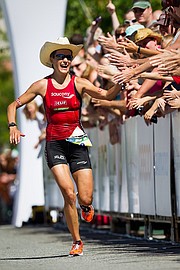 COEUR d'ALENE - Professional triathletes Andy Potts and Linsey Corbin became 2010 Ford Ironman Coeur d'Alene champions Sunday.
Potts, 33, covered the 2.4-mile swim, 112-mile bike course and 26.2-mile run in 8 hours, 24 minutes, 14 seconds for the overall win. The Colorado Springs, Colo., resident is the 2007 Ironman 70.3 World Champion and a former Olympian.
"I think I won by being a complete triathlete today," Potts said. "This was definitely one of my biggest wins of my career."
He was well prepared for all three phases of the race, he said.
He wouldn't identify them, but said, "no one was able to exploit any of my weaknesses."
Corbin, 29, of Missoula, set a course record for women in 9:17:54.
"I've been dreaming about this for a couple years," Corbin said.
Ironman Coeur d'Alene was Corbin's first professional race in 2006.
Corbin's time broke Tyler Stewart's record of 9:23:21, set last year.
Corbin's splits were 1:01:04 in the swim, 5:07:44 on the bike, and 3:04:36 in the marathon.
"I really wanted to break three hours in the marathon," Corbin said. "The last few miles (of the run) I really had to dig deep."
Corbin waited by the finish line for training partner and second-place women's finisher, Meredith Kessler, who came in at 9:23:52. Kessler, 31, is a first-year pro from San Francisco.
"She's such a strong runner," Kessler said. "I hit the wall the last six miles."
Corbin passed Kessler about the 17th mile of the run. Corbin and Kessler stayed close for much of the bike portion of the race, where Kessler led the women's field early on. Kessler finished third in the swim, with Corbin in ninth. It was Kessler's best Ironman time by 15 minutes, she said.
Potts' race splits were 46:28 in the swim, 4:42:02 on the bike, and 2:52:48 for the run. He took control of the race early on the bike course and held it for the remainder of the race. John Flanagan held a 30-second lead on Potts as they left the water and started riding.
Courtney Ogden, 38, of Perth, Australia, was second overall in 8:38:17, followed by 2003 Ironman Coeur d'Alene champion Michael Lovato in 8:41:17, and Luke Bell, in 8:43:16.
Ogden said, "This is definitely my best result, based on the quality of the field" of competitors.
He said he had a good block of training completed when he entered the race. He raced in Coeur d'Alene in 2003 and 2008.
"It's a fair course - everybody has to work hard," he said. "The course is second to none."
Ogden passed several runners, but he didn't have enough to put pressure on Potts.
"He rode very well," enough for a comfortable lead as the running started, Ogden said.
Potts was in total command of the race at 10 miles into the marathon.
Lovato, 36, of Boulder, Colo., said he was better prepared for the '03 race.
On Sunday, Lovato said, "I felt good for 15 miles" in the run, but had more trouble after that because he hadn't done enough running coming into the race.
Kelly Williamson, of Austin, Texas, was third in the women's field at 9:39:23, followed by Haley Cooper-Scott, of Spokane, at 9:42:02.
Some 2,700 signed up for the eighth annual Ironman Coeur d'Alene.
Recent Headlines
---