U.S. is a Ghan-er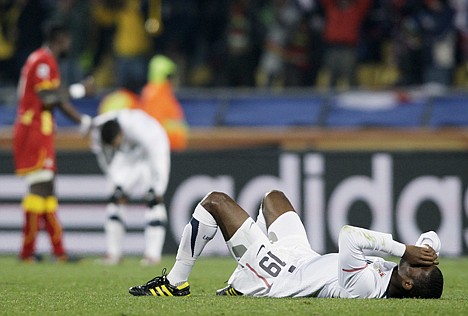 <p>Maurice Edu of the U.S. reacts after his team lost to Ghana in the round of 16 at the World Cup on Saturday in Rustenburg, South Africa. Ghana won 2-1 in extra time, advancing to the quarterfinals.</p>
by
Ronald Blum
|
June 27, 2010 9:00 PM
RUSTENBURG, South Africa — Grim-faced American players filed by one by one on their way out of Royal Bafokeng Stadium. Their World Cup was over.
They'll have four long years to dwell on what might have been, how the most-talented team in U.S. soccer history was knocked out in a game the Americans were convinced they should have won.
No nail-biting comeback this time. The U.S. relied on late rallies once too often.
Life on the World Cup edge came to an exhausting and crushing end against a familiar foe Saturday night, when Ghana — led by Asamoah Gyan's goal 3 minutes into overtime — posted a 2-1 victory that ended a thrilling yet futile tournament for the United States in the second round just when it seemed the Americans had a relatively easy path to the semifinals.
"We felt like we had a great opportunity," goalkeeper Tim Howard said. "We just gave ourselves too much of a mountain to climb. We just couldn't come back."
Kevin-Prince Boateng put Ghana ahead when he stripped the ball from Ricardo Clark in the fifth minute and beat Howard from 16 yards. It was the third time in four games the U.S. fell behind early, and once again the Americans rallied.
Landon Donovan tied the score with a penalty kick in the 62nd minute, his record fifth goal for the U.S. in World Cup play, after Jonathan Mensah pulled down Clint Dempsey streaking in. But that was it.
There was no offense left, no spark, no fire — unlike the first-round come-from-behind draws against England and Slovenia, and Donovan's memorable injury-time goal against Algeria that lifted the U.S. into the knockout phase.
"We tried to push and push," U.S. captain Carlos Bocanegra said. "I don't know if we just didn't have anything left because we had been pushing so much the entire tournament."
Ghana, the only African team to advance past the first round of Africa's first World Cup, eliminated the Americans for the second straight World Cup following a 2-1 win that knocked out the U.S. in the group phase in Germany. The Black Stars joined Cameroon (1990) and Senegal (2002) as the only African teams to reach the quarterfinals and will play Uruguay for a berth in the semifinals, a round the U.S. has not reached since the first World Cup in 1930.
"A stinging, tough defeat," said Bob Bradley, who faces an uncertain future as U.S. coach.
With former President Bill Clinton watching and Mick Jagger sitting next to him, the U.S. was done in by a porous defense and forwards who failed to score a single goal in four games.
"When you give up this many goals, you're not going to go very far," Bocanegra said.
All five U.S. goals in the tournament came from the team's midfield backbone: three by Donovan, one by Dempsey and one by Michael Bradley, the coach's son.
In the first-ever extra time World Cup game for the U.S., Gyan got the winning goal when he took a long ball from Andre Ayew over the defense and beat Bocanegra, his teammate on the French club Rennes. Gyan let the ball bounce, took a touch with his chest, and with Jay DeMerit vainly trying to catch up, scored over goalkeeper Tim Howard with a left-footed shot from 16 yards.
"I had my angles right there. There no question about it," Howard said. "He absolutely crushed it."
The goal set off horn-honking celebrations in Ghana, a West African country nearly 3,000 miles away.
"We've made everybody proud," Gyan said. "Not Ghana alone, but all of Africa."
There was nothing to equal Donovan's injury-time goal that provided a 1-0 victory over Algeria and moved the Americans into the second round. The closest the U.S. came to tying it again was in the 98th minute, when Maurice Edu's header off Donovan's corner kick went wide.
With Howard pushed up, DeMerit's desperation long shot in the final minutes went over the crossbar. Then Dempsey sent a header wide.
At the final whistle, Howard consoled Bocanegra and Edu collapsed to the ground. Donovan exchanged jerseys with a Ghana player and walked off the field, put on a coat, sat on the bench and hung his head.
"If we're a little less naive tonight, we would have advanced," said Donovan, at 28 in his prime and the best American player ever. "I said all along this was a young team and a relatively inexperienced team at this level."
After Donovan tied the score with his American record 45th international goal, Jozy Altidore had the best opportunity. But he went wide in the 81st minute.
No American forward has scored in the World Cup since Brian McBride in 2002.
"Let's face it, you count on your forwards," Bradley said. "We need to get better at forward."
While the U.S. came from behind to draw England 1-1 and Slovenia 2-2 in the first round, the Americans looked ragged this time. They go home pondering a World Cup that could have been so much more. They thrilled the large number of Americans who were the largest group of overseas ticket buyers, but failed to do as well as the 2002 team, which reached the quarterfinals in the best U.S. finish since 1930.
An upset of European champion Spain in the semifinals of last year's Confederations Cup in South Africa had raised expectations.
"We always understand the responsibility we have as a national team to show how far the game has come in the United States, to fight for respect," Bradley said. "We certainly felt we moved things along with our performance in the Confederations Cup and as we went through the first round we felt that we were continuing to go in that direction."
Because a growing fan base watched on television in record numbers, the loss was even more painful for a team still struggling for recognition both in the soccer world and among sports fans in America.
"Soccer can be a cruel game," Donovan said. "Sometimes you're at the top and sometimes you are at the bottom of the mountain."
Recent Headlines
---