Minnick: U.S. must attack its debt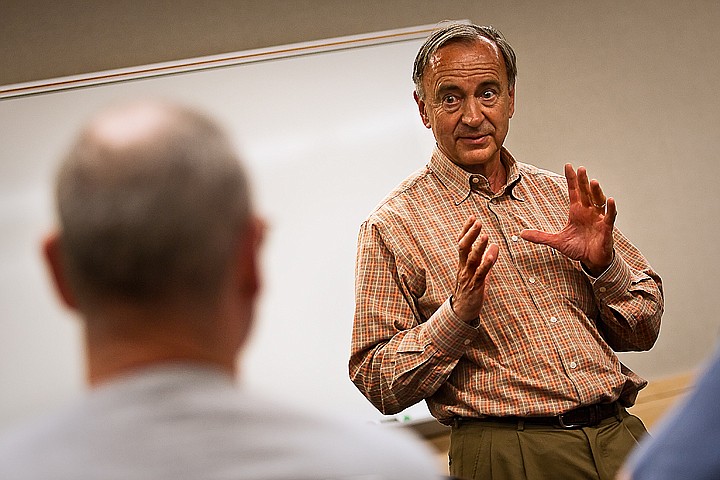 <p>Walt Minnick, Democratic Congressman from Idaho's First congressional district, fields questions from Jerry Wallace of Post Falls.</p>
by
David Cole
|
June 27, 2010 9:00 PM
POST FALLS — Idaho Congressman Walt Minnick, stopping off to talk with constituents at the Post Falls police station, said the biggest problem facing the U.S. right now is its debt.
"That threatens almost everything," the Democrat said.
Minnick, who represents Idaho's First Congressional District, said he's working to get re-elected to tackle problems like the debt.
"It's an honor and a privilege to be there" in Washington, D.C., he said. "I intend to be there for a while."
He said government spending must be cut, and waste and fraud stopped. He said entitlement programs must be "actuarially sound."
"There're no sacred cows," he said. "Nothing can be off the table."
Earlier this year, Minnick called for a permanent ban on for-profit earmarks.
Spending must be reeled in to prevent leaving future generations with debt and a financially weaker country.
"Those aren't legacies I'd like to be a part of," he said.
He said President Barack Obama's bipartisan debt commission could deliver some usable recommendations to reduce the debt.
"It's going to be a very important report," Minnick said.
Congress also will be addressing energy and immigration.
Of immigration legislation, he said, "I expect it to be at least as contentious as health care."
He said he expects the next Congress to revisit health care.
"There was almost nothing dealing with cost control," Minnick said.
He said he's not in favor of repealing health care legislation passed this year, which would be unlikely anyway because Republicans aren't likely to have the 60 votes necessary in the Senate. He didn't vote for health care reform.
"I didn't think it was paid for," he said.
There is some good in the legislation that should be kept, he said.
Recent Headlines
---