From Heath the Beef to Heath the Helper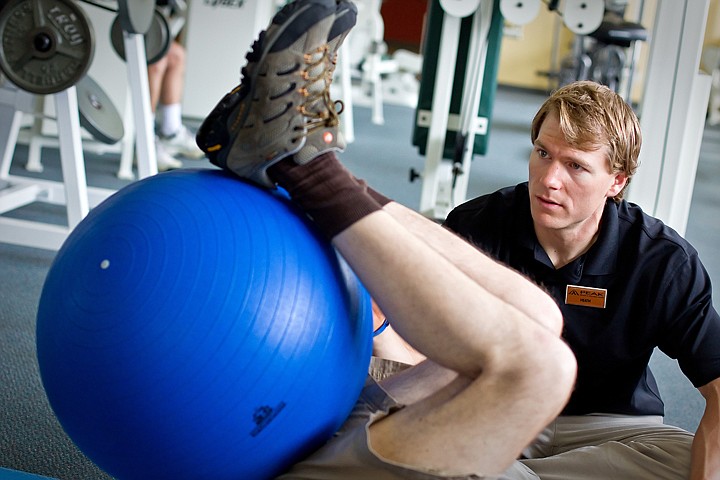 <p>Heath Wiltse guides Mike Kralicek through core strengthening exercises during a workout Friday.</p>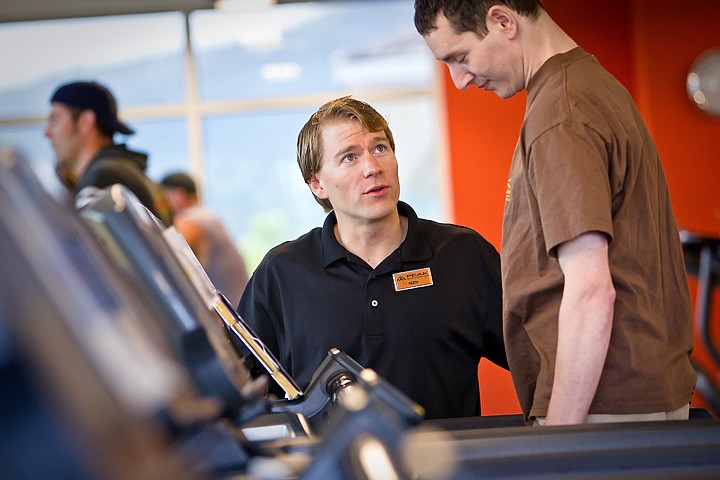 <p>Heath Wiltse, general manager of Peak Health & Wellness of Post Falls, works with Mike Kralicek during a therapy session Friday. Wiltse is raising money through the Janus Charity Challenge for the Kootenai County Police and Fire Memorial Foundation that was started after a Kralicek, a local police officer, was shot and nearly died while on duty.</p>
Previous
Next
by
David Cole
|
June 27, 2010 9:00 PM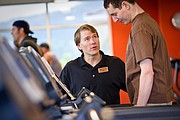 COEUR d'ALENE — Heath Wiltse has both big and bigger goals and challenges today in the Ford Ironman Coeur d'Alene.
Wiltse, general manager of Peak Health & Wellness of Post Falls, is battling for a qualifying spot to the 2010 Ford Ironman World Championship in Kailua-Kona, Hawaii. It's Wiltse's seventh Ironman Coeur d'Alene, and his ninth Ironman overall.
He's also battling for a charity he's representing, the Kootenai County Police and Fire Memorial Foundation, which was formed to provide free financial grants to local law enforcement and fire personnel operating in Kootenai County who are killed or disabled in the line of duty.
"I thought it would be nice to have another focus for the event," said Wiltse, 35, of Coeur d'Alene. "The officers and firefighters really don't have a backup if they get injured."
The charity was founded in 2005 as a result of the 2004 shooting incident that seriously injured Coeur d'Alene police officer Mike Kralicek.
Wiltse is a physical trainer and therapist for Kralicek, and they've been working together for more than four years.
Wiltse first contacted the Kralicek family after reading of Mike's injuries in newspapers, and Wiltse wanted to know if he could provide help with physical training. Wiltse told them he'd work for free until Kralicek could walk again.
The family was reluctant at first, as "they're not ones to have their hands out."
The family agreed to the physical training, and a year and a half later, Kralicek was walking.
Kralicek was in a wheelchair for his first session with Wiltse. He now walks around, up and down stairs, and on a treadmill.
"He's pretty much like 80 percent functional," Wiltse said. "He's almost never in a wheelchair."
He still has trouble with his left arm, Wiltse said.
"Mike just inspires me to do more," Wiltse said. "I expect more out of myself. It's amazing what Mike can do."
Wiltse looks forward to the twice-a-week sessions with Kralicek.
"How do you stay down on yourself when you have that in your life twice a week?" Wiltse said. "I've never seen him down. I've never seen him negative about what happened to him. You couldn't have a better attitude."
Wiltse wants to raise $2,500 for the charity. That would likely be enough to trigger an additional $750 be contributed by Janus Charity Challenge. The Denver-based Janus created the Janus Charity Challenge, and to participate athletes must be doing an Ironman and register their charity. So far Wiltse has raised about $1,500, he said. People can contribute after today to help him reach his goal, he said.
To donate, people can go to the website, www.januscharitychallenge.com, and select "How to Donate." Then they can select "Athlete and Charity Search," then enter Wiltse's name in the fields.
Wiltse said he does Ironman competitions for the challenge.
The first time, it was "to see if I could do it," he said. "Now that I know I can do it, it's to see how well I can do it."
He's done more than 20 marathons, he said.
"I just seem to have this desire to see what I'm capable of," he said. "And it's kind of addictive to be in this kind of shape."
He trains about 20 hours per week, nine months out of the year, he said. Work takes up most of his time, about 60 hours per week. He's been a personal trainer full time for more than a dozen years.
In his limited free time, he goes skiing or hiking, and hangs out with his dog, Page, a Chow. He said she's 11 or 12 years old.
When it's not training season, he does projects around the home, and cleaning, and hosts a block party every year.
Wiltse, who's originally from Midland, Mich., headquarters of Dow Chemical Co., said running has long been a big part of his life.
Running helped him overcome a major personal obstacle of his own.
Wiltse weighed more in sixth grade (185 pounds) than he does today (170). Kids called him "Heath the Beef."
Helping people lose weight is a big part of what he does as a physical trainer and therapist.
About half his clients are people who have been injured or are working toward major weight loss, he said. He also trains some triathletes.
"Weight loss is so near and dear to me after being Heath the Beef," he said.
Recent Headlines
---