Alan Millar: Principal steers charter school to leading edge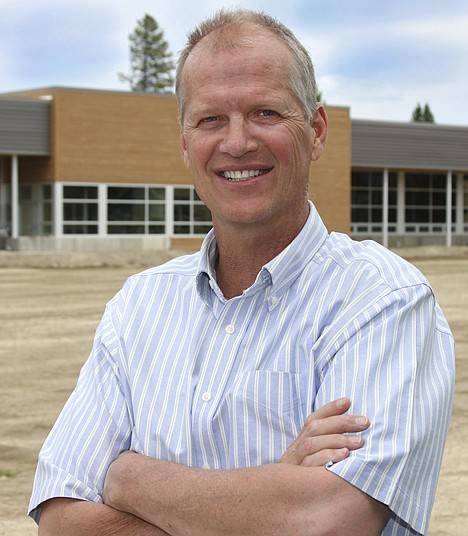 <p>Alan Millar, principal at the Sandpoint Charter School, recently celebrated the opening of the new charter high school in Sandpoint, where his organization now serves approximately 225 students.</p>
by
David Gunter
|
June 27, 2010 9:00 PM
SANDPOINT - When Alan Millar took the job as an Outward Bound instructor in 1980, he was, in many ways, preparing himself for a career that has been all about pushing boundaries.
A certified high school biology instructor, Millar joined the staff of Rocky Mountain Academy in Bonners Ferry, where he taught science for 11 years and led the therapeutic boarding school's outdoor programs before being named Head of Schools. He remained in that field after the academy was sold and, in the late-1990s, was named to the board of directors for the then-nascent Sandpoint Charter School.
In that role, Millar helped steer the school from an initial class of 45 seventh-graders in a rented space to what it is today - a school that serves about 225 students in grades 6-12. He was named principal in 2005 and, since that time, has expanded programs, added grade levels and managed the construction of a new charter high school. On June 11, Sandpoint Charter School dedicated that new building - a 20,000-square-foot, LEED-certified structure that is anchored by a central open area dotted with project tables and teacher workspaces in a physical setting that bears no resemblance whatsoever to the traditional classroom-and-desk scenario.
According to the principal, the new high school sits right on the leading edge of education. With Millar at the helm, the organization continues to lean forward, seeking to retain that position.
"I think parents are being better served at other schools by virtue of the charter school being here," he said. "It has made the monopoly of the public schools more aware that they've got to do things differently and respond to some of the things that we've done and that other sectors of the market have done."
•••
Does it seem like nine years have passed since the charter school first opened, or does it feel like more than that?
It's interesting. I was looking at some of our older pictures and judging by our physical appearance, it appears that more than nine years have certainly passed. It looks like it has been hard on some of us who have been around since that time. (Laughs)
I took on the principal role five years ago and since that time, it's been a very quick five years and I've enjoyed them a great deal. I feel like I've been working toward this position, in some way, most of my professional life.
Were you around on Day One as an instructor?
No, actually, I was a founding board member starting back in 1999-2000. Once the charter legislation passed in, I think, 1998, a group of people started talking about it and we ended up meeting at Starbucks every week for a year. It became a grant-writing exercise and eventually resulted in us writing a charter and proposing it to our local school board.
Was Sandpoint Charter School one of the first out of the gate in Idaho?
That's correct. There might have been four or five in existence at that point. At that time, the only way you could get a charter was through the local school board. It took a lot longer that way. Now, there's a process where the state can grant a charter from a different governing board.
In fact, we gave up for a year, based on the composition of our local school board at that time, and then went back and revisited it a year later. Eventually, we were granted a charter for our first group of seventh-graders and opened in the fall of 2001.
How has the vision changed since then, if at all?
I have to say it has remained true to the concept of a small school that is project driven. It has simply become much richer and much more complex. And our vision of what project-based education is has become much more refined. I feel that we've become leaders in what project-based education means by looking at the skill sets we want students to acquire and the rationale behind student projects.
Can you define project-based education?
Basically, what we try to do is integrate across subject lines - that's a big key. We try to do things that are meaningful and relevant to students. We try to teach the skill set that we're after through the lens of this project-based model.
A project has to have an over-arching question, a rationale for why you're doing it. The projects are inquiry based. For example, we're doing a waste water study with the sixth-graders and we're asking, 'What pollutants are gong into Lake Pend Oreille?' They're studying a host of things, but it's all under this umbrella of what they're trying to figure out.
We think the process of learning that way - bringing together sources of information, trying to make sense out of them, doing some research, creating a product at the end - that's what trains our students to be the best citizens, the best college students they can be. So the process of learning that they're going through is as important as the content.
At the recent dedication of the new charter high school, several students talked about how they felt like they 'fit in' better here. Is there a conscious decision about what kind of student will thrive in this setting, or is it a self-selection process?
It's something of a self-selection process. It isn't for everyone; I think that's a key point. For the students who are attuned with our style of education, it feels right. Some people are list-makers and there are schools that are really good for that. You find out what the teacher wants you to do and you check that off the list.
We're looking for students who aren't necessarily in that mold, people who think laterally and can put connections together. Our school tries to provide an environment and training in how to do that.
It sounds a little weird, but we like quirky students who don't fit the mainstream. We try to consciously be a place where they feel accepted for who they are. In some sense, our school is a place for them to thrive.
Do you have a set teacher-to-student ratio you try to maintain?
Yes, we try to hit 1-to-15. With the current changes in the state funding formula, we're kind of playing around with that. We feel like a community size, including adults that's bigger than 200 people per building is beyond where it needs to be. So, between 150-200 students in each one of these two buildings and around 12 faculty members in each structure is pretty much where we want to be.
In Idaho's complex - some might say arcane - education funding formula, it looks like what goes to a charter school in terms of funding is, in effect, taken away from the school district. Has that created any sort of tension or conflict?
I have to say that we have a very positive working relationship with our district, but it is not one that's totally easy. The school board of this district voted to allow us to make this (charter high school) expansion and I think they did that for something beyond their own narrow self-interest.
If you look at it, there are two pots of money - the money that comes to them and the money that comes to us. If we get more, it can certainly be perceived as they're getting less. Our community is getting the same amount.
In fact, because of our small school, we're able to take advantage of some of the pieces of the formula that they aren't, so, collectively, our community probably gets more money because of our existence. But it is a tightrope walk and I want to applaud our school district for their general support for choice.
You have a waiting list at almost every grade level. Are you ever tempted to grow faster in order to meet that demand?
There certainly is an impetus to grow that way. I think the larger question is the role of charter schools in competition. Charters are intended to produce choice and competition in the public school market. At the local level, we're doing that. I think the middle school is a better place as a result of our existence.
We're not trying to be big. If somebody wants to grow this thing to 600 students, they're going to need a different principal. Does that mean somebody else might not spin off and start a different variant that serves a different slice of the pie? No, not at all. I think that would be great. I think schools should be delivered in a decentralized fashion that's driven by the people who care about that style of education.
You've made a fairly aggressive investment in building your arts programs. Is that something that is imbedded in every charter school model?
It is not something that's imbedded in every charter school. It became imbedded in us as a result of our customer-driven model. It was obvious that we needed to have those types of programs in place and growing and successful in order to continue to attract students.
Frankly, people don't come to you because you've got great math teachers. But they do come to you if you've got a great music program or a great arts program. That's something it's taken us time to realize. What parents want is still the kinds of things they've always wanted - variety, exposure to the humanities, a personal feel to their school, the opportunity for their kid to do really cool stuff. It's customer-driven.
In some ways, you sound as much like a CEO as you do a school principal. Does that same business-minded approach branch out to budget matters?
This whole business is about balancing size and the dollars that come in with what's going out for faculty. In order to balance next year's budget, the administration and teachers all had to take a pay cut in order to make sure we were going into the school year with those kinds of margins. It was difficult and it was across the board, but I think people accepted it because it was that way. The pain was shared equally.
Also a financial matter, you made the decision to get the better part of the new charter high school completed and leave a section that will be finished out as funding allows. It kind of sounds like your average North Idaho remodel, doesn't it?
That's a great way to put it. We went for the shell-core concept. We were going to get the shell done and as much of the core as we could finish.
It was a tricky balancing act. Our lenders would have given us more money. We made a decision not to take it. When we started building, our worst-case scenario was based on a 10 percent decline in state revenues and it was actually worse than that, so we had to pare back some more. We feel like we're going to be fine and enrollment looks good for the fall, but I won't hide that it's been very difficult to balance things out.
And yet, you've done a good job of having the part of this building that will go into service next year look like a victory, not a partial defeat.
No, that's very true. It is a victory. It's a huge victory for us on a lot of levels, because the next steps can be much smaller.
For instance, if I get $10,000, I can finish a classroom. If I get $30,000, I can finish the kitchen. Those are a lot smaller chunks than $2.3 million to get this far. We can bring people in and say, 'Look what we have' rather than showing them lines on a piece of paper or a picture.
I have this dream that the space out there will become a place where people come from all over the world to see what our style of education looks like.
Can you pop the lid off this high school and give us an idea of how things will work?
Sure, I'll try. It's like our own take on a college library. It's a college library feel, where you're serious about your education and you're in there to learn. But it also adds teachers into that space, who are out there throughout the school day, accessible to students. Their desk and their workspace are right there next to them.
It doesn't mean we don't do direct instruction, because we do. We have classrooms for that, but the classrooms don't specifically belong to a teacher. It's not Mr. Smith's classroom, it's a place where they go to receive a lecture or do some math problems or work in a small group.
Almost like a conference room in a corporate setting?
Exactly. It's very much like that. And the idea is that we all go back out and we get to work together on this thing we're calling project-based education to make it relevant for that individual student. That's the single biggest piece.
The other side of it is the "messy rooms" at each end. Those are intended for hands-on projects. They've got a door that opens up so you can wheel in large projects, you can fire up a kiln or work on a chemistry experiment. The combination of those things working together provides the visual of how our version of project-based education is epitomized in that space.
With college looking more and more like what you described and corporate America already there, why are so few people pursuing this model?
Education doesn't change very readily. It is not amenable to internal change. When you build a 'standard high school' with hallways and lockers, you're building a mindset into there that that's how people learn. It compartmentalizes things and says, 'We pick up a skill set here and then go down the hall for something else that has no real relation to the skill set you might be picking up in the first room.'
The physical structures that schools are in make it harder to be interdisciplinary, to be creative and think outside of your individual classroom box. You have to teach people process. You have to teach them how to put stuff together, especially in this information-rich age. The world's going this way and I think education will get there eventually.
How do students who haven't moved through grade levels in this kind of environment perform once they get here? Is there an acclimation period?
Yes, there is. There's a process of retraining. There are two sides to that. One is the student who has been a high-performing student in their school, but what they've learned is based on 'Here's what the teacher wants - I will give it to them. I will write my five paragraph essay, get my A and move on to the next thing on the list.' The first thing that happens to them here is that they hand in that five paragraph essay to my English teacher and they say, 'That's nice. Revise it three or four times before you give it back to me.' We spend an immense amount of time revising. Those kids need to be re-educated in what we expect.
And there's the other aspect, the kid who just got by before and who couldn't get involved in things. Here, we give them an opportunity to get involved, academically and socially.
Sandpoint appears to be moving ahead on its 'Communiversity' concept for a decentralized approach higher education. Is the charter school involved with that?
For our own selfish reasons, we want the Communiversity group to bring college classes to this environment and basically create a one-stop shop that gives our students early access to college. The Communiversity piece fits perfectly into that.
We just want this building to have people in it being educated year-round, whether its college students or high school kids. We want our students to be able to turn in their chair and take college level courses and graduate with as many college credits as they can get. It gives our students a leg up and it's a lot cheaper to pay for college when you've already got some of the course work out of the way.
I also think this is the next step for our town. We tried to have a university piece, but we've got to look at it outside the box of building a brick-and-mortar campus and, instead, use the structures and administrative service that are already here in places like our building and others.
When Tom Luna, the state's superintendent of public instruction, attended the high school dedication earlier this month, did you get a feel for how he views the charter school component education?
Both Tom Luna and Sen. Shawn Keough spoke and talked about the goals of the initial charter school movement in Idaho and how our school epitomized some of those - to provide competition, to provide choice and to innovate.
Tom, in particular, did a good job of articulating the 21st Century rationale behind our school and the fact that each high school student gets access to their own little Netbook computer that they use as their primary resource for accessing information. They have everything from math textbooks in it to books that they might be reading, although we also use paper texts.
One of the things he said was that we're going that way, whether we like it or not. That's what Tom saw our school doing, being somewhat leading edge in preparing our students for the careers that they are going to encounter.
Date of birth: June 30, 1954
Family: Wife Karen, Daughter Emma and Son Riley
Education: B.S. in Environmental Education Huxley College 1981; Idaho Teaching Credential, Science, 1992; Master's in Educational Leadership University of Idaho, 2008
Number of hours on average you work in a week: 50
Number of hours on average you sleep in a night: 8
Hobbies: Mountain and road biking, Telemark Skiing, XC skiing, Hiking, Occasional Mountain climbing, Home Improvement
Favorite travel destination: Durango, Colo., where my daughter goes to college.
Favorite movie: "Lord of the Rings"
Favorite book: "Sometimes a Great Notion" by Ken Kesey
Favorite type of music: My musical tastes are those of my friends
Favorite spectator sport (or leisure activity): Watching bike races
Any one person who most influenced your life: All of my former bosses
Quality you admire most in person: Relaxed concentration... and above all humor
Best advice you ever received: Do the hardest thing in your day first.
Any one thing you would say is your greatest accomplishment: Building our new high school
Favorite quote: "No matter where you go - there you are."
Historical figure you would most like to meet: Lawrence of Arabia
Recent Headlines
---