Vatican 'astonished' at Belgian police raid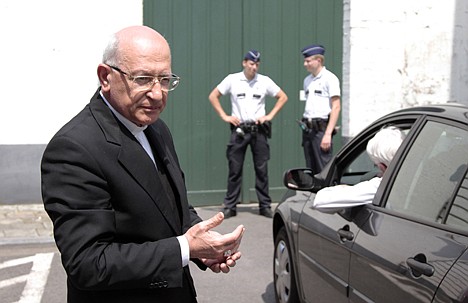 <p>Monsignor Giacinto Berloco, Apostolic Nuncio to Belgium and Luxembourg speaks to a colleague in an auto as police look on at the Archdiocese of Mechelen in Mechelen, Belgium on Thursday, June 24, 2010. Belgian authorities have raided the offices of the country's most senior Catholic prelate as they investigate child sex abuse claims.</p>
by
Alessandra Rizzo
|
June 26, 2010 9:00 PM
VATICAN CITY - The Vatican said Friday it was astonished and outraged that Belgian police investigating priestly sex abuse had conducted raids that also targeted the graves of two archbishops.
The Vatican summoned the Belgian ambassador to the Holy See to convey its anger over the raids, which also included the home and offices of the retired archbishop of Belgium. The ambassador was called in for a meeting with the Vatican's foreign minister.
In a statement, the Vatican said any sinful and criminal abuse of minors from members of the church must be condemned and repeated that there is a need for justice and amends.
But it added, "The Secretariat of State also expresses astonishment at the way in which the search took place." It expressed "outrage over the violation of the tombs."
On Thursday, police raided the home and former office of former Archbishop Godfried Danneels, taking documents and Danneels' personal computer. Police and prosecutors did not say if Danneels was suspected of abuse himself or simply had records pertaining to allegations against another person. He was not questioned.
Investigators also opened the graves of archbishops in the St. Rombouts Cathedral in Mechlin, north of Brussels, looking for possibly incriminating documents, said Jean-Marc Meilleur, spokesman for the Brussels public prosecutor.
Archbishop Andre-Joseph Leonard, Belgium's current archbishop, condemned the search of the cathedral, saying that is stuff for "crime novels and 'The Da Vinci Code."'
Separately, police seized the records of an independent panel investigating sexual abuse by priests, some 500 cases in all. The victims are mostly men now in their 60s and 70s.
This also drew the condemnation of the Vatican, which said it regretted the violation of the confidentiality due the victims of child abuse.
The Brussels prosecutor's office said the raids followed recent statements to police related to the sexual abuse of children within the church.
It was the latest development in a sex abuse scandal that has shaken the Roman Catholic Church in Europe and beyond for months.
Reports of rape and other sexual abuse of minors in seminars, schools and other church-run institutions have piled up. Victims have come forward accusing priests of abuse and bishops of covering up crimes in order to safeguard the church's name.
Pope Benedict XVI has begged forgiveness from victims and promised to "do everything possible" to protect children.
News of the Belgian raid was welcomed by the U.S. victims group SNAP, the Survivors Network of those Abused by Priests, which urged police and prosecutors across the world to use their full powers to gain access to church records. By contrast, the group criticized the Vatican's reaction.
"Vatican officials who criticize the Belgian police raid of the Brussels church hierarchy should be ashamed of themselves," Joelle Casteix of SNAP said in a statement Friday. "While Roman church officials talk about stopping abuse, Belgian police officials take action to stop abuse."
Associated Press Writer Robert Wielaard in Brussels contributed to this report.
Recent Headlines
---