Green Iron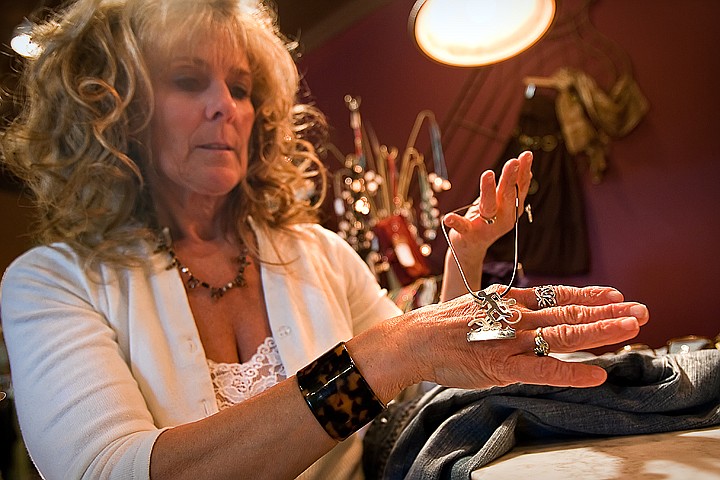 <p>Artist Deb Mote displays her solid sterling silver Ironman commemorative pendant at Louie Permillia in the Plaza on Friday. Mote designed the pendants, which can be engraved with the competitor's name or time, herself and sell for $200.</p>
by
Rick Thomas
|
June 26, 2010 9:00 PM
COEUR d'ALENE - Not everybody loves Ironman, but the cash influx into the community makes it hard to hate.
"I am fully confident the impact is at or above $10 million," said Todd Christensen, president and general manager of the Coeur d'Alene Chamber of Commerce.
About 2,700 are signed up for this year's Ford Ironman Coeur d'Alene, and they will typically spend $185 to $300 per day each. An additional three to four accompany each competitor and spend a similar amount, Christensen said.
Hospitality is the biggest beneficiary, with hotels, motels and other lodgings able to get top dollar for their accommodations, and restaurants also get their fill of customers.
"It is great for business," said Dave Pulis, owner of The Moose Lounge on Sherman Avenue, which will be headquarters for professional competitor Linsey Corbin on Sunday. A live TV feed of the race will be shown at the bar.
But Ironman competitors are required to arrive by Friday, meaning they spend at least several days in the community.
Jason Gearman and Marsha Jaros came with their Ironman spouses from South Dakota, arriving on Friday with expectations to spend $500 to $700 per family in their first Ironman participation.
"We bought some stuff at headquarters and a bike shop," Gearman said. "And beer."
There is a good chance they will return for another visit or another Ironman.
"It is awesome," Jaros said. "The lake is so clean."
That would be normal, Christensen said.
"A secondary impact is the recidivist visitor," who returns for a vacation, sometimes in winter, he said, or even buys real estate in the area.
On average, Ironman visitors spend 5.5 days in the region, with a median spending of $250. That means more than $4,000 for a party of three, and Ironman participants regularly bring three to four others with them, he said.
They are also part of a socio-economic group that includes owners or key leaders of businesses that might be looking for expansion or relocation opportunities.
The national and international exposure of Ironman means many who come for the event arrive early for training or other reasons, and the length of their stay is frequently extended.
In fact, the two days following Ironman are even better for retail sales than race day, said Craig Ely, owner of Del Sol.
"You can feel the energy picking up," in the days preceding the triathlon, he said.
Heavy traffic frustrates some, especially on Sunday when some streets are partially restricted to vehicular traffic.
"It is dead all day," said the manager of one gas station and convenience store on Government Way, who asked not to be identified. "It saws the town in half."
The street is limited to outside lanes only from 7:30 a.m. to 5:30 p.m. as bicyclists occupy the center of the road. A majority of the businesses along the route are closed on Sunday and will see no disruptions.
Mac Cavasar, race director, said traffic on Government Way will be controlled in both directions, with a crossing at Foster Avenue. Motorists can also use Harrison Avenue, Appleway Avenue and Northwest Boulevard to access stores blocked by the race.
For most retailers, Ironman is a boom event.
"We hopped on Thursday," said Deb Mote, owner of Louis Permelia in the Coeur d'Alene Plaza Shops, who was working next door at Finan McDonald when the first surge of visitors arrived. "It was all we could do to keep up."
For Mote, Ironman is seen as an opportunity, and she designed a pendant made of Idaho silver depicting triathletes, with a space for engraving a position, time or other information to commemorate the event.
"Ironman generates a lot of business," she said. "We get a lot of repeat customers."
Recent Headlines
---