The devil made him do it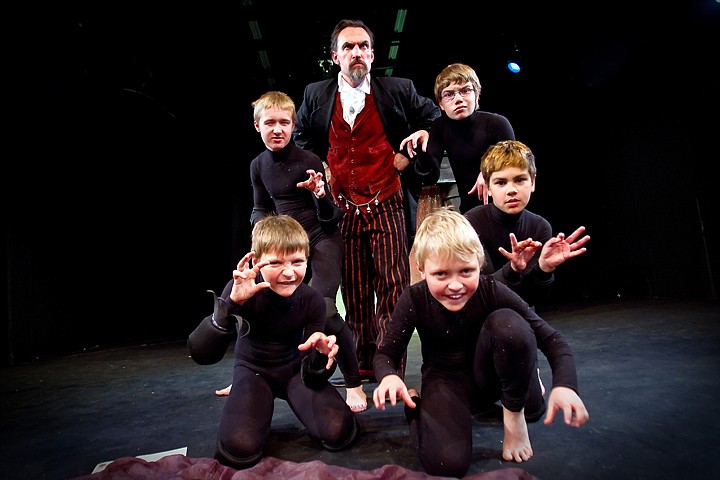 <p>Screwtape, played by David Clemons, is surrounded by his junior demons, counterclockwise from back left, Brendan Souvenir, 15, Ethan Carpenter, 10, Eli Carpenter, 8, Noah Burton, 9, and Brandt Souvenir, 14.</p>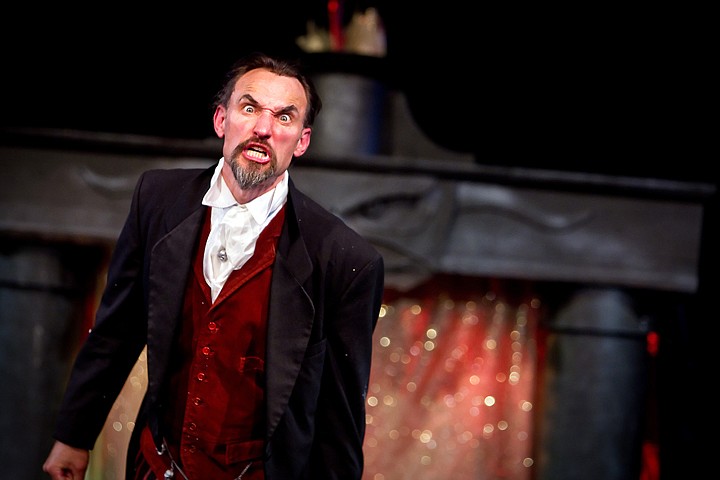 <p>David Clemons acts out a scene of the Ain't It Good production C.S. Lewis' "The Screwtape Letters" which will open Friday at the Lake City Playhouse. Clemons plays the lead character, a demon named Screwtape, as well as directs the play.</p>
Previous
Next
by
BILL BULEY
Staff Writer
|
June 25, 2010 9:00 PM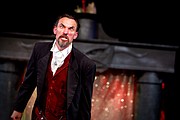 When most people think about the spiritual world, they tend to see it as a happy place, says David Clemons. A place where there is a god, and life is basically better than it is on Earth.
But the artist raises some questions with that belief.
"What would it be like if we really looked at what the other side might be like?" he said. "If there's a good side, can there be a bad side?"
Clemons poses some answers with his role as lead actor and director in bringing "The Screwtape Letters" by C.S. Lewis to the Lake City Playhouse.
The play is being produced by Ain't It Good Productions, which "is on a mission to bring theater arts and God's message to life. But to get there, you have to spend the evening listening to a senior devil who corresponds with junior fiend, Wormwood, whose assignment is to seize the soul of a young man.
"What you hear happening here is basically a war plan from the enemy side using all this reverse psychology to manipulate, to motivate people to do the wrong thing," Clemons said. "So throughout the course of the play, you are watching to see whether Wormwood actually wins his patient to the dark side."
"The Screwtape Letters" opens tonight and continues Saturday and Sunday.
"I've been producing and directing Children's Theater shows all year but this is not a young children's play," said Sandy Clemons, owner of Ain't It Good Productions. "It explores deep themes of Christianity and the reverse psychology utilized by Screwtape and the world of demons while exploring a variety of subjects. It's definitely PG-13."
She said the play is a drama/comedy. The tone is set throughout with music and ghostly sounds and moans.
"There are several places where you laugh but you also will walk away learning something important about hell, heaven, religion and humanity," she said.
Her husband, David Clemons, well known for his artwork, has the complete line load of the show as he plays the devil, complete with ghastly glares and sinister smiles.
"He's completely adapted this from the book himself," Sandy said. "Everything you see, he's come up with."
His back up minions are played by Brendan Souvenir, Brandt Souvenir, Noah Burton, Ethan Carpenter and Eli Carpenter.
"They do an amazing job illustrating the words of Screwtape," Sandy Clemons said. "Their job is to pantomime and physically illustrate the concepts of the letters. It makes for a very enjoyable experience."
The five young men have been taking classes from Ain't It Good Productions to learn the concept of physical acting and pantomime.
"At first it's a tough concept to teach that you can be on stage and act and have a huge part but not have any lines. Many young actors want to count their lines and they think that is what acting is all about. We wanted to teach them that acting is not just about the lines but about being in character and physically demonstrating a concept or belief or feeling. I believe this play illustrates that concept very well," she said.
Brendan Souvenir, 15, likes being one of the devil's little helpers.
"We are servants, almost understudies of him, doing his bidding," he said. "His goals are what we carry out."
Ain't It Good Productions wants to take The Screwtape Letters on the road to churches and perform it for their congregations as either a tool for delivering a message or as a thank you to church volunteer groups.
David Clemons said The Screwtape Letters are from a Christian standpoint.
"My whole motivation, goal here is to introduce some of those thoughts, some of those concepts, to an audience that probably hasn't seen, heard or thought about them," he said.
He said artists often speak of self-expression.
"Even more important than self-expression is the expression of beauty and truth. This, as far as I'm concerned, is about expressing truth, and making truth approachable to people."
"What got me excited about this project, it's not just expressing myself," he continued. "It's not just expressing beauty. It's about expressing a truth and that's what makes it profound, and that's what C.S. Lewis is all about."
Clemons will be on stage pretty much all two hours of the two-act play.
"It's the most difficult thing I've done on stage," he said. "I am challenged to my core not only with the subject, but with the performance."
Sandy Clemons said she would love it if pastors come to see The Screwtape Letters and love it so much that they invite the team to their church to perform it again. Pastoral staff from local churches are welcome to attend the show for free.
"It's kind of an outreach program," she said.
Sandy is hoping to fill the seats, but with lots of events this weekend, isn't sure it will happen. The Screwtape Letters carries with it a serious message, too.
"It's harder to do what we're doing. It's harder to sell. We do a lot of praying that God brings people here to see this because it's really going to be a God thing."
For more information and to reserve tickets, call Ain't It Good Productions at 769-4262. Tickets are $8 for adults and $5 for kids 12 and younger. Show times are 8 tonight, 2 and 8 p.m. Saturday and 2 p.m. Sunday.
Recent Headlines
---