Pirate cruise ready to sail the lake next week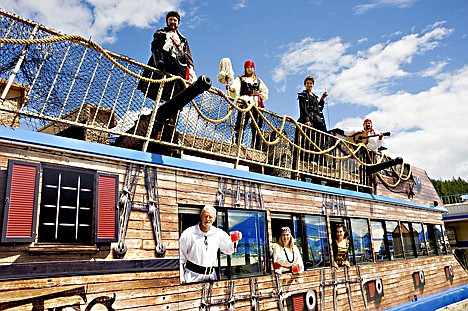 <p>Pirates of The Coeur d'Alene Cruises depart twice daily in July and August. For details, see www.cdaresort.com.</p>
Look lively, and mind the cutlasses, now.
Swashbuckling pirates have taken over Lake Coeur d'Alene in a new floating summer attraction with action, adventure, singing and dancing. There are heroes and villains on the high seas, along with cannon fire, swordfights and dramatic rescues.
The Pirates of The Coeur d'Alene cruise debuts July 1 with two cruises per day through Aug. 31. The interactive cruise is intended for children and parents, and includes a "swag bag" of goodies, along with "pirate grog," photo opportunities and plenty of pirate banter.
The action takes place aboard a fully decked out ship, complete with cannons and costumed cast members of the local theater group, The Lake City Playhouse.
"It's an adventure tale that puts children right in the middle of the action," said Jillian Kramer, who directs the performance. Characters include the pirate Calico Jack, who's kidnapping his crew of children, his beautiful prisoner Lady Killigrew, and the dashing Jonathon Hawke, who comes to everyone's rescue.
"Lake Coeur d'Alene is a wonderful place to cruise, and it's just become a lot more adventurous, too," said Craig Brosenne, general manager of Hagadone Marine Group. "This promises to be the must-see family attraction of the summer."
Pirates of the Coeur d'Alene cruises run twice daily in July and August, from 1-2:30 p.m. and from 3:30-5 p.m. Adults $29, children 6-12 $19, children 5 and younger free.
Pirate Charter Cruises are also available, which means that a reunion, business event or even a wedding can take place on a pirate ship.
Tickets/information: (208) 765-4000 or www.cdaresort.com
Recent Headlines
---