Ironman's twins Double vision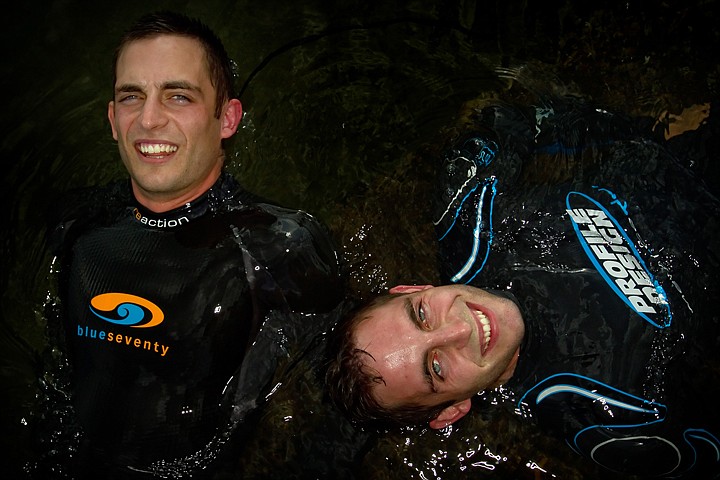 <p>Chris Cutler, left, and his twin brother Ryan will start in their first Ironman event Sunday side-by-side, but plan on competing against each other over the 140.6-mile course.</p>
by
BILL BULEY
Staff Writer
|
June 25, 2010 9:00 PM
COEUR d'ALENE - Chris Cutler is 25, from Coeur d'Alene, a 2003 Lake City High School graduate and will be competing in his first Ironman on Sunday.
Ryan Cutler is 25, from Coeur d'Alene, a 2003 Lake City High School graduate and will be competing in his first Ironman on Sunday.
Yes, these two are twins.
And yes, they even agree - kind of - on who will be the first to cross the finish line.
They're equal on the swim, Ryan might have the edge on the bike, and Chris might get the nod on the run.
"I have put in more training hours," Chris says. "I'd have to give me the slight edge. He might catch me on the run. Who knows."
Ryan, standing next to his brother at Independence Point on a sunny Thursday afternoon, says when it comes to anything athletic, they're competitive.
"I've been thinking about this," he says, grinning. "He beat me in Bloomsday, he's had more training and he's done a triathlon, so considering those three things, if I beat him, he won't hear the end of it. He's probably going to finish on top, but you never know. There's a lot of things that can happen on the course."
It was Chris who first signed up for Ironman Coeur d'Alene 2010. He liked the idea of lining up with the likes of Michael Lovato, Tom Evans, Andy Potts and Bryan Rhodes.
"You're racing against some of the best in the world, so that's pretty exciting," he said.
Once Chris signed on, Ryan did too, something like five minutes later.
"We pretty much do everything together," Chris said.
Growing up, the sons of Darryl and Ann Cutler were often mistaken for each other and didn't mind fooling teachers.
"It was a lot of fun," Chris said with a smile.
They were competitive, and often wrestled to settle disputes.
"He would say something to me and I would go for the shoot, try to take him down," Chris recalled, laughing.
Darryl Cutler said his twins got along well as boys.
"They were like two peas in a pod," he said. "They were best friends."
Their father coached them in baseball, basketball and soccer up to high school. Both were always rambunctious and ready for new challenges and adventures.
"They were all boy, my wife likes to say," Darryl said.
Both played soccer at Lake City High School and then North Idaho College. Chris was a midfielder, Ryan a fullback. Both are 5-10. Chris weighs 161, while Ryan is "a little bulkier" at 167. Both graduated from the University of Idaho, Ryan with a degree in criminal justice, Chris with a degree in business and marketing.
The brothers are home this summer living with their parents. They hang out together, play on the same church league softball team and are valets at The Coeur d'Alene Resort.
There's a little wagering going on there, too. Who will win? Chris or Ryan?
"Some people are picking me, some people are picking Ryan," Chris said, smiling. "It's a toss-up. I just told everyone, I'm not going to let them down. I'll give it my all. I don't care if I throw up midway through."
They've trained upward of 20 hours a week, and both are feeling strong heading into the race that includes a 2.4-mile swim, a 112-mile bike ride and a 26.2-mile run.
The family is rallying behind them, too. Their mom is making "Team Cutler" shirts, and relatives are coming in from Butte, Mont.
"We should have a pretty good team Cutler to cheer," Darryl Cutler said.
The father, an avid runner who has completed the past 32 Bloomsdays, couldn't say which son might finish first. He'll be rooting for both with equal enthusiasm.
"In all fairness Chris has had more time to train than Ryan," he said. "That would be the only difference."
The brothers plan to start together Sunday morning. After that, well, they don't expect to meet again until that night.
"Within two seconds, it will be a madhouse. We'll probably separate from there," Chris said.
They agree they'll motivate, encourage and push each other to do their best on Sunday.
"We'll be talking about this race for a long time," Ryan said.
So what happens if it comes down to the last mile or two and they somehow wind up side by side? Will they jog it in and finish as loving, loyal brothers, or will it be a blood and guts battle for victory?
"I'll piggyback. I'll jump on his back as we cross the finish line, something funny like that," Chris said, laughing.
Ryan, the elder brother by two minutes, had another thought.
"I'm going to sprint and try to beat him," he said, then adding with smile, "It's nice he thinks I might do that for him."
Recent Headlines
---