'Ironman Village' a magnet for athletes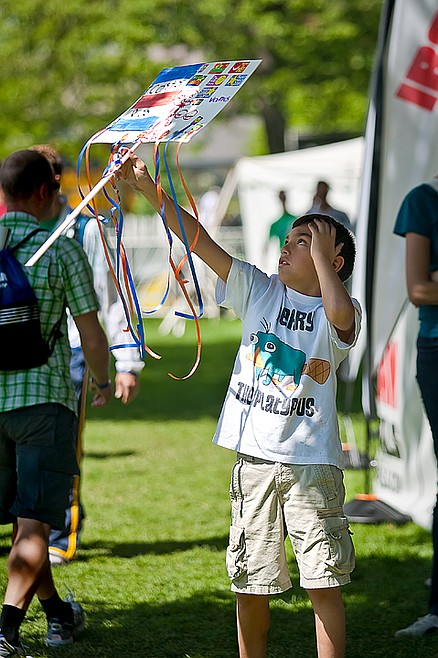 <p>Renato Quiros, 9, of Costa Rica proudly holds up his hand-made sign in the Ironman Village in City Park on Thursday to support his father, Romulo, an Ironman hopeful competing in Sunday's Ford Ironman triathlon.</p>
by
BILL BULEY
Staff Writer
|
June 25, 2010 9:00 PM
COEUR d'ALENE - Where's Ironman?
On Thursday, it was everywhere.
On caps, on shirts, cups, on videos, everything seemed to be Ironman as the Ford Ironman Coeur d'Alene Expo opened at City Park.
And everyone seemed to enjoy being part of what they call Ironman Village.
Coeur d'Alene's Dave Walker was there, wearing a TriggerPoint shirt as he represented the company and explained its products to those who stopped by.
"It's very fun to be involved with," he said as he talked about the TP massage ball, the footballer and the quadballer, all designed to massage different areas of the body and boost performance.
Walker has worked the expo several years, and knows what keeps him coming back.
"It's so fun talking to people," he said. "You couldn't ask for a better demographic to come to this community. Upbeat, positive energy, from everybody."
Pretty much everything needed for triathlons is there. Wetsuits, bike tires, and running shoes. There was a station to test your cycling form, too. The official granola of Ironman, Erin Baker's, was there, too, with free samples.
Zoot wasn't selling shoes on site, but did have a demonstration booth so people could slip on a pair and go for a short run.
Jake Jansen, Zoot marketing representative, said being part of the Ironman expo is great way to get reach athletes, introduce their produce and answer questions.
"Just being part of Ironman is huge," the guy said.
"I think it puts some faces behind the brand," said Molly Kline, also a marketing representative. "I think that's the key in the triathlon industry."
Jansen, by the way, wasn't too worried about anyone trying to keep on running with those new, cushy shoes on their feet.
"I could catch them," he said with a smile.
When not checking out the merchandise, moms, sons and daughters took to writing chipper notes on posters that will be placed along the course.
The Ford video message center also had a crowd as people gathered to type in motivational messages that pop up on an electronic billboard when the athlete they're tracking passes the electronic mats at 10 and 20 mile markers.
"You're awesome," "Keep on running," and "You rock," were popular phrases.
Coeur d'Alene's Liz Ammann was acting as a Ford brand ambassador while guiding guests through the message center.
She said the atmosphere in the expo was energetic and she was glad to be part of it.
"It's been awesome," she said.
The village is open 9 a.m. to 4:30 p.m. today and Saturday.
Recent Headlines
---