Hams are on the air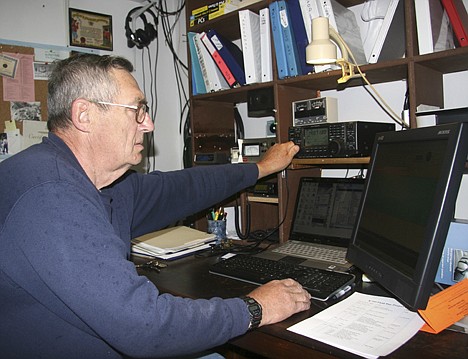 <p>Post Falls' Lee Hopkins establishes a contact via his amateur radio. There will be a free 24-hour field day starting at 11 a.m. on Saturday at the Post Falls American Legion to see what the communication tool and hobby is all about.</p>
POST FALLS - Lee Hopkins is mesmerized over amateur radio's capabilities - even after 47 years of being a "ham."
"I've talked to people at the North Pole and South Pole and a helluva lot of operators in between," the Post Falls man said. "We can talk about anything under the sun."
Hopkins will be among the operators participating in a free 24-hour public demonstration starting at 11 a.m. on Saturday at the Post Falls American Legion, 1138 E. Poleline Ave.
Amateur radio operators, called upon for events ranging from Ironman to disasters to war, will demonstrate communications via voice, digital circuits and Morse code and be available to answer questions.
Using only emergency power, local hams from the Kootenai Amateur Radio Society (KARS) will establish as many contacts as they can during 24 hours.
The annual field day is sponsored by the American Radio Relay League.
Operators tout the slogan, "when all else fails, amateur radio works." Hams can send messages in different forms without the use of phone systems, Internet or other infrastructure that may be compromised in a crisis.
About 25 operators will be used during Sunday's Ironman triathlon as spotters in case participants are injured or need assistance.
Post Falls Legion Commander John Dunlap remembers them coming in handy during the Vietnam War.
"They'd patch us through to home so we could talk to our wives," Dunlap said. "That way the family would know you were OK, especially when there was an attack the night before."
Operators have also assisted law enforcement and fire agencies with communication backup during disasters such as flooding and major fire events.
But amateur radio is mostly a hobby that many don't get tired of.
Post Falls' Edward Stucky got his license in 1957 when he was 14.
"I have as much fun today turning on the radio and talking to someone as I did back then," he said. "We can be goodwill ambassadors to hams in other countries."
While operators are always recruiting new blood to join them with the hobby, it seems to be holding its own despite so many options today that vie for people's time.
There are about 650,000 licensed amateur radio operators in the country and about 2.5 million worldwide. KARS, which has more than 100 members, meets the second Monday of each month at 7 p.m. at the search and rescue building near the airport.
Hobbyists can start out for as little as $200 for equipment.
For more information, call Stuckey at 457-0354.
Recent Headlines
---