Drowning victim recalled for always helping others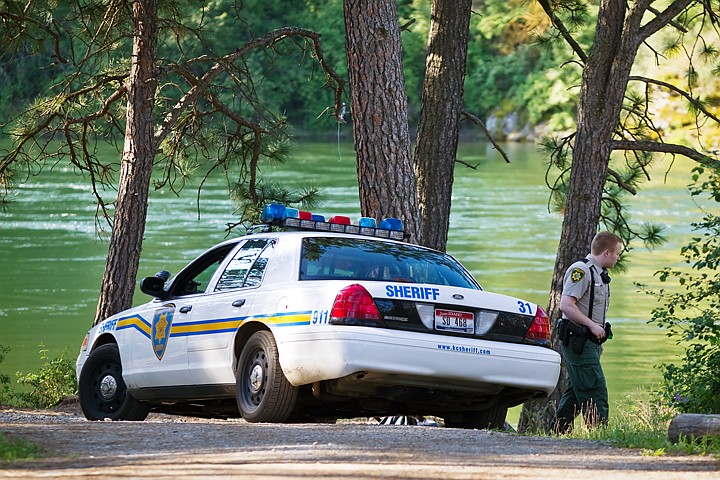 <p>Kootenai County Sheriff's Deputy A.C. Cady surveys the scene after the body of drowning victim Michael W. Blankartz, 28, of Spirit Lake, was returned to the shore where he and another man tipped their canoe early Thursday morning near Corbin Park in Post Falls.</p>
by
Brian Walker
|
June 25, 2010 9:00 PM
POST FALLS - Michael Blankartz had a way of always helping others.
The 28-year-old Spirit Lake man drowned in the Spokane River at Corbin Park on Thursday morning while canoeing with a friend before work.
One friend called him "one of the greatest people around."
"He was always willing to give the shirt off his back," said the male friend who came to the park after the accident and declined to be identified. "He was a Godly man."
Blankartz assisted his wife, Renee, with their One Tree of Life photography business, according to family members. They have three young daughters, met when they were 18 and got married at 21, the company website states.
"We are completely different from each other, yet we value the same things in life and have tons of common ground in our beliefs," Renee wrote on the website. "He is so organized, so self-sacrificial and has an amazing ability to see potential in people. I am unorganized, a devoted wife and mother and love to create.
"I started photographing weddings seven years ago because of Michael's encouragement."
Both Blankartz, and his friend Danny J. Richison, 29, Post Falls, had personal flotation devices in the canoe, but neither were wearing one when it flipped soon after it was launched at the east end of the park around 4:45 a.m., said Major Ben Wolfinger of the Kootenai County Sheriff's Department.
"They planned to float to old Pleasant View bridge area," Wolfinger said.
Richison made it to shore while Blankartz was swept downstream in a swift current.
Richison told deputies that he hung on to the canoe for a short period of time to get back to shore. He last saw Blankartz floating in the river just below the first set of rapids.
Richison lost sight of Blankartz and, after combing the river, went to Pleasant View where one of their vehicles was parked, but the victim couldn't be found, Wolfinger said.
"The reporting party walked to his vehicle at Pleasant View to get to his phone and then called for help," he said.
Richison called 911 at 5:50 a.m., Wolfinger said.
The MedStar helicopter was called to the scene and Blankartz's body was spotted around 6:45 a.m. in about 4 feet of water about a mile downstream from the park.
"Our divers pulled the body out and medics on scene pronounced him dead," Wolfinger said.
Blankartz's wife Renee and her mother, Karen Dunbarr, declined to comment.
Richison, who was not injured, did not want to comment, a friend said.
The gates of the Post Falls Dam upstream are open due to recent heavy rain, making the river swift. The temperature of the river is between 45 and 50 degrees.
"There's a lot of undercurrents with the dam open and the river is still real cold," Wolfinger said, adding that river users are urged to use extreme caution.
Alcohol was not a factor, Wolfinger said.
Corbin Park is notorious for deceivingly swift water.
"It seems like we get a drowning down here about every year," Wolfinger said. "It's a dangerous part of the river."
An investigation continues.
Recent Headlines
---