Peak Project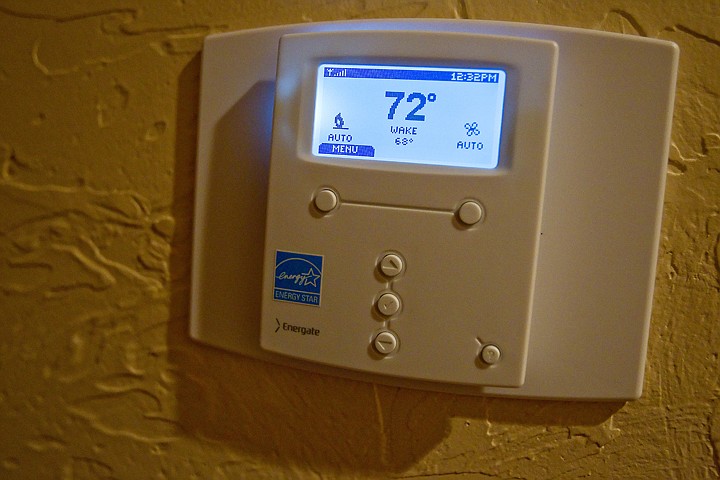 <p>Kootenai Electric Cooperative is offering free programmable Energate Thermostat in an effort to reduce power consumption at times of peak demand. The new thermostat, along with water heater controls, allow KEC to monitor Peak Project participants</p>
by
Brian Walker
|
June 24, 2010 9:00 PM
COEUR d'ALENE - Kootenai Electric Cooperative is recruiting members interested in going to the Peak.
The goal of the new voluntary Peak Project, in collaboration with the Bonneville Power Administration, is to reduce power consumption during peak demand.
"If we can reduce demand with projects like this we may be able to put off some of these increases in power costs," said Erika Neff, KEC spokeswoman.
Participants receive a free programmable Energate Thermostat, which has a $200 value, a free home energy audit and electronic controls for their water heater.
"Peak Project participants can gain more control over their power consumption through the use of the programmable thermostat and enjoy upgraded heating, ventilation and air conditioning functionality," Neff said.
The new thermostat and water heater controls in the pilot project allow KEC to monitor program participants' power consumption.
"If we can meet peak demands with our current supply, we could avoid buying expensive power elsewhere," Neff said. "We'd like more participation to gather data because we believe this type of program will be key in the future as power prices and demand increase."
KEC is rolling out the project in several areas to test the effectiveness of the new technology, which may become available in other areas of the Pacific Northwest. The BPA has purchased the hardware for the project.
On the hottest and coldest days, the need for electricity is at its highest, creating a spike in energy consumption. In the past, the BPA could handle peaks with surplus hydropower from federal dams. Since KEC purchases all of its power from the BPA and the system is nearing capacity during these energy peaks, KEC is exploring ways to manage consumption spikes.
Eight times per year, on the hottest and coldest days, KEC will remotely adjust thermostats by 3 degrees from its set temperature for three hours. At these times, the water heaters in participating homes would also be cycled off for three hours, but with the average capacity and insulation of today's hot water heaters, participants would probably not even notice.
Participants can press a button on the thermostat to opt out during specific adjustment events.
These reductions, multiplied across hundreds of homes, constitute savings and, when integrated with emerging Smart Grid technology, can help KEC better address power consumption, Neff said.
If BPA cannot meet supply with hydropower, it has to buy power on the market from less-affordable, non-renewable sources such as coal or natural gas power plants, Neff said. Ultimately, since BPA must cover its expenses, power purchases will be reflected in electricity rates.
About 50 KEC members are participating so far. Those who have equipment installed by Oct. 29 will be entered into a drawing to win a $500 energy credit to be used toward their KEC electric bill.
The goal is to have 400 participants in the pilot, and it could have up to 600 involved if there is interest, Neff said.
If the pilot is successful, KEC will consider expanding it.
All residential members pay the same rates regardless of their participation in the project.
Neff said she is unaware of any other Northwest company involved in such a project. KEC has more than 22,000 members in parts of Kootenai, Benewah, Bonner and Spokane counties.
Information: http://www.kec.com/peak_project.php or call 765-1200.
Recent Headlines
---