On the edge Ironman hopes for fewer close calls this year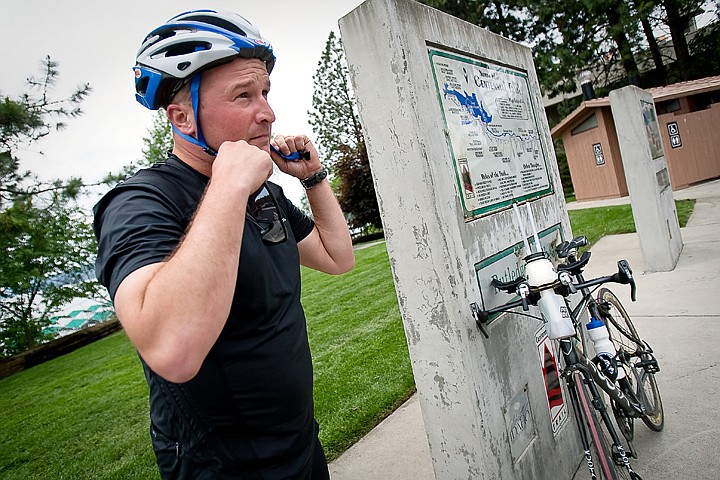 <p>Marc Ellingsen of Rathdrum puts on his helmet before a training ride Wednesday on the Centennial Trail near Potlatch Hill in Coeur d'Alene.</p>
by
BILL BULEY
Staff Writer
|
June 24, 2010 9:00 PM
COEUR d'ALENE - Mark Ellingsen knows what life on the edge is like for an Ironman.
He lived it in 2008.
"What I remember is coming down Government Way, I've got eight miles to go, I've got to do it in a half an hour," he said. "I wasn't sure I was going to make it."
The Coeur d'Alene attorney was perilously close to missing the 5:30 p.m. cutoff for the bike ride and being allowed to continue on the run.
This was after finishing the 2.4-mile swim in 2 hours, 9 minutes and 34 seconds, just under the 2:20 cutoff to be out of the water.
"It was a great day," he said, "but I was always like, 'Am I going to make it?'"
He pushed hard on the bike, knowing it would be close as he rolled in off the 112-mile course in 8:03:30.
"I think I was literally the last guy they let through the cutoff. I was always kind of living on the edge of being eliminated. I mean, it was nip and tuck. It was about two minutes from the cutoff on not letting me through," he said. "Thankfully there was a tailwind to help me along."
The attorney went on to finish the 26.2-mile run in 5:53:34 and complete the race in 16:21:34, beating the midnight deadline to have announcer Mike Reilly yell out, "Mark Ellingsen, you are an Ironman!"
This year, Ellingsen is back. And this time he believes he's fitter, stronger and most important, faster.
"Hopefully, if all things work out, I'll be 10 o'clock, 9:45," the 43-year-old said as he prepared to go on an easy bike ride on the Centennial Trail on Wednesday. "I'm a better biker than last time. I'm hoping to be around 6:45. Hopefully that will happen. Hopefully, I don't get a flat."
The 5-7 1/2 Ellingsen dropped 25 pounds since that 2008 race, reporting in this week at a solid 180 pounds.
"I was at 205 the last race, I was one of the Clydesdales," he said with a laugh.
The Rathdrum resident decided to try Ironman after watching his wife, Sally, a longtime triathlete, complete one in 2006.
Later, she told her husband she would compete in Ironman Coeur d'Alene again if he would, too. He agreed, and in 2008, both got it done, with Sally finishing in 13:40:05, nearly three hours ahead of her husband.
"She was able to shower, eat, take a nap," Ellingsen said, laughing.
With Sally out this year due to a stress fracture, Mark opted to try once more, inspired to return in better shape and improve on his time of two years ago. He trained harder, including bike rides of 100 miles, runs of 21 miles and swims of the Ironman distance, 2.4 miles.
But he doesn't take it too seriously, laughing often and cracking jokes that he doesn't have a particular area where he feels most comfortable.
Swimming? Forget it. Biking? Getting better. Running? Finishing before dark would be great.
"I don't know that any of them are my strengths. Maybe not, my weakness point is probably the running," he said with a smile. "There's not much that can go wrong."
Really, though, all he wants to do is have a little more cushion on the cutoffs so he can relax more. He could do without the stress.
"And not live on the edge so much," he added.
Recent Headlines
---