Mariners win sixth straight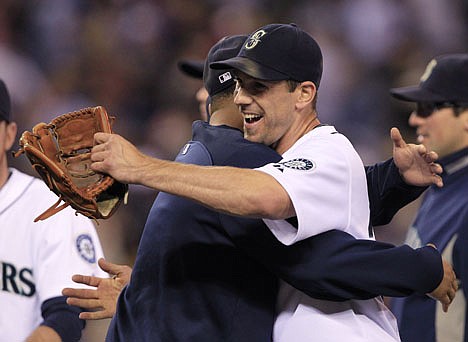 Mariners win sixth straight
by
Gregg Bell
|
June 24, 2010 9:00 PM
SEATTLE - Cliff Lee struck out nine in his second consecutive complete game and the Seattle Mariners beat the Chicago Cubs 8-1 on Wednesday night for their sixth consecutive win.
Rookie Michael Saunders homered and drove in four runs for Seattle. Ichiro Suzuki had a two-run single.
Lee (6-3) allowed nine hits and walked none in his American League-best fourth complete game this season and No. 17 for his career. He lowered his ERA to an AL-best 2.39.
The 2008 AL Cy Young Award winner has 76 strikeouts against just four walks this season. That's an unheard of ratio of 19-to-1. Only one starter since 1901 has had a double-digit figure in that ratio over an entire season: Bret Saberhagen, who struck out 143 and walked 13 for Kansas City in 1994.
Saunders walked with the bases loaded during Seattle's four-run fourth and hit an RBI double off Randy Wells (3-6) in the sixth. He hit a two-run homer in the eighth, setting a career high for RBIs.
Tyler Colvin hit his ninth homer in the second for Chicago, which has lost four of five to drop to a season-low nine games under .500. It was the first run allowed by the Mariners in 25 innings, since the fourth inning of Saturday's win over Cincinnati.
The Cubs, in search of consistent offense all season, hit into three double plays and failed to score when they got two doubles in the seventh. Geovany Soto led off with a double to left and made it to third on Alfonso Soriano's broken-bat blooper behind second that turned into a two-base hit when the Mariners failed to cover the bag.
But Soto and Soriano were stranded when Lee retired three straight to get out of the inning unscathed.
Wells pitched six innings, equaling a season high by allowing six earned runs and 10 hits.
The crowd of 31,394 hooted and roared when Cubs manager Lou Piniella emerged from the dugout in the fourth to challenge third base umpire Bill Miller for signaling Josh Wilson's chop off the outside edge of the baseline chalk at the bag was foul, then fair. Seattle's fans braced for one of the 1990s-vintage explosions on the field from Piniella.
But true to his proclamation before the series opener that he's calmer with umpires, Piniella merely talked to them instead of ranting before he headed back to the dugout. That was even though Wilson's infield single loaded the bases with one out.
Casey Kotchman then dumped a two-strike pitch into left field for an RBI single that tied it at 1. Wells struck out Rob Johnson, but walked No. 9 hitter Saunders on four pitches to force in Franklin Gutierrez with the go-ahead run.
Recent Headlines
---