Dedication for decades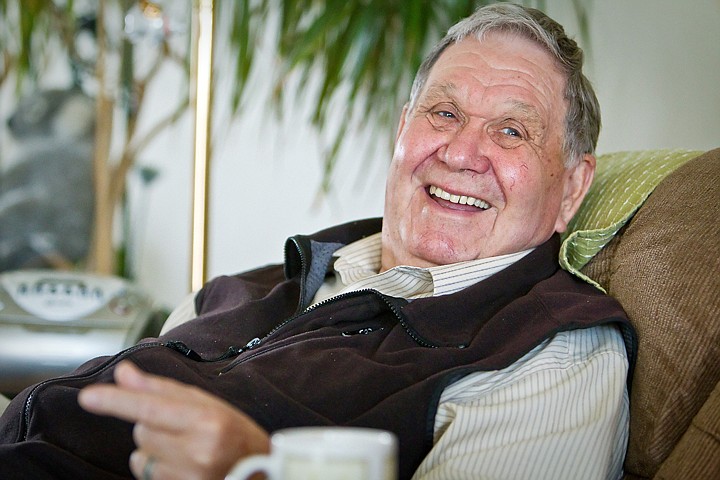 <p>Ray Oliver was recently honored in Boise for his role as the executive director of the Idaho Association of Highway Districts from 1982-1996.</p>
by
Alecia Warren
|
June 24, 2010 9:00 PM
COEUR d'ALENE - No gold watch or engraved pen honored Ray Oliver's decades working with Idaho highway systems.
He got a building.
The Idaho Association of Highway Districts flew the Coeur d'Alene man and his wife Louise to Boise last week for the dedication of a new building in his name, in recognition of a lifetime of improving highway management in Idaho.
"Like, why?" joked Ray, 81, about why his engraved visage graced the new facility for the Local Highway Technical Assistance Council. "It felt awesome."
The building dedicated to Ray - and also to former Local Highway Administrator Joe Haynes - is fitting, as it was Ray who spearheaded the creation of LHTAC, which helps highway entities with daily responsibilities and also distributes federal funds for local transportation projects.
"It's turned out to be a wildly successful organization," said Stuart Davis, IAHD executive director. "All of the governor's discretionary stimulus money was distributed by LHTAC in the last two years."
But that's only one of Ray's achievements.
Longtime executive director of the IAHD and lobbyist who created many current highway laws, Ray was also one of the first Worley Highway District commissioners and held the position for nearly two decades.
"Ray Oliver as a person has had more of an impact on local roads in the last 30 years than any other person in this state," Davis said. "He's one of those few people who really, truly made a difference."
During his tenure as executive director of the IAHD from 1982 to 1996, Ray lobbied on behalf of local highway interests at the state Legislature, he said.
His efforts resulted in legislation distributing more funds for local highway entities.
"Anytime the state transportation department wanted a funding increase, they (the state) wanted the whole share," Ray said, adding that only about 34 percent of fees went toward local jurisdictions. "The ITD wanted to do one (a new tax), and I said 'We'll do that, but we want half of that.' Now with any new registration fee increases or taxes, locals get half of that."
One of his most praised achievements was penning legislation to create LHTAC. The council assists highway jurisdictions like cities, counties and highway districts with procedure, technical support and anything else their complex duties require.
"Many of these small towns in Idaho don't have engineers or planners or people like that who could help them, so LHTAC really filled a void for the local people," said Barbara Babic, spokeswoman for the Idaho Transportation Department.
Ray said he saw the need for such an organization after all the hang-ups he faced as Worley Highway Commissioner from 1971 to '88.
He was appointed to the position just after the Kootenai County highway districts were consolidated from eight to four, he said, making the Worley district a whole new entity.
There were many questions to address, he said, from personnel to equipment.
"We had to hire people, set up an office, and it was all Greek to us," Ray remembered. "We couldn't afford to go to an attorney and ask how to do this and how to do that. We didn't have a place you could go ask all those questions."
Besides providing basic information, LHTAC's services have expanded to include distributing up to $50 million in federal funds to local highway projects.
Before LHTAC, the state transportation department distributed federal aid, and didn't always prioritize local interests, said John Pankratz, district supervisor for East Side Highway District.
"Nothing against ITD, but any monies that were allocated for local projects that weren't expended on the local system would go back into ITD's coffers," he said. "The incentive for ITD to spend possible funding that they would receive on the local system wasn't there."
Lakes Highway District has received roughly $6.5 million in aid through LHTAC in the last few years, said road supervisor Joe Wuest, which went toward projects like widening part of Ramsey Road.
Wuest often calls LHTAC for guidance on statutory requirements and the best maintenance equipment, he added.
"There are so many manuals that they've generated out of LHTAC to help all the highway districts in their normal day-to-day activities," Wuest said. "If we need a voice to talk to versus the manual, they're always very responsive."
That success is more than enough to satisfy Ray, who admitted his work with the highway districts never paid much.
His first year as IAHD executive director, his annual budget was $5,000, he said with a laugh, so he had to work from home.
When he lobbied in Boise - the long sessions preventing him from keeping his job as a TV station transmitter supervisor in Spokane - he was only paid $10 a day.
"The most I ever made in one year (with IAHD) was $28,000 gross, which included office expenses and travel and everything," he said.
He and his wife of 59 years got through it by subdividing their farmland at Cougar Gulch and selling off pieces when things got tight.
"A lot of people back then had volunteer jobs," Ray said, adding that he considers his highway work as the same. "I just had a lot of dedication and interest in it."
Recent Headlines
---