UI football coach aims to be better all the time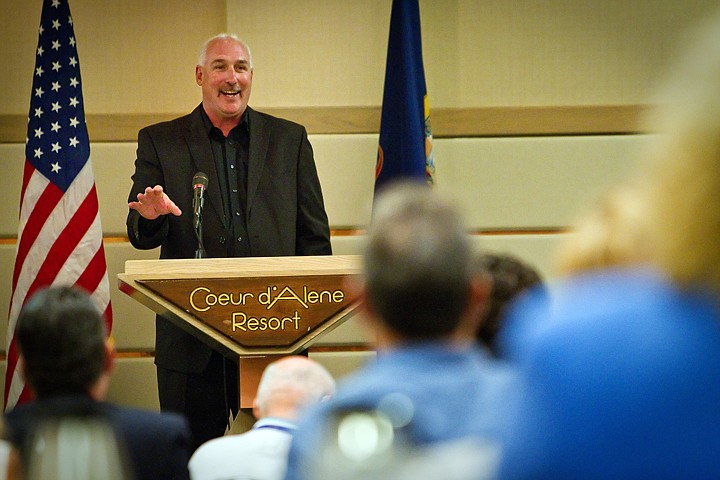 <p>Robb Akey, University of Idaho's head football coach, speaks at the quarterly general membership meeting Tuesday of the Coeur d'Alene Association of Realtors.</p>
by
Rick Thomas
|
June 23, 2010 9:00 PM
COEUR d'ALENE - In today's real estate market, it may be surprising that only one agent in a room filled with about 100 Realtors tried to sell property to Robb Akey on Tuesday.
The popular coach of the University of Idaho Vandals football team didn't even make like a running back and try to dodge the tackle.
"That might be my next contract," Akey responded to the suggestion this might be the best time ever to buy waterfront property in Kootenai County.
The coach who took his team to the Humanitarian Bowl last December and a 43-42 win over the Bowling Green Falcons with a two-point conversion with only four seconds remaining in the game knows a few things about overcoming a tough challenge - something the agents at the quarterly meeting of the Coeur d'Alene Association of Realtors at The Coeur d'Alene Resort probably understand all too well.
Just getting players at UI who could beat opponents from bigger schools, for instance.
"People told me, 'You're in the middle of nowhere. Nobody is going to come play for you,'" Akey said.
But, he said, there is a different approach that can lead to success.
"Pay attention to what you can do, not what you don't have," he said.
Picking his winning team of Vandals was creating a family, he said, speaking from childhood experience of sibling quarrels. But battling brethren come together when faced with opponents.
"When those darn donkeys come to town, we're going to be a family," he said, referring to Idaho's in-state rivals, the Broncos of Boise State University.
Making that happen took several seasons, and building trust as a coach.
"The only way to build trust is to tell somebody you're going to do something, then make it happen," Akey said.
His No. 1 rule: "Do the right thing." Asked how, his answer was, "It's very simple. If you have to think about it, it's probably the wrong thing to do, or you end up on the front page of the paper."
He learned to shrug off those who doubted UI could field a winning team.
"In a division with 118 or 119 teams, we were selected to be No. 130," he said.
But he set a goal, not just to get to a bowl game, but to win.
"We knew we were going to be a better football team," he said. "The kids knew that."
But when the time came, mistakes plagued them in the first couple of seasons, with dropped passes and other errors forcing field goals instead of touchdowns.
"We didn't need to dream anything up, we needed to make plays," Akey said.
In his third season, the hard work started to pay off, with a series of victories, some unexpected.
"In two years we won three games, then (last season) three in a row," he said.
Even Akey is willing to acknowledge that two of the most dramatic bowl games of the last season included Idaho teams - his, and the Broncos.
They did it by not giving up.
"We paid attention. We believed in each other, in a bowl game we weren't supposed to be in," he said. "That was how we did it. We paid attention to what we could do, and overcame adversity."
A standing ovation greeted Akey, who stayed around for photos and to share other stories with fans.
"He's fantastic," Joel Elgee said. "He is a great leader, an inspiration. He is fun to watch, a risk-taker."
Willing to go for the two-point conversion to win instead of the kick to tie in that unforgettable Humanitarian Bowl, Akey hedged his bet, and would only say that the goal for the season after the Vandals finished 8-5 is "better."
And when asked what bowl he would shoot for this year: "Anyone who will have us," Akey said. "They are all good. Hopefully they will be fighting over us."
Recent Headlines
---