Ironman athletes get ready for a cold start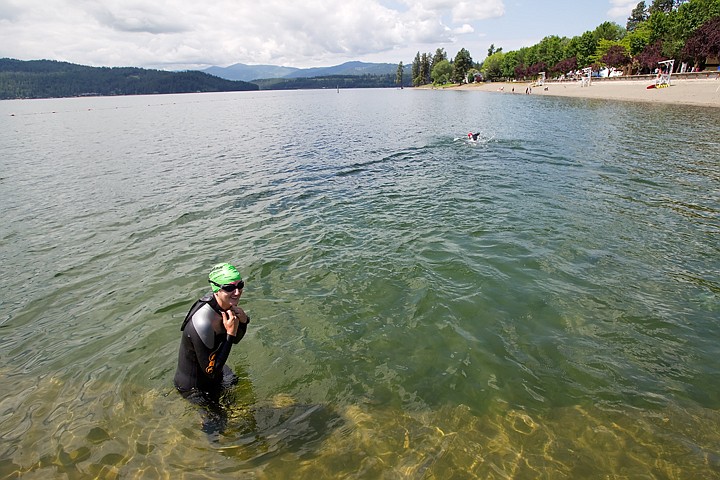 <p>Sia Karamalegos, of Texas, shivers from the 56.8 degree water of Lake Coeur d'Alene Tuesday as she acclimates herself before taking a training swim.</p>
by
BILL BULEY
Staff Writer
|
June 23, 2010 9:00 PM
COEUR d'ALENE - Cold is OK.
Lake Coeur d'Alene's temperature was sitting at a chilly 56.8 degrees on Tuesday and is not expected to change much come Sunday.
That means the 2,500 athletes diving in to start the Ford Ironman Coeur d'Alene at 7 a.m. will have to deal with a shivery swim.
No problem.
Kevin Strait of Coeur d'Alene tested the lake with a 20-minute swim off Independence Point on a sunny Tuesday.
"It feels great," he said with a grin. "This is like bathwater"
Well, that's in comparison to last week, when he went for a swim on a cloudy, cool day. He had to get out of the water after five minutes to let his feet thaw, then tried again.
"I kept getting the old brain freeze," he said with a laugh as he stood on the steps while wearing his wetsuit.
Strait, who works at the
Kootenai Medical Center ICU, had been worried about hypothermia, but believes the water will be warm enough on Sunday, especially with some sunshine that's predicted.
"It should be OK," he said.
If the lake's temperature remains below 60 degrees, swimmers could be allowed to wear booties, but that decision hasn't been made yet, said race director Mac Cavasar. No gloves are allowed.
"We're going to swim," he said.
There will be warming huts available for athletes before making the transition from swim to bike.
The only real concern would be if winds whipped up and the lake turned choppy Sunday morning.
Coeur d'Alene climatologist Cliff Harris said the rain that has besieged the area throughout June is winding down.
"The weekend does look quite a bit better," he said.
The current forecast is calling for mostly clear, sunny skies, highs of about 75, lows about 50, with some clouds, slight chance of rain and little wind on Sunday. It should be good conditions in the morning, with winds of just 8 miles an hour.
Sia Karammalegos was also going swimming Tuesday in preparation for her first Ironman.
"I'm from Texas. I don't like cold," she said as she stood in her wetsuit in waist deep water.
Still, her schedule called for a 45-minute swim.
"Once you're in, it's not too bad," Karammalegos said as she waited to plunge in. "I hate getting in."
A few moments later, though, she dipped under and was off.
No turning back now.
Recent Headlines
---