Coeur connects with China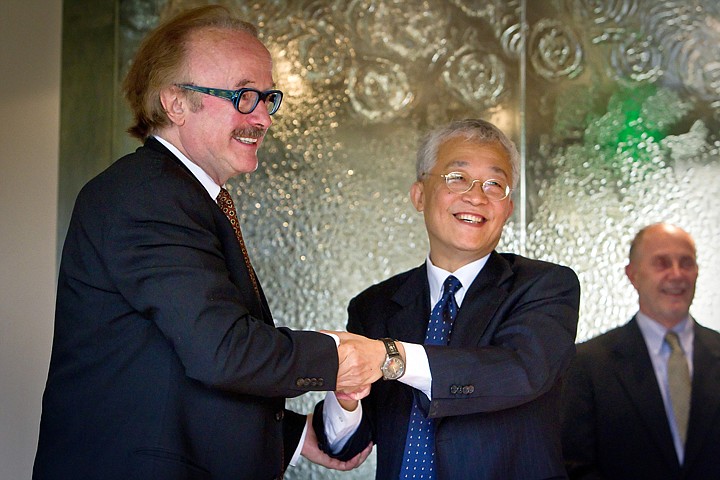 <p>Dennis Wheeler, chairman, president and chief executive officer, and Xie Yuanyuan, general manager of China National Gold Corporation, shake hands after signing an agreement Tuesday for the purchase and processing of gold concentrates produced at Coeur</p>
by
Rick Thomas
|
June 23, 2010 9:00 PM
COEUR d'ALENE - China's largest gold producer will purchase about half of the production from Coeur d'Alene Mines' facility in Kensington, Alaska, under an agreement signed on Tuesday.
Coeur entered into a contract with state-owned China National Gold Group Corp., for the purchase and processing of gold concentrates produced at Kensington.
The agreement is the first of its kind between a state-owned corporation of the People's Republic of China and a U.S. precious metals mine, the company said.
"We are delighted to establish this relationship," Dennis Wheeler, chairman, president and chief executive officer of Coeur, told The Press after the agreement was signed on Tuesday morning. "It will be the first in a long-term revolving relationship between China and Coeur d'Alene Mines.
Negotiations went on for several months and involved numerous trips by Wheeler to China.
"What people will find is a relationship (with the Chinese) is established on a deliberative, long-term basis," Wheeler said.
Coeur expects production at Kensington to begin soon, with 50,000 ounces of gold produced this year and 125,000 ounces per year for another dozen years. China National Gold Group will take delivery of about half of the mine's output, at "very competitive" prices he said.
The Chinese company, which produces about 20 percent of the country's gold, is very interested in securing ore on a long-term basis, Wheeler said. The agreement means China National will purchase the equivalent of 135 percent of Coeur's production last year, he said.
"Their goal is to expand into the western world," Wheeler said, which for China means gaining access to more resources.
The agreement provides Coeur, which has no refining capacity, with an economical way to sell the gold produced at Kensington, after years of development and legal battles that included environmental concerns.
Wheeler would not say what the net financial benefit will be to Coeur.
Gold hit a record $1,266.50 an ounce before settling at $1,240.70 an ounce on the New York Mercantile Exchange on Tuesday. The Kensington mine is expected to yield 1.5 million ounces of gold, the only metal produced at the mine, over its lifetime.
China National operates about 60 mines in China and a half dozen smelter operations, Wheeler said. Like Coeur (NYSE:CDE, TSX:CDM, ASX:CXC), the company is a member of the World Gold Council, which states its mission is stimulating and sustaining the demand for gold and creating a lasting value for stakeholders.
"This represents a groundbreaking level of business relations between the two companies as this new, major gold mine begins the initial stage of its long production life," he said in a statement.
Wheeler has been an advocate of developing relationships with China, and said he is pleased to see the business community embracing the concept, particularly with a planned trip to the country later this year being coordinated by the Coeur d'Alene Chamber of Commerce.
"I remain every bit as positive or more so about the future," he said.
Recent Headlines
---