Cd'A wins Hayden tourney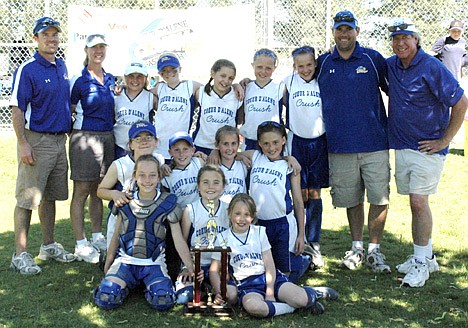 <p>The Coeur d'Alene Crush 10-and-under girls fastpitch softball team placed third at the recent Coeur d'Alene Crush tournament. The Crush finished the pool play with a record of 2-0-1 by beating the Moses Lake Rattlers and the Lakesiders. The tie came against the Yakima Bears. On Sunday, the Crush beat the Missoula Lady Osprey, then lost to the Spokane Crash. In the front row from left are Bailey Gleaves, Reilley Chapman and Emma Gray; second row from left, Haley Loffer, Bailee Taylor, Taylor Woolley and MacKenzie Longley; and back row from left, coach Holly Gleaves, coach ...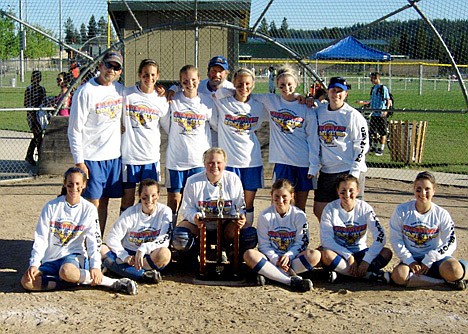 <p>The Coeur d'Alene Crush 14-and-under softball team went 6-0 and won their 20-team division at the Coeur d'Alene Crush tournament. The Crush defeated the Spokane Crash 6-5 in the championship game. The previous weekend, the Crush won its division at The Garden City Walk Off in Missoula, Mont., where Sydnie Malloy hit a walk-off grand slam in the seventh inning with two outs. In the front row from left are Kayla Albertson, Olyvia Owen, Paige Brown, Sydnie Malloy, Shayna Woolley and Kristina Brandt; and back row from left, coach Jake Albertson, Brooke Albertson, Dakota Wilso...
Previous
Next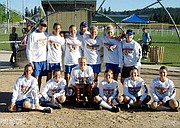 BASEBALL
Little League
The Coeur d'Alene 10-11 year-old all-stars went 4-0, outscoring its opponents 70-9 to win the inaugural Hayden All-Star Kickoff Classic at Crofoot Park in Hayden.
Chase Walk hit a home run and Seth Yost hit two out during the tournament for Coeur d'Alene.
In the championship game against the Richland (Wash.) All-Stars, Brandon Kosiansic pitched four strong innings to get the win, with Chase Walk pitching the fifth and sixth innings to get the save and preserve an 11-6 victory.
All of the CdA all-star teams competed in the tournament with the 9-10 and 11-12 year old teams taking second place in their respective divisions. Coeur d'Alene will host the district all-star tournament at Canfield Park the weekend of July 1-3.
VOLLEYBALL
Lake City camp set: Lake City High head coach Bret Taylor heads the instructional staff for the Lake City Volleyball Camp, for middle school and high school students, scheduled for July 5-9 at Lake City High.
Girls entering middle school will meet from 9 a.m. to noon each day. Girls in grades 9-12 will meet from 1 to 4 p.m. daily.
Cost is $100, which includes a camp T-shirt.
Information: 769-0769, bret@namastefoods.com
COEUR d'ALENE RECREATION DEPARTMENT
Swim lessons: Registration begins July 1 for lessons for ages 6 and above at City Beach.
Registration is at Coeur d'Alene City Hall, 710 Mullan. Cost is $25 for city residents, $30 for non-city residents.
The first session will run July 12-23; the second session will run July 26-Aug. 6.
Levels 1-5 are available. Lessons will be held Monday through Friday in the morning for two weeks. Class times will be available at registration; class space is limited.
Submit items for youth and non-varsity high school sports by noon Tuesday for publication Wednesday. E-mail stories and photos (in jpeg format) to sports@cdapress.com.
Information: 664-8176, Ext. 2019
Recent Headlines
---