Roger dodger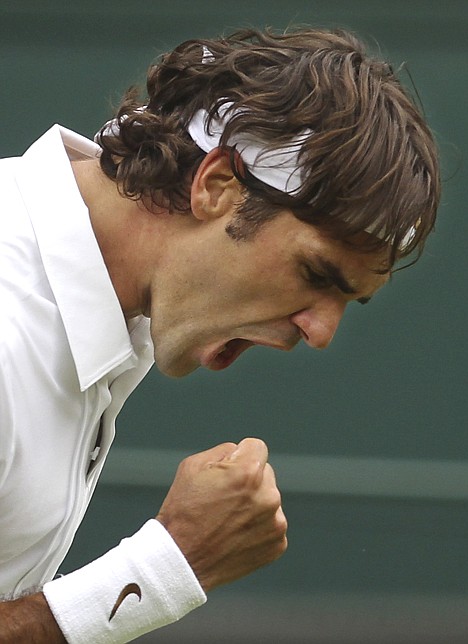 <p>Roger Federer yells after winning the third set against Alejandro Falla at Wimbledon, England, on Monday. Federer rallied to take the match in five sets and advance to the tournament's second round.</p>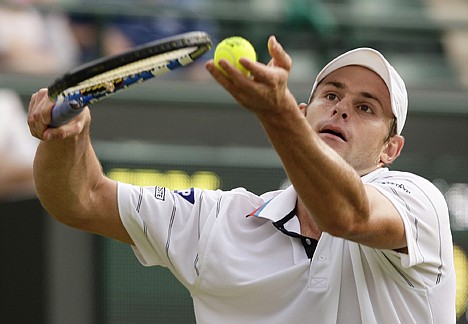 <p>Andy Roddick prepares to serve while facing Rajeev Ram during their first-round match at Wimbledon on Monday.</p>
Previous
Next
by
Howard Fendrich
|
June 22, 2010 9:00 PM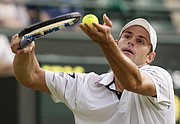 WIMBLEDON, England - The situation was so unfamiliar to Roger Federer, so "uncomfortable," to use his term.
On a surface he rules, at a tournament he owns, against an opponent he dominates, Federer found himself in serious trouble Monday: He dropped the first two sets against 60th-ranked Alejandro Falla of Colombia, then was a mere three points from losing in the first round of Wimbledon.
"I had Federer against the ropes," Falla would say later.
Eventually, the unheralded Falla succumbed to some jitters, and six-time Wimbledon champion Federer called upon his experience, summoned his customary excellence, overcame the daunting deficit and pulled away to win 5-7, 4-6, 6-4, 7-6 (1), 6-0 in the event's opening Centre Court match.
"You definitely feel, you know, uncomfortable, because if you're used to being down the whole time, your whole life, it's something that's kind of normal. For me, it's not normal to be down two-sets-to-love, especially at Wimbledon and early on in Grand Slams. It's something I'm not quite used to," said the top-seeded Federer, who hampered himself with seven double-faults. "But still, I was able to find a way. That's most important right now. Doesn't matter how I felt out there. Didn't feel great, that's for sure."
Had Falla finished off Federer, it would have been one of the most stunning upsets in the history of tennis - perhaps THE most stunning, taking into account the participants, the setting and the round.
Not sure? Consider the players' resumes entering the day:
-Federer was 92-13 for his career on grass, including 76-2 since 2003; Falla was 7-11.
-Federer was 51-5 for his career at Wimbledon, with those six championships and a record seven consecutive final appearances; Falla was 3-5 and never got past the second round at the All England Club.
-Federer was 199-28 with a record 16 titles in Grand Slam action and reached the final at 18 of the past 20 major tournaments; Falla was 11-14, only once making it as far as the third round at a Slam.
All of that is why this match was the talk of Day 1 at the grass-court Grand Slam tournament, with players gathering around televisions in the locker rooms to catch a glimpse.
"I don't think anyone expected it," said No. 5 Andy Roddick, a three-time Wimbledon runner-up who beat Rajeev Ram of Carmel, Ind., 6-3, 6-2, 6-2 later Monday. "Everyone was pretty surprised, especially when it became very, very real there in the latter stages."
Indeed, Falla's near-defeat of Federer generated much more buzz than any of the upsets that actually occurred.
The seeded men who exited were No. 11 Marin Cilic, No. 17 Ivan Ljubicic, No. 20 Stanislas Wawrinka and No. 30 Tommy Robredo. No. 3 Novak Djokovic, the 2008 Australian Open champion, appeared on his way to joining them, but he came back to beat Olivier Rochus of Belgium 4-6, 6-2, 3-6, 6-4, 6-2 in a match that finished at about 11 p.m., with the Centre Court roof closed and the lights on.
There was one surprise of significance in the women's draw: No. 5-seeded Francesca Schiavone lost 6-7 (0), 7-5, 6-1 to 47th-ranked Vera Dushevina of Russia, making Schiavone only the second reigning French Open women's champion to lose in the first round at Wimbledon in the 42-year Open era.
"I didn't have a lot of energy today," said Schiavone, who became Italy's first female Grand Slam champion two weeks and two days ago. "It was very close, but she took advantage of her chances, and I didn't."
The only other time a French Open champ bowed out in her opening Wimbledon match was in 2005, when it happened to Justine Henin. The Belgian began a 20-month hiatus from tennis in 2008, and returned to Wimbledon for the first time in three years Monday, advancing with a 6-4, 6-3 victory over Anastasija Sevastova of Latvia.
Also returning: Kim Clijsters, who hadn't played at the All England Club since 2006. The two-time U.S. Open champion, away from the tour entirely for 2? years while getting married and having a daughter, had no problems in beating Maria Elena Camerin of Italy 6-0, 6-3.
Not surprisingly, Henin and Clijsters - neither of whom has won Wimbledon - were thrilled to be back.
"We breathe tennis, we live tennis, over here. You feel the tradition of the game," Henin said, then added: "Playing in white is a good feeling."
Venus Williams adhered to Wimbledon's strict dress code Monday, switching from the black lace outfit that drew so much attention at the French Open to more traditional attire.
"Here it's all about white," Williams said after eliminating Rossana de los Rios of Paraguay 6-3, 6-2. "There is no illusion this time. My dress was inspired by Tina Turner. ... It's just a fun, elegant dress."
Her bid for a sixth Wimbledon championship got off to a much more straightforward start than Federer's quest for a record-tying seventh.
Only twice in the Open era has the defending Wimbledon champion lost in the first round, but Federer appeared to be heading in that direction against the left-handed Falla. Here's one additional reason why the tightness of their match caught everyone off-guard: These guys met four times previously, and Federer won each time, taking all 11 sets.
Thanks to the luck - or, from Falla's perspective, the bad luck - of the draw, they were playing each other for the third time in the past four weeks.
"Everybody wants to play Federer," Falla said, then broke into a wide grin before delivering the laugh line: "But three times in one month is a lot."
In this case, familiarity did not breed contempt, but rather confidence. Falla felt he had a pretty good idea of what to expect, even sketching out something of a game plan for success against Federer, saying it was vital to go for it on returns, particularly on second serves, and to be aggressive by moving to the net whenever possible. Falla did all of that quite well for long stretches, backing up his strong serving and booming groundstrokes off both wings.
Also, Falla realized he was having a hard time dealing with Federer's sliced backhands in their recent encounters. To better prepare for that, Falla practiced with Sergiy Stakhovsky of Ukraine, who won a grass-court tuneup event in the Netherlands last week and often slices the ball.
Asked if all of the recent time on court together might have helped Falla on Monday, Federer grinned and joked, "It shouldn't have. ... He should have known that I was going to beat him. But he forgot."
There were two pivotal moments Monday.
Serving at 4-4, love-40 in the third set, Federer faced three consecutive break points - had Falla won any of those, he would have served for the match in the next game. Instead, Federer won all three, erased a fourth break point later en route to holding serve, then broke in the next game for the first time all match to take the set.
And then, at 5-4 in the fourth, Falla served for the match.
"A big chance," said Falla, whose left leg was massaged by a trainer during third-set changeovers.
So close to a breakthrough result, the 26-year-old Falla admitted he doubted himself a bit, and he could get no closer than three points from victory - at 15-30 and 30-40. On the last, Federer ripped a big forehand that forced an error by Falla to make it 5-all. Federer roared, as did the crowd, and that pretty much was that.
When Federer delivered a groundstroke winner to end the tiebreaker, then broke Falla's serve to open the fifth set, order was restored.
"Definitely got lucky," Federer acknowledged. "But that's how it goes sometimes."
Recent Headlines
---