Possible hate crime under investigation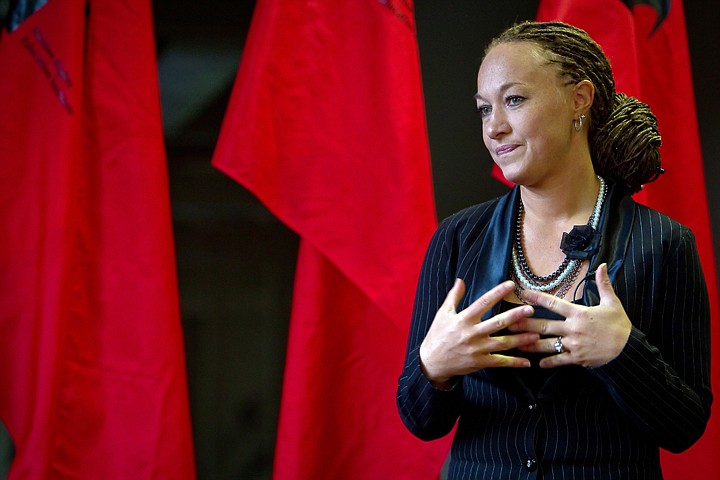 <p>Rachel Dolezal, director of education & curator of the Human Rights Education Institute, discusses the offering of Human Rights Education Institute flags Monday in response to flags flown by local hate groups.</p>
by
MAUREEN DOLAN
Staff Writer
|
June 22, 2010 9:00 PM
COEUR d'ALENE - Police are investigating a possible hate crime that occurred last week at the Coeur d'Alene home of local human rights activist Rachel Dolezal.
Dolezal, director of education at the Human Rights Education Institute, went public with news that a noose was found hanging Tuesday from a shed in the backyard of her Fort Grounds home.
It's not the first time a suspicious rope has been found at a home of Dolezal's. She found a noose last fall on the front porch of a Spokane home where she lived.
Dolezal moved back to Coeur d'Alene about six months ago.
"This is the first incident there, kind of a 'We know where you're at,' sort of ... that was one of the things I thought, like OK, they know where I'm at now," Dolezal said.
Dolezal told Coeur d'Alene police officers she is being harassed because of her human rights work and her ethnicity.
The Spokane police department's investigation of the incident in their city failed to turn up any leads.
Last week's noose was found hanging from a rafter in the shed by Dolezal's 16-year-old brother who was visiting her.
"It's the most recent hate crime that I'm aware of," Dolezal said.
She made the announcement during a press conference Monday at the downtown institute when she also unveiled a new grassroots campaign to use flags to counter hate in area neighborhoods.
Dolezal said the flag campaign is a response to community members' concerns about White Nationalists, Aryan Nations and neo-Nazi flags that have been flown at homes recently in the downtown area.
"My response was, 'Well, make a similar statement. Fly a flag for freedom, for equality,'" Dolezal said.
The 3-foot-by-5-foot red flags bear the human rights institute's black logo and are available at the institute for $20 each.
Dolezal said the presence of multiple flags will create a "safe-zone, or neighborhood watch."
It will make a "visual statement of support for equality and against hate," Dolezal said.
"I think there is power in collective action, and if one person does it on their own, there is more of a chance of targeting, as opposed to many people doing something together," Dolezal said.
People often contact the human rights institute to report possible hate crimes, Dolezal said, although the institute is not a task force or law enforcement agency.
"There have been hate crimes in the past two years that have been directed toward me, and there are other hate crimes in the community, some of which have been reported and some of which have not," Dolezal said.
It's always the victim's choice, Dolezal said, whether to go public or not, because, "It affects family, friends, interactions, it's a very personal thing."
Dolezal said incidents like the noose do cause her to reflect on her work as a human rights activist.
"There are a lot of friends and family that say, 'Why are you continuing?' Then there are other people that understand me, that I'm not a quitter, that I care passionately, that this is who I am," Dolezal said. "I believe in being an advocate and I believe in being an ally for people who are oppressed, and that means for myself and that means for other people."
Someone needs to keep human rights efforts moving forward in the region, she said.
"So that we can really reach that goal of being a human-rights-oriented North Idaho and cleansing North Idaho from that reputation of being known for white supremacy and for hate groups," Dolezal said.
Information: 292-2359
Recent Headlines
---